Thea Bowman AHANA and Intercultural Center Director Ines Maturana Sendoya congratulates David Jasso '20 at an event for participants in the Eagle Intern Fellowship Program. (Yiting Chen)


Allison Kaika '18 was passionate about food justice – linking access to healthy, nutritious foods with positive social, economic and health outcomes – but for a while she didn't know how best to act on her interest.
Then a study-abroad experience in Tanzania showed Kaika – a Charlotte, NC, native majoring in environmental studies with a focus on food and water systems – the role of government policy in sustainability, food production and related issues she had been following, so she looked for an opportunity to learn more. She found what seemed a promising one via an internship with the National Family Farm Coalition (NFFC), a non-profit advocacy group with an office in Washington, DC.

But there was a problem: NFFC couldn't pay her.
Fortunately, Kaika was able to realize her dream opportunity through the Career Center's Eagle Intern Fellowship Program, which provides financial support to Boston College undergraduates who obtain summer internships with organizations that are not able to provide a salary.  
"The internship allowed me to learn on my own and helped me cultivate a lot of self-confidence," said Kaika, whose duties included attending congressional hearings on U.S. Food Aid funding, the U.S. Department of Agriculture FY2018 budget, appropriations of the Commodity Futures Trading Commission and other matters.
 One of her most memorable experiences with NFFC was speaking with and representing a group of family farmers and beekeepers who came to Washington to voice concerns about the proposed Bayer-Monsanto merger and its impact on farming and the environment. "To hear these farmers share their stories about the reality of life on a family farm was inspiring. They were not trained or paid to lobby, they simply spoke from their experiences and ultimately from the heart. They deeply believe in the importance of family farms and the significance of producing food.
"So now, having seen how important it is to the struggle for food justice, I'm definitely looking at policy work as a direction for my post-BC life."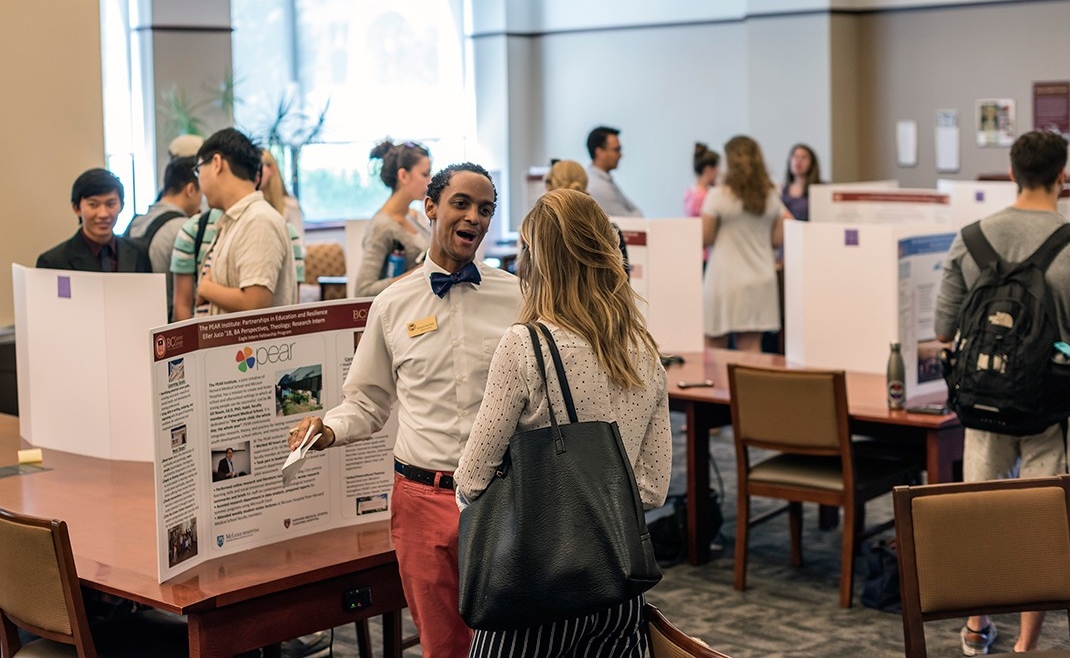 Kaika is one of more than 260 BC students who have benefitted from the EIFP since it began in 2014, working for groups such as the International Rescue Committee, Foundations for Sustainable Development, Earthwatch Institute, Boston Children's Hospital, as well as in academic settings -– including BC – and national, state or local municipal offices and departments.
"The Eagle Intern Fellowship Program directly aligns with the University's strategic direction of re-envisioning liberal arts education and enhancing the University's commitment to formation among students," said Associate Vice President for Student Affairs and Career Center Director Joseph Du Pont. 
"The fellowship program removes financial barriers for students and allows them to explore career possibilities, engage in reflection, and develop their competencies so they can make a thoughtful decision about their next step. We are continuously working to increase the number of students who can take advantage of this fellowship program."
Students interested in the Eagle Fellows program must submit an application and a letter of recommendation, along with their resume and a description of the internship offered. Among other requirements, those who make the cut keep a blog about their internship experiences, check in regularly with a Career Center staff member, complete pre- and post-assessment evaluations, and make a presentation at a campus poster session – as the 2017 Eagle Fellows did earlier this semester.
Through participation in the program, said Career Center administrators, Eagle Fellows are enabled to articulate skills and competencies employers seek in college graduates, and cite examples of how these were developed through the internship in a professional setting. The students also create three action steps based on reflection of skills, interests, values and organizational culture.
Senior Kyla MacLennan called her internship at the U.S. Embassy to the Holy See in Rome "a valuable formative experience." 
"I've known for a while that I wanted to work for the government, and to serve my country abroad, but I hadn't really known what the Foreign Service was all about," explained MacLennan, an economics and communication major from Ridgewood, N.J. "I got to experience a small embassy environment and all the responsibility associated with it. I did high-level work like writing remarks for the acting ambassador and organizing events for U.S. representatives and Vatican officials, which was challenging, but incredibly rewarding."
What's more, while in Rome, MacLennan was able to meet and talk briefly with Pope Francis. "I was determined to speak to him in Spanish, and while waiting for him I rehearsed what I was going to say: I asked him for blessings for my family, health and education, but also to pray for peace and unity in our country."
MacLennan said her post-graduation plans are to work in strategic communications and compile skills that will enable her to pursue a career in the Foreign Service. "I'm so grateful for the Eagle Intern Fellowship Program for giving me this glimpse into what my future could be."
Eagle Fellows often derive personal and spiritual growth from their internships, as well as vocational formation. International Studies major Perry Bowers '18 of Guilford, Conn., worked with Gateway Arts, a non-profit that provides art supplies, professional arts instruction and care for adults with developmental disabilities, who display and sell their creations in the organization's attached store. It was, she said, "incredibly rewarding but also tiring. As an introvert, I had to learn to take care of myself after work, resting and replenishing my energy for the next day."
Whatever the demands of the job, Bowers added, "the most satisfying element was the joy you would see on the artists' faces throughout the day. Gateway Arts reminds them that they have value to their community. When they get up in the morning, they have a place to go, co-workers to see, and work to complete. 
"In such a short time I felt so connected to people I otherwise wouldn't have come in contact with. They brought so much joy to me, and I feel so grateful for their presence in my life."
Applications for the 2018 Eagle Intern Fellowship Program open Jan. 16. For more details, see the Career Center website.

—Sean Smith / University Communications