Eight-year-old Jack Dollar, a student at the Campus School, with his best "buddy," Johnny Tringl '16.

This year, the dedicated BC student volunteers who gave their time and talents to the Campus School capped their service with an impressive fundraising achievement: the presentation of a check for $216,000, an unprecedented annual total.

In front of an audience of students and staff, the six student members of the CSVBC executive board presented the check to Principal Donald Ricciato, Lynch School of Education Dean Maureen Kenny and Associate Dean Mary Ellen Fulton, and University Advancement Associate Vice President Brenda Ricard.

"The commitment and investment of time of the Campus School Volunteers in supporting the work of the Campus School is extraordinary," said Ricciato. "Their work with our students and the staff is what makes the Campus School a truly special community. The recent check presentation provides the financial resources to the program that enhances our ability to make a difference in the lives of our students. I cannot express enough appreciation to our volunteers."

CSVBC works to promote the Campus School—a special education day school for students ages 3-21 with complex learning and health care needs—within the Boston College and Boston community, and share its vision of, and commitment to, "realizing the potential in all students."

Campus School Marketing/Outreach Coordinator Kristen B. Morin '86 noted that the volunteers worked tirelessly throughout the year to come up with ways to replace funds previously raised through the Boston Marathon. In the past, CSVBC members raised about $75,000 annually for the Campus School by participating in the Marathon as unregistered runners, but this practice was discontinued following the 2013 bombings.

"We worked together to re-engineer some events and add some new ones. Combining those funds with some raised last year, they were able to present the largest check ever to the Campus School," said Morin.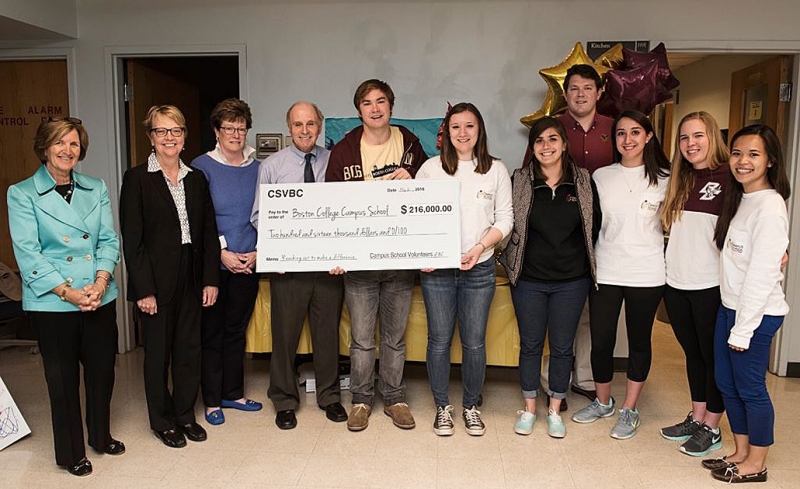 The Campus School Volunteers of BC capped their 2015-16 service with the presentation of $216,000 in fundraising. L-R: Lynch School Associate Dean Mary Ellen Fulton, Dean Maureen Kenny, University Advancement Associate Vice President Brenda Ricard, Campus School Director Don Ricciato and Campus School Volunteers John Tringl, Vicki Perez, Kim Alderman, Gina Iozzo, Kelly Vogel, and Petty Chen. Volunteer Coordinator Sean Schofield is behind them.
Among other fundraising events, the 20th annual Campus School Golf Classic was co-hosted by the volunteers, Fulton, Senior Advisor to the President Leo Sullivan, Vice President for Information Technology Michael Bourque, Auxiliary Services Executive Director Linda Riley and McIntyre Professor of Economics Joseph Quinn.
At that event, the mother of a young pupil diagnosed with Down syndrome shortly after birth had high praise for the school and its mission: "The Campus School has changed our lives profoundly," said Robyn Dollar, whose eight-year-old son Jack was "buddies" with CSVBC co-president John Tringl '16.

"[It] is a magical place where each child is treated as a person first; their diagnoses and medical needs fade to the background.  What you see instead is joy and hope, fun, learning and life. The Campus School opened our eyes to Jack's real potential and helped us set practical and measurable goals.

"His accomplishments are celebrated by the entire Campus School community. He has friends. If you asked me who Jack's best friend is, I'd say it's Johnny—his Boston College undergrad buddy who's been a huge part of Jack's life for the past four years."
—Rosanne Pellegrini | News & Public Affairs