Twenty members of the Boston College Class of 2017 have been selected as members of this year's Teach for America corps.
Founded in 1990, Teach for America enlists, develops, and mobilizes the country's most promising individuals, who commit to two years of teaching in high-need schools and become lifelong leaders in the effort to end educational inequity. Today, 8,600 corps members are teaching in more than 50 urban and rural regions across the country, while 53,000 TFA alumni continue to work across sectors to ensure that all children have access to an excellent education.
"Teach for America corps members — including the 20 new members from BC this year — have an opportunity to have an immediate impact on issues they're passionate about right after graduation," said TFA Managing Director of Recruitment Carli Gribov. "Through their corps experience, they take on the injustices low-income communities face and become leaders in the broader fight for equity."

Nine Boston College graduates in the 2017 TFA corps will teach in Massachusetts; two in New Orleans; and one each in Baltimore, the Bay Area, Chicago, Dallas, Hawaii, Indianapolis, Newark, Oklahoma City, and New York City. Forty percent of the 2017 BC cohort identify as people of color.
In addition, eight members of the Boston College Class of 2018 have already applied and been accepted into the Teach for America 2018 corps. To date, 529 Boston College alumni have participated in Teach for America.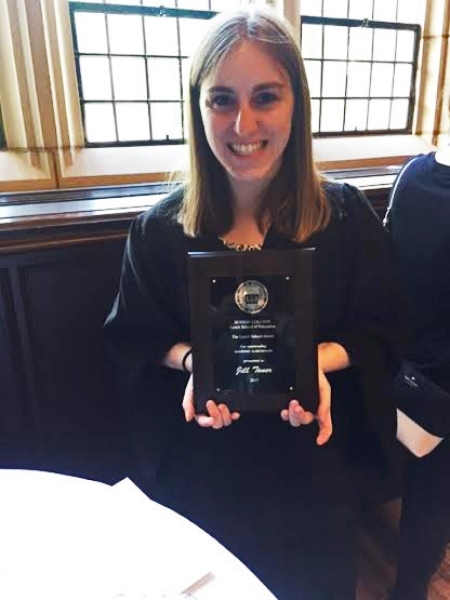 Jill Toner '17 received the Lynch School's Award for Academic Excellence.
One of the members of BC's 2017 cohort is Jill Toner, who graduated magna cum laude in May with a bachelor's degree from the Lynch School of Education. Toner recently completed training for her upcoming placement as a 5th grade English teacher in Oklahoma City.
"I am very excited that TFA has provided me with the opportunity to live out my childhood dream," said Toner, who loved playing "school" as a youngster in Fairfield, Conn.
"I was drawn to Teach for America because of its mission to provide all students with an equitable education. I was very privileged in my educational experience, all the way from elementary school to BC. I love that TFA provides its corps members with the chance to make an immediate impact on students in low-income schools and that we have the potential to change the trajectory of these kids."
Toner added that another appeal of TFA was its "amazing network of people."
In the Lynch School, Toner was an Applied Psychology and Human Development major with minors in Hispanic Studies and Management & Leadership.
"I use what I learned in my Lynch School classes every day. In our sessions that prepare us for our first year of teaching, I have been able to voice what I have learned about intersectionality, scaffolding, and how to motivate students. All of my classes, from Gender Roles and Culture, Community and Change to Psychology of Learning, have helped inform my perspective on the best way to teach my students.
"I am also very thankful for my professors, who showed me what an engaging presence in the classroom looks like," she added. "I have been able to draw from my experiences in their classes as I develop my own authentic teacher self."
-- Kathleen Sullivan | University Communications