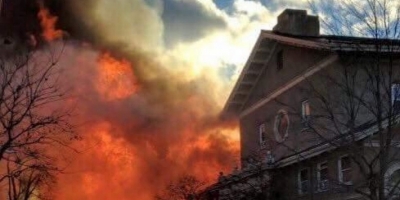 Like many other people, Boston College School of Social Work student Nicolas Gonzalez was horrified at the news that flashed throughout the Boston area in early December: a 10-alarm fire was raging through an East Cambridge neighborhood, damaging 16 buildings and displacing more than 125 people.
But for Gonzalez, the blaze had an all-too-personal connection – he knew one of the families who had lost their home and possessions, including their car. 
So within a couple of days, Gonzalez had set up a collection box in the BCSSW student lounge in McGuinn Hall, and posted a plea via social media for donations to the family.
The response has been heartening.
By December 9, the collection box in McGuinn was overflowing with clothes, food and other items, including toys for the family's two-year-old child. What's more, Gonzalez had collected more than $1,000 in monetary and gift card donations.
In fact, the family – who were first placed in a shelter but are now living with in-laws – has almost more donations than it can handle, and plans to share them with others displaced by the fire, according to Gonzalez.
"I was pretty sure that people would want to help," he said, "but the response has just been above and beyond what I expected. Some people haven't just donated used items, they've gone out and bought new stuff. There are no words to describe how grateful I am, and I know the families are, too."
Gonzalez's experience might well serve as a case study for the power of social media, and its potential to do good rather than simply wreak havoc or cause headaches. Many of his fellow BCSSW community members shared the request for donations via their professional and personal networks, as did Gonzalez himself, increasing the exposure exponentially.
Gonzalez said he plans to keep the collection box in McGuinn until Friday, Dec. 16. He also invites persons with questions about donations to contact him at gonzalnk@bc.edu.
Don't be surprised if you have a little trouble reaching him, though: Besides keeping up with his BCSSW and work commitments, Gonzalez has spent a fair amount of time this past week or so picking up and transporting donations. 
"It's been busy," he said, "but I don't mind. You really like to see how caring people can be."
–Sean Smith / University Communications