"We take the education of the whole person seriously, and I see the transformative power of this in our students. They are intellectually gifted, but they're also generous, just, and caring...They are great people, simply put."

Professor of the Practice of Political Science Kathleen Bailey, co-director of the Gabelli Presidential Scholars Program and an energetic supporter of international education opportunities, ​is this year's winner of  BC's Phi Beta Kappa Teaching Award.
Each year, Boston College students in the prestigious honor society submit nominations for outstanding teachers who have positively influenced their experiences at BC, either inside or outside the classroom. Winners are selected for the award based on the cumulative nominations from students over multiple years.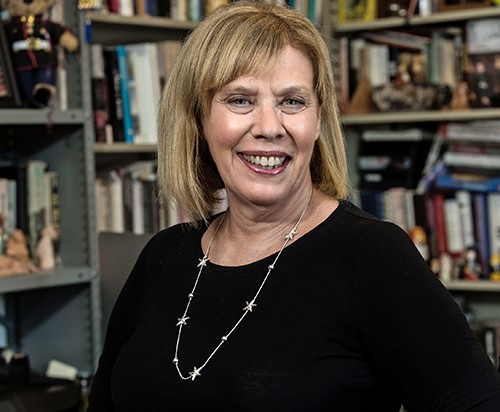 Professor of the Practice of Political Science Kathleen Bailey. (Photo by Lee Pellegrini)
Bailey, a 1976 alumna who also is associate director of the Islamic Civilization & Societies Program, began teaching at BC in 1984. She is an expert on ethnic and regional politics with a focus on former areas of the Soviet Union, notably Uzbekistan and Central Asia; her current research involves leadership and regional elites in Central Asia.

 "It was such a surprise when I received the news about winning the award," said Bailey, who also holds a doctorate from BC. "I felt truly humbled, especially when I saw the list of past recipients, all of whom I admired for years – and some of whom I was lucky enough to have as teachers when I was a BC undergraduate and grad student.

"To be recognized for doing something that I so love to do is incredible. And the fact that the students are the ones who nominate faculty was very gratifying. I feel I have higher expectations to live up to now, and I'm happy to do that."

Bailey's range of activities in international education includes developing and teaching in the nearly decade-old summer study-abroad program "Politics and Oil in the Gulf" in Kuwait; helping create undergraduate fellowships and travel and research grants in collaboration with the McGillycuddy-Logue Center for Undergraduate Global Studies; and serving as lead faculty member for an ACC-IAC initiative for student research abroad.

She also collaborated on the Mizna Fellowship Fund to provide undergraduates with opportunities for research, language study, internships and service-learning initiatives throughout the Islamic World, and played a key role in the development of an overseas faculty development seminar. In recognition of these and other efforts, the University's Office of International Programs selected Bailey as winner of its 2014 Faculty International Excellence Award.

Students who nominated Bailey for the Phi Beta Kappa award cited her attentiveness, encouragement and caring, all of which contributed to their successful undergraduate experiences.

"From grants to research to a Scholar of the College thesis, she has sacrificed her own time and energy to propel me to where I am today," wrote one student.

"She has pushed me to experience new subjects, ideas, places and people. She is the epitome of liberal arts ideals and values her students immensely," commented another.

A student who had taken three courses with Bailey and worked on a senior thesis with her assistance said Bailey's guidance "allowed me to explore areas of international and comparative politics that I would not have been able to learn about otherwise. Professor Bailey is extremely busy but she always takes the time to respond to students' emails and answer any questions they may have – whether regarding course requirements, paper topics, or job inquiries."

Through a kinship with BC that flowered as an undergraduate ("I arrived here when I was 18 and basically never left.") and has continued to grow, Bailey says she has developed a keen appreciation for the University's educational and formational mission.

 "We take the education of the whole person seriously, and I see the transformative power of this in our students. They are intellectually gifted, but they're also generous, just, and caring. My favorite courses are those I teach abroad in Kuwait because I really get to know my BC students fully and in all aspects of their lives. They are great people, simply put."

For Bailey, knowing her material well and conveying it in engaging and innovative ways are key components of being a college professor – but these also must involve a personal connection.

"Students benefit when they see that we are passionate about what we study — it has a way of rubbing off on students and gets them motivated and excited to learn more deeply," she explained. "Beyond challenging our students intellectually, and in keeping with the mission of BC, students need to be appreciated and cared for as a whole person. I try to develop a mentoring relationship with students, and BC offers a variety of structured ways for faculty to do this.

"I especially enjoy being a mentor with the Rise Program, as well as the Gabelli Presidential Scholars. Once you scratch the surface, you find really interesting people in our students. And they deeply appreciate the effort. Students remember the personal relationships developed with faculty long after the material we taught them has faded from memory."
-S​ean Smith | University Communications