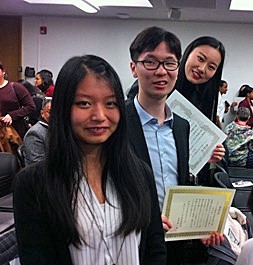 Michelle Lin, Zhangqi Liu, and Hui Wang
Three Boston College students took honors at the 7th Annual Japanese Language Contest sponsored by the Consulate General of Japan in Boston. More than 100 essays and speeches were submitted to the contest from high school and college students across New England.
Michelle Lin '17 won a third place Speech Award in the College Advanced Division, and classmate Hui Wang received a third place Essay Award in the College Intermediate Division. Lin and Wang are both economics majors in the Morrissey College of Arts and Sciences; Wang also minors in Asian Studies.
Carroll School of Management junior Zhangqi Liu received an Honorable Mention in Speech, College Intermediate Division. Liu is a marketing major with a minor in History.
All are students in the Japanese language program of the Department of Slavic and Eastern Languages and Literatures.
—University Communications