Alumna Alyssa Trinidad will travel to the Philippines to study environmental management and sustainable development, thanks to a prestigious Fulbright grant, the coveted post-baccalaureate award that supports a year of study abroad.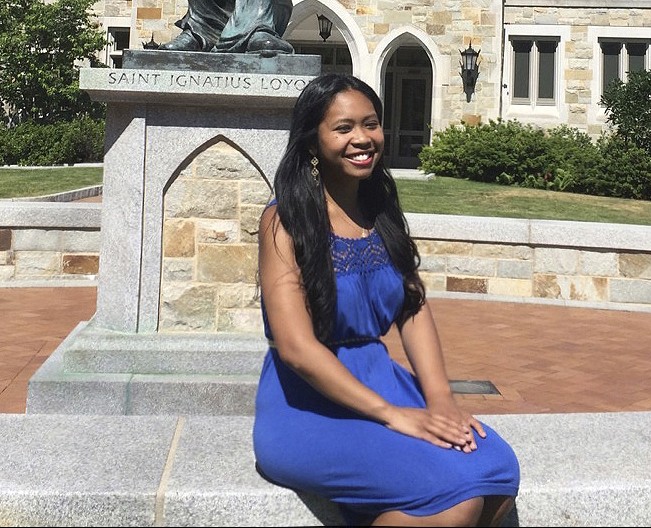 Fulbright winner Alyssa Trinidad M.S.'14.
"The Fulbright grant combines my passion for education with my passion for international travel," said Trinidad, a native of Winthrop, Mass., who earned a master's degree in accounting at the Carroll School of Management. "During graduate school at Boston College, I took an international business class in which I studied the politics and finance of Chile and Argentina. The course ended in a spring break trip to these countries, where we spoke with renowned economists and toured various companies. I want to use the Fulbright experience to do similar field work and apply classroom practices to real-world business issues in the Philippines."
Trinidad said she plans to examine the relationship between environmental accounting and the measure of economic progress in that country, while also identifying and analyzing the effectiveness of environmental accounting policies.
"My project seeks to understand the relationship between environmental management policies and sustainable development in the Philippines. In addition, I look forward to volunteering for non-profit organizations that aid in humanitarian relief for impoverished families in Manila."
A graduate of St. Mary's High School in Lynn who received her undergraduate degree at University of Massachusetts-Boston, Trinidad is one of 15 Boston College Fulbrights this year.
While at Boston College, Trinidad won a Dean's Scholarship, was an American Institute CPA Legacy Scholar, National Council of Philippine American Canadian Accountants Scholar, and Deloitte Campus Ambassador. She was also a representative in the Graduate Management Association and a member of the Philippine Society of Boston College.
Prior to attending the Carroll School, Trinidad was an AERS audit intern at Deloitte & Touche LLP, where she worked as an audit senior assistant after earning her degree. She obtained her CPA license in Massachusetts last year.
After her Fulbright year, she hopes to pursue another graduate degree as part of a transition to a career in higher education.
—Sean Hennessey | News & Public Affairs