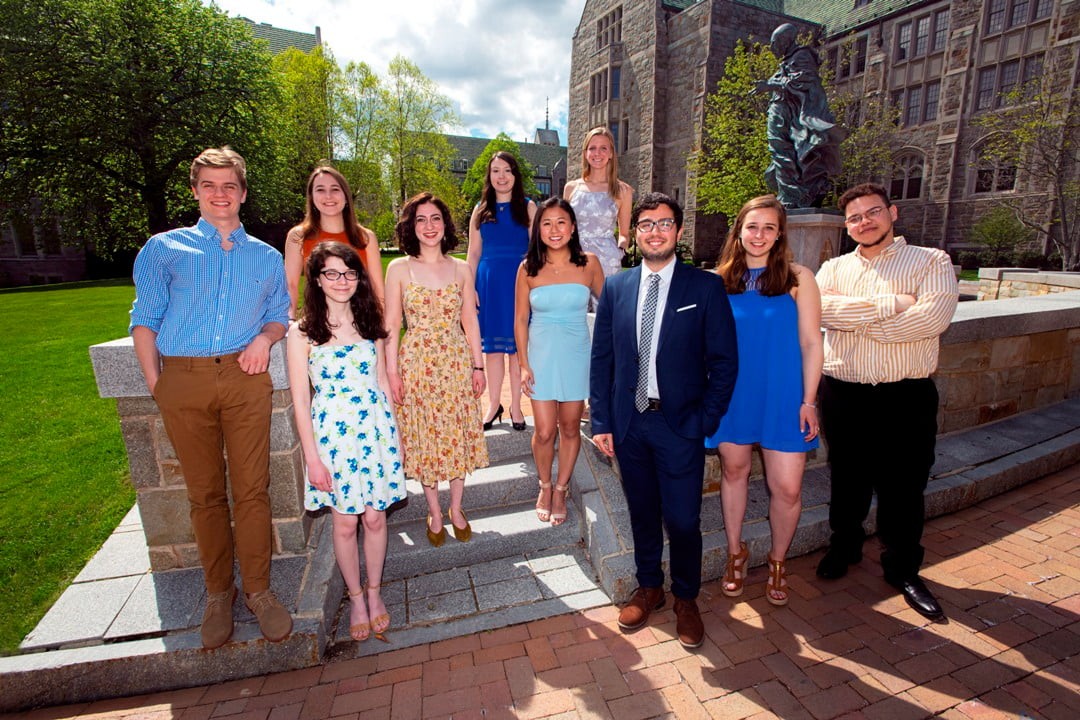 Fulbright recipients: (L-R, front row): Noah Barnett, Sabrina Black, Joshua Elbaz, Alexandria Kleinschmidt, Bryan Paula Gonzalez. (Middle row) Lia Tessitore, Soojin Park. (Back row) Audrey Hersman, Olivia Painchaud, Taylor Stauffer. (Lee Pellegrini)
Ten members of the Class of 2019 and three Boston College alumni have received Fulbright Scholarships, which support a year's post-baccalaureate study abroad. Four other BC 2019 graduates were named as Fulbright alternates, pending confirmation of funding for their projects.
Fulbright recipients—chosen on the basis of academic merit and leadership potential—typically pursue research in various disciplines, or serve an English Teaching Assistantship, through which they teach English language and provide insights about American culture.
Boston College continues to rank among the nation's top 25 Fulbright-producing research institutions, according to the Chronicle of Higher Education. During the period of 2006 through last academic year, 265 BC students earned Fulbrights.
A look at this year's Fulbright winners:
---
Noah Barnett
HOMETOWN: Doylestown, Pa.
DESTINATION: Côte d'lvoire
PROJECT: English Teaching Assistantship; plans to volunteer at a local clinic or hospital.
FUTURE PLANS: Attend medical school.

"I feel enormously privileged to have received the opportunity to spend my next year in Côte d'Ivoire. My time at Boston College has been incredibly formative, pushing me to integrate reflection into my everyday life. I see winning a Fulbright grant as the perfect opportunity to continue focusing on this personal formation, while simultaneously developing the high level of cultural competence needed to serve patients of diverse backgrounds as a physician."
---
Sabrina Black
HOMETOWN: Wauwatosa, Wisc.
DESTINATION: Germany
PROJECT: English Teaching Assistantship; creative writing workshop for children.
FUTURE PLANS: Graduate studies for an MFA in poetry and a PhD in English.

"I am very excited to have the opportunity to teach in a school in Thuringia, and I hope to provide my students with a multifaceted view of the U.S. During my time as a German Studies major, I've engaged with representations of the U.S. in German culture, and I hope to be able to use this experience to introduce voices into the conversation to which my students may not have been exposed. I am particularly eager to work with literature in the classroom, which I believe is an important tool for fostering nuanced conversations about any culture."
---
Austin Bodetti '18
HOMETOWN: Newtown, Conn.
DESTINATION: Morocco
PROJECT: A study of how the writings of medieval Muslim philosopher Averroes can support the Green Mosques Program, a Moroccan initiative to find Islamic inspiration for environmentalism in religious texts. Research will focus on "The Distinguished Jurist's Primer," Averroes' masterpiece on Islam's legal schools of thought.
FUTURE PLANS: Position at a research institute specializing in the Arab world; pursue a master's degree in Middle Eastern studies.

"My time at Boston College allowed me to explore my interest in the Middle East by studying Arabic and Persian, introduced me to the world of Islamic studies and Muslim philosophers in particular, and supported my research in every corner of the Muslim world, from Bosnia to Indonesia. My Fulbright project, which will see me examining the relationship between environmentalism and Islam, will enable me to continue this journey in Morocco."

---
Angelica Carberry (Alternate)
HOMETOWN: Malden, Mass.
DESTINATION: Austria
PROJECT: English Teaching Assistantship


---
Joshua Elbaz
HOMETOWN: Valley Stream, NY
DESTINATION: Georgia
PROJECT: Develop statistics on the prevalence and transmission of hepatitis C virus (HCV) in internally displaced persons in Georgia, which hosts the world's first HCV elimination program; assess the utilization of the program and pilot new HCV surveillance technology—developed by the U.S. Centers for Disease Control—for use with Georgian IDPs living in collective centers, through surveys and laboratory testing.
FUTURE PLANS: Public health advisor position at the Department of Health and Mental Hygiene in New York City or Centers for Disease Control and Prevention; attend medical school.

"My mom and her family immigrated from Georgia to New York during its struggle for independence; preparing this project proposal has been an incredibly formative experience reflecting on those chaotic memories and my identity as a Georgian American. My Fulbright project is just as much a reflection of my own experience as an undergraduate at BC. As a pre-health student, I've become invested in the idea that health can only begin to be understood when interpreted from different frames and perspectives. At BC, I've tried to do that through biology and philosophy majors, and research experiences in the School of Social Work as well as the Biology, Psychology, and Theology departments: to see health through both the humanities and hard sciences. My Fulbright project is an expression of this philosophy to see health more holistically, which has guided me through my career at BC."
---
Gabrielle Fressle '17
HOMETOWN: Garden City, NY
DESTINATION: Germany
PROJECT: English Teaching Assistantship; hopes to start an after-school debate club and volunteer with local refugee organizations.
FUTURE PLANS: Attend law school.

"Since graduating from BC two years ago, my experience working at a global law firm has solidified my desire to return to Germany and to continue to use German in my career. The Fulbright offers an incredible opportunity not only to improve my German, but also to revisit the passion for teaching foreign languages that I developed during my time at BC. I am thankful to the German Studies Department, especially Professor Michael Resler, for their support and encouragement in this pursuit."
---
Bryan Paula Gonzalez
HOMETOWN: Worcester, Mass.  
DESTINATION: Brazil
PROJECT: English Teaching Assistantship
FUTURE PLANS: Return to Boston and earn a master's of education in secondary education with a concentration in history.  

"To me, being awarded a Fulbright has reminded me of all the hard work that I have put into my experience at Boston College. It also reminds me that I am not alone; I have only been able to navigate Boston College because of the communities that I am a part of. If it was not for their love and support, this would not be a reality. As an immigrant [from the Dominican Republic], my dream was always to obtain an education, it's the main reason I moved to the United States. But the Fulbright is a testament to how much more education has offered me. It has opened the way to so many opportunities, and I'm forever thankful. It's been a really bittersweet experience because I am now ending my undergraduate career, but am starting something that I have been dreaming of since freshman year. I am still surprised to this day, and have no words to describe how I am feeling."
---
Audrey Hersman  
HOMETOWN: Chevy Chase, Md.
DESTINATION: India
PROJECT: English Teaching Assistantship at a community college in southern India.
FUTURE PLANS: Work for a global health organization based out of Boston and pursue a dual MPH/MBA program.

"To me, the ETA position in India is the culmination of what I have been working towards throughout my BC career. My academics (double major in biology and International Studies) and extracurricular involvements with GlobeMed and PULSE have really pushed me to reflect on the way I move through the world as a white, American woman and how that impacts my contributions to community health and development efforts internationally. Not only will this opportunity enhance my language skills and cultural competency, but it will also offer me the opportunity to learn from young professionals, teachers, and grassroots community organizers, like the ones I've worked with through GlobeMed, about how I can best contribute to global public health efforts around the world."
---
Alexandria Kleinschmidt
HOMETOWN: Yorktown Heights, NY
DESTINATION: Germany
PROJECT: English Teaching Assistantship; engage in cultural discussions with students and ascertain the German perception of environmental issues.
FUTURE PLANS: Master's degree in geoscience.

"BC encouraged me to pursue my interest in science as well as my excitement for foreign languages. This led me to develop an appreciation for the Fulbright mission of international understanding and cooperation, which I'm honored to share next year in Germany."
---
Katherine Laurila '18
HOMETOWN: Cambridge, Mass.
DESTINATION: Austria
PROJECT: Research the impacts of new public health policy on gender minority health care in Austria.
FUTURE PLANS: Graduate study in public health.

"My coursework at BC encouraged me to seek ways to be of service to others and to connect with other cultures. I'm excited for the opportunity to do both over the coming year and to contribute to the conversation on global health care policy."

---
Leenah Mohamed (Alternate)
HOMETOWN:  Albany, NY
DESTINATION:  Palestinian Territories
PROJECT:  Public health research


---
Olivia Painchaud
HOMETOWN:  Worcester, Mass.
DESTINATION:  Malaysia
PROJECT: English Teaching Assistantship; hopes to create an extracurricular theater program as a way to help students practice speaking English, and write and share their own stories.
FUTURE PLANS: Attend the University of Bristol in England to earn a master's of science degree in education, focusing on policy and international development. Hopes to work for children's rights in the legal sphere and with underprivileged children, giving them a voice through theater.


---
Soojin Park
HOMETOWN:  Springfield, Mo.
DESTINATION:  South Korea
PROJECT:  Research the impacts of current and potential health policies and initiatives on the country's extremely low fertility rate.
FUTURE PLANS: Pursue a master's degree in bioethics at Harvard University, then law school.

"Receiving a Fulbright has aligned with my studies, as my project is at the intersection of public health and law. I started at BC as a sociology major on the pre-med track, until this past year when I switched to pursue a career in law. Before going to law school, where I plan to study health law and policy, the Fulbright will allow me to immerse myself in a research environment which will prove to be invaluable."
---
Anna Scheeler (Alternate)
HOMETOWN: Fargo, ND
DESTINATION: Malaysia
PROJECT: English Teaching Assistantship


---
Taylor Stauffer
HOMETOWN: Cheshire, Conn.
DESTINATION: Spain
PROJECT: Research environmental cues in early disease manifestation, specifically the interaction between intestinal epithelia and associated microbiota and its role in early-onset Crohn's disease.
FUTURE PLANS: Medical school; hopes to become a physician in the field of general surgery.
"This Fulbright research award is a reflection of the support of my professors, family, and peers at Boston College, and I am grateful to be a representative of the United States and Boston College abroad. Alongside the August Pi i Sunyer Biomedical Research Institute, I will engage in meaningful research that synthesizes my dual passion for the medical field and the Spanish language. This versatile project will provoke me to ask and answer challenging questions about disease and intervention, and develop my understanding of medicine's multidisciplinary interaction with the world."
---
Madison Steele (Alternate)
HOMETOWN: Rochdale, Mass.
DESTINATION: Germany
PROJECT: English Teaching Assistantship; expose German students to the diversity of American life, including values, identities, business customs, and media politics, and challenge students' previous notions of the U.S. through class debates and discussions.
FUTURE PLANS: Pursue a master's degree in intercultural communication; work for a multinational corporation or NGO.

"If there is a single lesson that I can take from my four years at BC, it is that the more you learn, the more you realize the things you actually don't know. This statement is not meant to be cynical, but rather intellectually stimulating. Taking the global cultures route of the International Studies major has allowed me to appreciate differences in human behavior and to reflect on distinctly American ways of life. The Fulbright is a conduit for further intercultural exchange in a place which is not yet familiar to me, but for which my professors and classmates have certainly prepared me."
---
Lia Tessitore
HOMETOWN: Scituate, RI
DESTINATION: Austria
PROJECT: Research the socio-cultural implications of the waltz using the vast resources in musicology at the University of Vienna, which is located in a city often described as "the waltz capital of the world." Tessitore will look at the social undercurrents, beginning in the 15th century, that led to the popularity of the waltz, regarded as an important component in the modernization of Western society between the 19th and 20th centuries.
FUTURE PLANS: Pursue a career in public relations within the field of the arts, hopefully for non-profit organizations.

"Of course receiving a Fulbright is very exciting, but I think the credit really goes to the wonderful German Studies Department and to its terrific faculty. It's a small department, but it has a long history of producing Fulbright recipients, including my older sister who received one two years ago (see separate story). I especially want to thank Professor Michael Resler, who has been a particularly strong influence during my time at BC. As a double major in German and theater, my entire four years have been an incredible experience and I believe they have thoroughly prepared me for the next steps in my life."

University Communications