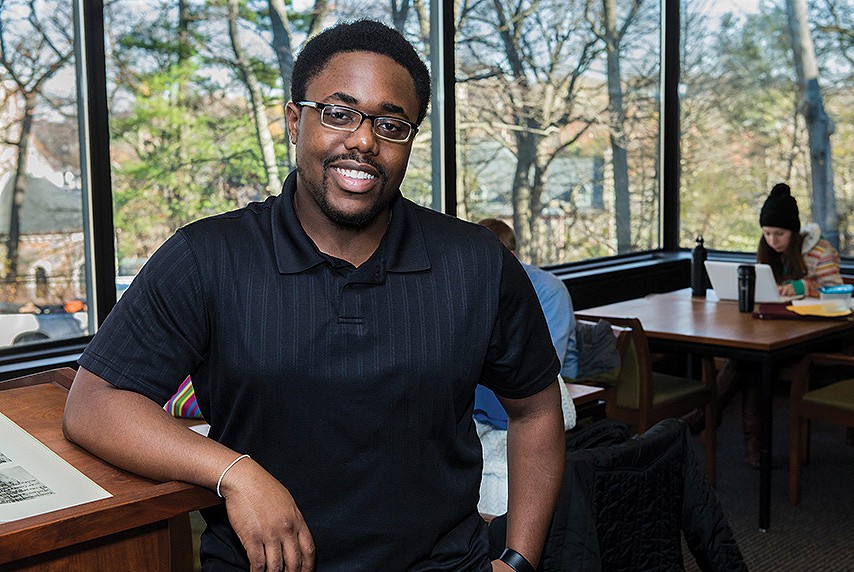 Dr. Donald Brown Award Winner John Gabelus '16. (Photo by Lee Pellegrini)

John Gabelus graduated after an impressive undergraduate career marked by engagement on all levels: academic achievement, exemplary service and campus leadership. In recognition, he was selected to receive the 2016 Dr. Donald Brown Award, which honors a senior who, during his or her time on campus, made extraordinary contributions to Boston College, and particularly to the AHANA community.
"John embodies the Dr. Donald Brown Award in his commitment to the AHANA community and the many contributions he made to students and to Boston College during his undergraduate tenure," said Bowman AHANA and Intercultural Center (BAIC) Director Inés Maturana Sendoya. "BAIC is tremendously grateful for his leadership."   
Gabelus, who majored in theology with minors in African and African Diaspora Studies and biology, hit the ground running as a freshman: He was involved with BAIC's Sankofa Leadership Program, the McNair Scholars and Dedicated Intellectuals of the People organization. He went on to participate in and later lead the Jamaica Magis service immersion trip, had leadership roles in the Black Student Forum and L'Association Haitienne, and received an MLK Advanced Study Grant. 
He also served as a resident assistant, Mississippi Delta Service Corps volunteer, a program leader with Halftime, 48Hours and Kairos, and worked as a College Transition Program peer advisor. This year, Gabelus reactivated and led United Front, an organization dedicated to serving and promoting cultures birthed from the African Diaspora. He also was an Information Technology Services student employee and Eagle Escort Supervisor and, off campus, volunteered at Caritas Christi Health Care. 
"Winning this award at the end of a year like this, filled with tremendous growth and community success, is a great feeling and only fuels my sense of motivation with regard to working toward improving issues faced by people from all backgrounds, either on or off campus," Gabelus said.
"I am honored to not only be named as this year's recipient, but also to be included in the company of former student leaders who made sure that students of color were represented and included in the many programs that Boston College has to offer. 
"While the award was welcome news, it is not what validates my efforts to improve the BC community," he added. "Witnessing a positive improvement as a result of these efforts has been reward enough."
Gabelus will spend a month this summer studying abroad in Santiago, Chile, as a participant in "Through the Eyes of Service," a program combining theology study with service led by Adjunct Associate Professor of Philosophy David McMenamin. Helping to fund his first international study opportunity is a BASAA Scholarship from the Fund for Education Abroad.  
"Studying abroad and serving a new community will expand my understanding of global citizenship and provide me the opportunity to experience life outside of the United States," he said.
This fall, Gabelus will be back on campus to pursue a master's degree in the School of Theology and Ministry.
Though he hasn't decided the focus of his studies with regard to a career, "among the paths I am considering are hospital chaplaincy and campus ministry, but I may well find myself seeking more research opportunities."
The Dr. Donald Brown Award was established in honor of the former director of the Office of AHANA Student Programs, now the Thea Bowman AHANA and Intercultural Center.
By Rosanne Pellegrini | News & Public Affairs