A funeral Mass will take place Friday, Dec. 23, for Boisi Professor of Education and Public Policy Emeritus George F. Madaus, an internationally renowned expert on – and frequent critic of – educational testing and measurement, who died on Dec. 18. He was 82.

Visiting hours will be held Thursday, Dec. 22, from 4-8 p.m. at George F. Doherty & Sons Funeral Home, 1305 Highland Ave., Needham.

The funeral Mass for Dr. Madaus will take place Friday at 10 a.m. in St. Bartholomew Church, 1180 Greendale Ave., Needham.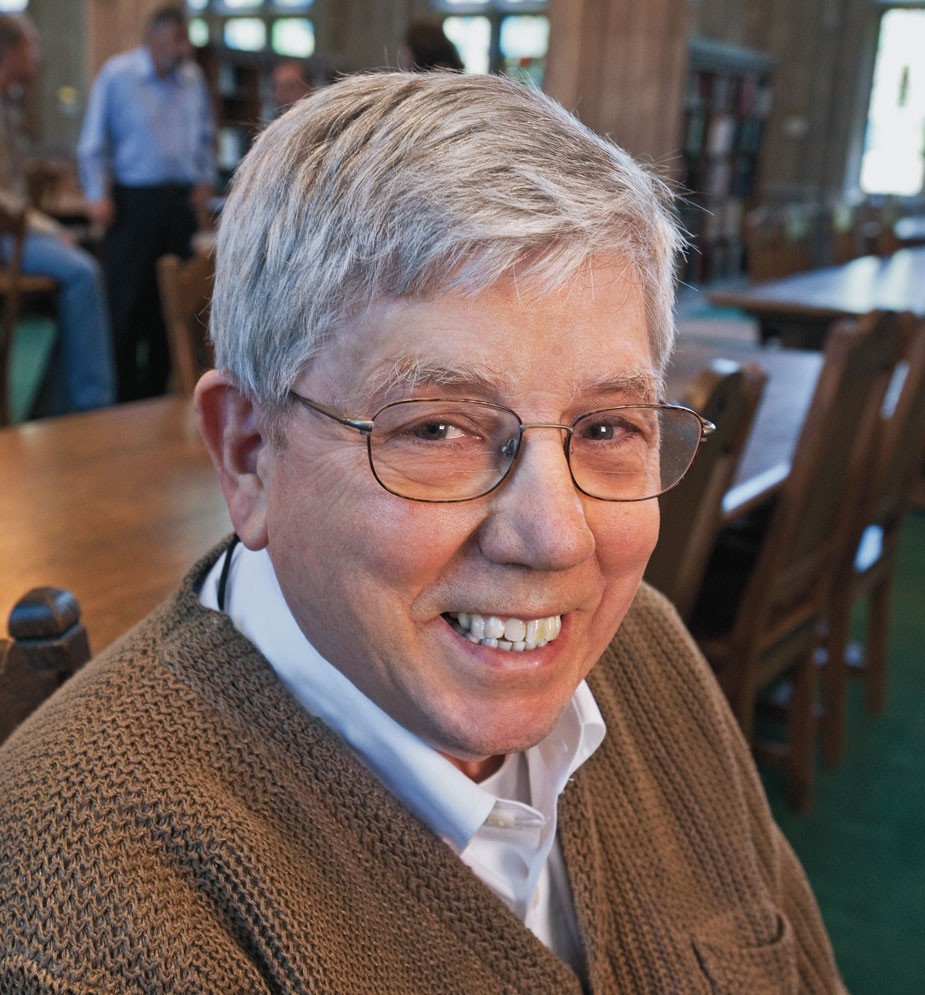 "Professor Madaus created a legacy in quantitative research that lives on through various projects at BC, such as the Center for the Study of Testing, Evaluation, and Educational Policy and the groundbreaking analytics of City Connects," said Stanton Wortham, the Charles F. Donovan, S.J., Dean of the Carolyn A. and Peter S. Lynch School of Education. "George was a respected member of the Lynch School community who will be missed by his many former students and colleagues[IS1] ."

Dr. Madaus joined the School of Education faculty in 1966, after finishing postdoctoral work at the University of Chicago. In 1980, he co-founded Boston College's Center for the Study of Testing, Evaluation, and Educational Policy (CSTEEP), a hub of scholarly activity for Dr. Madaus – who for a time served as the center's director – and colleagues to study, write about and speak on high-stakes testing and its impact on children, schools and society.

"There is more oversight for pet food than there is for tests," said Dr. Madaus, interviewed by the Boston College Chronicle in 1998. While he and his colleagues believed that testing served "a very useful function," Dr. Madaus said, they felt the American public and its leaders should know not only the strengths of testing, but the limitations as well.

In a 2001 interview for the PBS program "Frontline," he said: "I always looked on testing as a technology. It fits any definition you want of a technology. It has underlying algorithms; it has paper and pencil answer sheets in scoring things. But it's a fallible technology, and like all technologies, there are places where it can break down."

Dr. Madaus and co-author Kathleen Rhoades pointed out numerous such breakdowns in a 2003 study that counted 103 publicized errors on state and national standardized tests between 1976 and early 2003. Because of testing errors – ranging from inconsistent scoring to questions appearing more than once – the study found, thousands of New York City students were required to attend summer school unnecessarily; 50 high school seniors in Minnesota were denied diplomas; public schools in Florida had their funding cut; and teaching candidates were denied licenses.

CSTEEP became one of BC's leading recipients of external funding, and launched such successful initiatives as the National Board on Educational Testing and Public Policy, and the Third International Mathematics and Science Study (TIMSS), which eventually spun off to form the TIMSS & PIRLS International Study Center and 20 years on remains the world's longest running, large-scale assessment of mathematics and science education.

Among other publications, Dr. Madaus wrote or co-authored The Fractured Marketplace for Standardized Testing, From Gate Keeper to Gateway: Transforming Testing in the United States, and Teach Them Well: An Introduction to Education. He also co-authored the Code of Fair Testing Practices in Education, which is widely used by educational practitioners and policymakers.

The center, and Dr. Madaus' work, drew its share of criticism. A conservative foundation once published a paper that accused CSTEEP of harboring anti-testing bias and politicizing the issue of high-stakes testing. In fact, Dr. Madaus served on the technical advisory committee for the Massachusetts Comprehensive Assessment System (MCAS), which he called "state of the art."

Yet at times, even the respected MCAS drew Dr. Madaus's reproach.

"He was a critic of most standardized testing because he felt that the compromises made to conform to constraints of time and cost resulted in tests that did not deliver what was promised – to the detriment of children, especially those coming from disadvantaged backgrounds," said Boisi Professor of Education and Public Policy Henry Braun, who also directs CSTEEP.

All too often, according to Dr. Madaus, high-stakes testing follows the "Tradition of the Past Exam," whereby teachers use old tests to prepare students for the next one.  Dr. Madaus refuted the idea that teaching to the test didn't matter, as long as the test reflected high standards: "No test is good enough to be a curriculum," he told Boston College Magazine in 2001.

Kearns Professor of Urban Education Mary Walsh said Dr. Madaus established himself as an international authority on educational testing just as the US and other nations began to closely examine student achievement at state, national and global levels.

"He absolutely advanced the whole field of testing in education," said Walsh. "He broke new ground on a regular basis on the impact of testing and how it should be done. His reasoning was always based on science and data. He always knew that the world was in the grain of sand – for all the thousands and thousands of kids who were tested, he always knew that it came down to the individual child."

When Walsh launched the City Connects initiative to help struggling students, Dr. Madaus took on the data analysis component that has allowed City Connects to document how its programs raise student achievement and combat the effects of poverty for low-income students.

"He designed the entire evaluation component for City Connects and then identified a lot of people to help us and he would convince them to come and work with us," said Walsh. "He was just terrific."

Professor of Education Law and Public Policy Diana Pullin, who from 1987 until 1994 served as dean of the School of Education (the school was named for Peter and Carolyn Lynch in 2000), recalled meeting Dr. Madaus when she was a young lawyer working on civil rights litigation in the early 1980s, related to testing and the use of test scores as a graduation requirement.

"George reached out to colleagues all over the world to help find expert witnesses in the court case," said Pullin, who argued the Florida case on behalf of the Center for Law and Education. "People still talk about it, decades later."

As dean, Pullin found Dr. Madaus' reputation as one of the world's foremost experts on educational testing was also recognized by organizations that funded his research.

"George was the first member of the Lynch School faculty to earn an endowed chair [the Geoffrey T. Boisi Professorship in Education and Public Policy, established in 1990] and he played an essential role in moving our School of Education into the top tier in the US," said Pullin. "He was one of our early very active researchers and successful grant seekers."

A native of Worcester, Mass., Dr. Madaus held an enduring appreciation for the work of classroom teachers, according to Walsh.

"He had enormous respect for teachers," said Walsh. "He always said it was the hardest job, the most important job."

Dr. Madaus earned a bachelor's degree from the College of the Holy Cross, a master's degree from Worcester State College, and his doctorate in education from Boston College. His six children all went on to graduate from BC.

"[He] had a deep and undying love for Boston College," said Pullin.

Speaking with Chronicle upon his retirement as a full-time faculty member in 2004, Dr. Madaus described his decision to teach at BC as "a no-brainer." But he acknowledged that at one time he'd had misgivings about coming to BC: Working in Ireland on a project in 1971, he was alarmed by reports of the University's mounting financial difficulties.

"I didn't know if I was going to have a place to come back to," he recalled. "I was thinking maybe I should have taken that job in Chicago [at University of Chicago, where he'd also been offered a position]."

He marveled at the extensive period of growth that took place at BC during the 1970s, '80s and '90s, an era of excellence that seemed to extend to all aspects of BC, from the quality of its students to the maintenance of the campus said Dr. Madaus.

"We have truly become a national university," he said. "There's no question about that."

Among his professional activities and honors, Dr. Madaus was vice president of the Measurement and Research Methodology Division of the American Educational Research Association; president of the National Council on Measurement in Education; a visiting professor at the Harvard Graduate School of Education and St. Patrick's College in Dublin; a member of the National Academy of Education; and recipient of the E.F. Lindquist Award, in recognition of his body of research in the field of educational measurement.

Dr. Madaus is survived by his wife, Anne; sons George and Joseph and daughters Mary C. Corcoran, Sarah A. Tierney, Martha M. Gowetski and Eileen P. Keane; his brothers William and Edward; and 15 grandchildren.

In lieu of flowers, donations can be sent to: The Lynch School of Education; In Memory of Boisi Professor Emeritus Dr. George F. Madaus; Boston College; Attention: Aza Chirkova, Cadigan Alumni Center, 140 Commonwealth Ave, Chestnut Hill, MA 02467.

–Sean Smith and Ed Hayward | University Communications