Donald J. White, who revitalized graduate education at Boston College during his 23 years as dean of BC's Graduate School of Arts and Sciences and helped guide the University through turbulent financial times in the early 1970s, died on November 18. He was 96.
A Mass of Christian Burial will be celebrated for Dr. White at Saint Agatha Church, 432 Adams Street, Milton, Mass., on Saturday, November 24, at 10 a.m. Visiting hours will be held that Saturday from 8:30-9:30 a.m. at Dolan Funeral Home, 460 Granite Avenue, East Milton Square. Interment will take place at Milton Cemetery.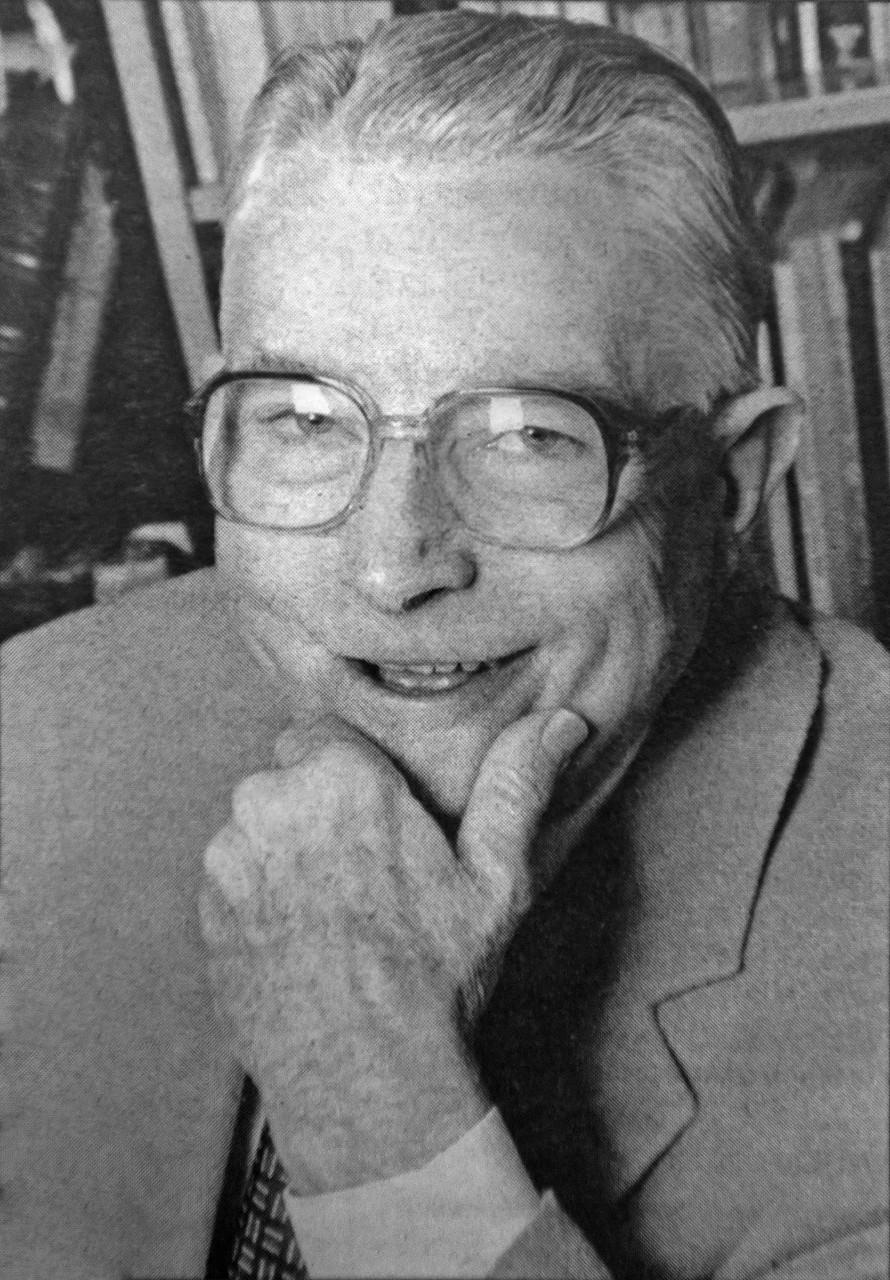 A 1944 BC alumnus who joined the economics faculty in 1946, Dr. White served as associate dean and associate dean of faculties for what was then the College of Business Administration (later the Carroll School of Management) from 1955-61. He also was an adjunct professor at Boston College Law School, where he taught arbitration.

Dr. White stepped into a challenging situation when he was appointed GA&S dean in 1971. Graduate education in general was going through an unstable economic period, he recalled in an interview with the  Boston College Chronicle upon his retirement in 1994, and the state of affairs at GA&S was magnified by the University's overall fragile financial condition. Colleagues had described graduate education as "a depressed industry," he told Chronicle, although some expressed the view that "perhaps the best time to get in is when an industry is depressed."

"I just thought BC should be a university and that meant a commitment to graduate studies," he said.

The next year, Boston College's new president, J. Donald Monan, S.J., named Dr. White chairman of a committee charged with enacting a plan for stabilizing the University's financial health and developing long-term fiscal planning measures—an important step in the road back for the University and GA&S. In 1984, Fr. Monan selected Dr. White to chair the Graduate Educational Policy Committee, which resulted in an assessment of resource needs and methods for graduate programs. The eventual outgrowths of this work included the Merkert Chemistry Center and a doctoral program in nursing.

GA&S went on to achieve some significant milestones. During 1992-93, the school awarded 120 doctoral degrees, the largest number in its history at that time, and introduced a program at the Institute of Russian Literature of the Russian Academy of Sciences, making BC the first American university to offer a graduate-level program for the study of Russian culture. The school also established programs that reflected the increasing numbers of women and AHANA students desiring graduate education: GA&S began offering Clare Booth Luce Fellowship Grants to encourage women to enter, study, graduate, and teach in the sciences, and received a three-year U.S. Department of Education grant enabling AHANA students to pursue doctorates in English, history, philosophy, psychology, and sociology.

"The developments of the past 20 years or so show that maybe we did something right," Dr. White told Chronicle in 1994. "I've had the experience of being part of a wonderful management team and working with extraordinary colleagues and faculty."

Dr. White was awarded an honorary Doctor of Humane Letters degree at the 1994 Boston College Commencement Exercises. The next year, he received another tribute: The Teaching Excellence Awards Program, which he helped create in 1984 to recognize and reward its outstanding teaching fellows and laboratory assistants, was named for him.

Dr. White also had a successful career as a labor and industrial relations specialist, acting as an arbitrator or mediator of numerous labor strikes and negotiations in New England and throughout the nation.  A member of panels such as the National Academy of Arbitrators and the Federal Mediation and Conciliation Service, Dr. White was instrumental in mediating the successful resolution of the 14-week NYNEX telephone workers strike in 1989, which threatened to paralyze communications across the Eastern Seaboard.  

"I have so many fond memories of Don White from his 23 years as dean of the Graduate School of Arts and Sciences," said Professor of Economics Joseph Quinn, a former dean of the College of Arts and Sciences. "Don was well respected as a labor economist, a labor mediator, and a University administrator. He could out-talk anyone, and that may have been the secret of his success as an administrator. Among my fondest memories are receiving enthusiastic congratulatory hand-written notes from Don under my office door after I had done just about anything—mostly not note-worthy—on campus. No matter how early I arrived that morning, the note was already there.

"Don was great at the macro level, but he was an absolute master at the personal level," said Quinn. "That is what I most treasure and hope to have learned from him."
Another former colleague, retired Vice Provost for Faculties Patricia De Leeuw, said, "It was my great honor to work as Don's associate dean in the Graduate School of Arts and Sciences for five years. He was an extraordinary model for me of administrative expertise, commitment to Boston College, and kind concern for its faculty and students. Don was a national leader in graduate education, serving for a term as president of the Council of Graduate Schools, and he worked tirelessly as dean to bring excellence to BC's graduate programs."
"While Don's title was Dean of the Graduate School of Arts and Sciences, he truly was a University person who served on countless committees, and who chaired the beginning of long-range planning at the end of the Seavey Joyce, S.J., presidency [in 1972]," said Peg Dwyer, longtime vice president and assistant to the president, who retired in 1997. "He was a respected and admired faculty member who was generous with his time for students and faculty alike."
Dr. White received a Certificate of Merit in 1991 from the Northeastern Association of Graduate Schools in recognition of leadership in the advancement of graduate education.

In addition to a bachelor's degree in economics from BC, Dr. White held master's and doctoral degrees in economics from Harvard University. He served the U.S. government in occupied Germany in 1945 as a special agent for the U.S. Treasury Department of Foreign Funds Control. He was also a member of the New England Regional Wage Stabilization Board, a trustee of Emmanuel College, and a visiting professor at MIT.  
He was married to Helene Riley—whom he had met while she was serving as secretary to then-University President William Keleher, S.J.—for 65 years before her death in 2015. Their three children are all BC graduates: Gregory '74, the late Elizabeth '77, Ph.D. '95, and Helene '79, J.D. '83. He also is survived by three grandchildren.
"You cannot understate the importance of Boston College in my father's life," said Gregory White. "The BC community was part of his soul and our family. Dad lived for education, and BC was the instrument of this inspiration which will have a lasting effect for generations."
"My father was a very accomplished man, but I consider him most as a man of great faith who was devoted to his family, and considered his 65-year marriage as his greatest accomplishment," said Helene White Haddad.
"I envied his ability to be at ease in his own skin and to treat everyone the same, whether it be John Kenneth Galbraith or the custodians in McGuinn Hall. While he was never at a loss for words, he took the time to listen to people and try to understand and help resolve their concerns, a rare gift. We will miss him dearly." 

In lieu of flowers, donations in Dr. White's memory may be made to the "Elizabeth Marie White Memorial Fund," c/o Boston College Development Office, 140 Commonwealth Avenue, Chestnut Hill, MA 02467.
—University Communications