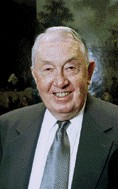 Albert Hanwell
Albert F. Hanwell, an alumnus and retired longtime faculty member and associate dean at the Boston College School of Social Work, died on Oct. 3.

Dean Hanwell's association with the Graduate School of Social Work – as it was then known – went back to its pre-Chestnut Hill days, when the school was housed at 126 Newbury Street in Boston. A 1949 BC graduate, he earned his master's degree in social work at GSSW in 1952, then returned as a faculty member 10 years later, six years before the school moved to its present campus location.

After the appointment of June Gary Hopps as GSSW dean in 1976, Dean Hanwell took on more administrative responsibilities until he was appointed assistant dean in 1985, then associate dean in 1992. He, along with Hopps, retired in 2000.

Dean Hanwell was credited for working with Hopps to help GSSW become a modern, nationally recognized presence in the social work field. During the Hopps era, the school established a doctoral program – still a rarity at the time among social work schools – and innovative joint degree programs with the Carroll School of Management, Law School and Institute for Religious Education and Pastoral Ministry that promoted the interdisciplinary character of social work. GSSW joined U.S. News & World Report's top 20 rankings of graduate social work programs, and its faculty ranked 10th in a national study on publication productivity.

In the spring of 2000, then-Academic Vice President and Dean of Faculties John J. Neuhauser praised the leadership of Hopps and Dean Hanwell: "What they have achieved is remarkable."

A World War II veteran who served in the Navy, Dean Hanwell was pre-deceased by his wife Ann. He is survived by his sons Neil – an accounting assistant for the University's Auxiliary Services division – Kevin and John J. Hanwell, S.J., and his daughter Theresa.

In lieu of flowers expressions of sympathy may be made to USA Northeast Province of the Society of Jesus, 39 E. 83rd St., New York, NY 10028.
—News & Public Affairs