U.S. Ambassador to the Holy See Kenneth Hackett '68, H '06 will speak on campus Oct. 14, discussing "The Francis Revolution: Mercy." The event, which is open to the public, begins at 4 p.m. in Gasson 100.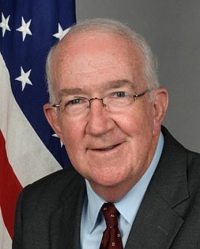 Ambassador Kenneth Hackett
His keynote address will kick off a conference, "Public Theology and the Global Common Good," in honor of the work of former Center for Human Rights and International Justice director David Hollenbach, S.J.

The conference, which also will mark the 30th anniversary of the U.S. Conference of Catholic Bishops' pastoral letter "Economic Justice for All," will take place the following day and will feature presentations by Fr. Hollenbach's former students and colleagues, opening a conversation with a newer generation of theologians on the future of public theology and the common good. Fr. Hollenbach will participate as a discussant; a closing liturgy will be held at 4 p.m. in the School of Theology and Ministry Chapel.  
BC participants will include Morrissey College of Arts and Sciences Dean Gregory Kalscheur, S.J., Libby Professor of Law and Theology Cathleen Kaveny, Professor of Theology Stephen Pope, and Monan Professor of Theology Lisa Sowle Cahill, as well as CHRIJ co-directors Daniel Kanstroom and Brinton Lykes and four BC doctoral candidates.
 "It is a great pleasure and truly humbling to have many former students discuss my work," said Fr. Hollenbach, who is now at Georgetown University as Pedro Arrupe Professor at the Walsh School of Foreign Service. "I am very proud to have been involved in the education of these men and women who are now making true contributions in the field of theology and social ethics. I am sure their discussion of issues that are close to my heart will be lively and inspiring.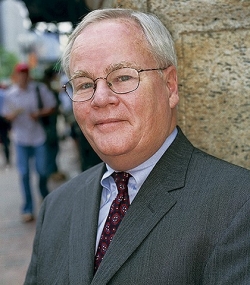 David Hollenbach, S.J.
"The contributions to the discussion by my colleagues at Boston College will surely mean very much to me also. I have long held the work of Kenneth Hackett in highest regard. His leadership through many years at Catholic Relief Services made a huge difference in the lives of men and women facing crises caused by war and disaster. His presence to give the keynote at the conference is a true honor for me."
Fr. Hollenbach's "dedication to the center's teaching and research programs, as well as his extensive knowledge and experience in ethics and forced migration, have propelled the center these last 10 years into one with a unique interdisciplinary scope, working transnationally with scholars and practitioners to engage in applied research and training to advance issues of human rights locally and globally," according to Kanstroom and Lykes.
 "The CHRIJ looks forward to collaborating with the organizers of this excellent two-day event in recognition of David's scholarship and commitment to those 'on the move' as well as his life-long engagement in teaching and mentoring with many generations of students and colleagues here at Boston College," Lykes said.
CHRIJ's co-sponsors are the Institute for the Liberal Arts, Morrissey College of Arts and Sciences, Jesuit Institute, Theology Department, School of Theology and Ministry, International Studies Program, and Boisi Center for Religion and American Public Life.
More information is available via the CHRIJ website.  
—Rosanne Pellegrini | News & Public Affairs