Assistant Professor of Psychology John Christianson has been named the inaugural Gianinno Family Sesquicentennial Assistant Professor, as part of a continuing Boston College initiative to support promising early-career faculty members. 
Christianson, who joined the Morrissey College of Arts and Sciences faculty in 2013, researches the neural mechanisms that allow mammals to distinguish between dangerous and safe environments, as well as the neural basis of stress resilience and emotion regulation. His work could have possible application in interventions for psychiatric conditions including post-traumatic stress disorder, depression and anxiety.
He also has been part of the University's strategic planning process in the integrated sciences. Recently, he has been involved in an interdisciplinary collaboration on a device platform for next-generation brain stimulation and monitoring with Ferris Professor and Physics Chairman Michael Naughton and Vice Provost for Research and DeLuca Professor of Biology Thomas Chiles.  
Funding for the Sesquicentennial assistant professorships comes from the recently completed Boston College Light the World campaign's Sesquicentennial Challenge, which is designed to provide financial support for the research and scholarship of junior faculty.
Additional Sesquicentennial Challenge faculty include Coughlin Family Assistant Professor Hristina Nikolova (Carroll School of Management), Buehler Family Assistant Professor David Miele (Lynch School of Education) and White Family Assistant Professor Jennifer Erickson (Political Science) of the Morrissey College.
"I am sincerely grateful for this recognition and humbled to be associated with the other Sesquicentennial Assistant Professors at BC, who are themselves quite remarkable scholars," said Christianson. "It is a privilege to work in this community and the recognition reinforces and renews my commitment to service and scholarship at BC. 
"The award comes at a critical time in my career development. Because our research utilizes a large array of technologies which each require significant time and energy to validate and use toward new research endeavors, the payoff for setting up the lab can feel like a long time coming. We are positioned to push our research in some very exciting directions. I hope that my record in teaching, service and scholarship at BC will bring honor to the Gianinno family."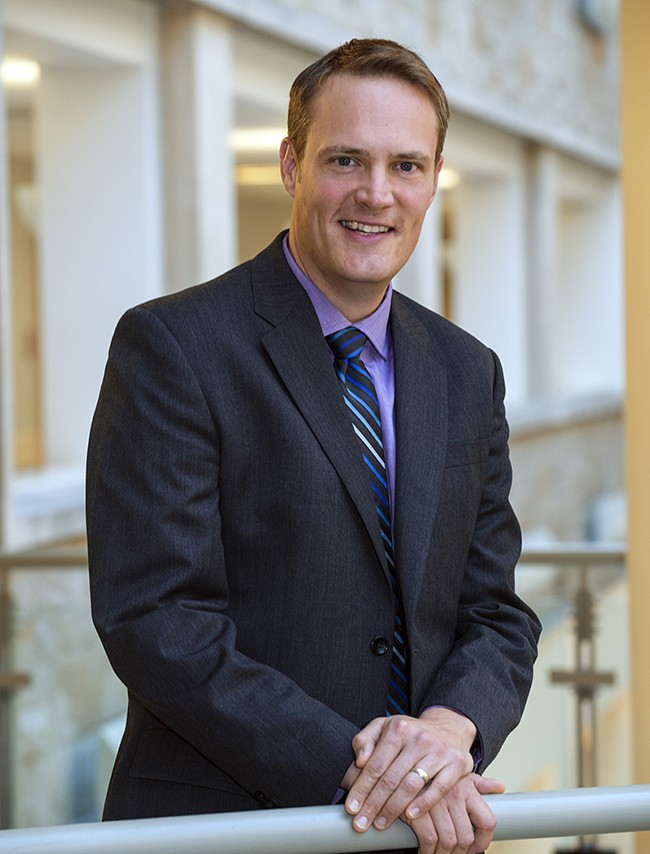 Gianinno Family Sesquicentennial Assistant Professor of Psychology John Christianson. (Photo by Lee Pellegrini)
The Gianinno Family Sesquicentennial Assistant Professorship – which supports an assistant professor associated with research that spans the physical and behavioral sciences – was made possible by University Trustee Susan McManama Gianinno '70, P'93, and Dr. Lawrence "Larry" Gianinno '70, P'93.
Susan Gianinno—whose father, John McManama '37, worked as a physician at BC for more than 40 years—has aided her alma mater in numerous capacities over the past 25 years. She has chaired the Board of Trustees' Committee on Academic Affairs, participated in key administration hires, and been a strong advocate for women on campus, serving as co-chair on the task force on women and BC, a precursor of BC Connections and the Council for Women of Boston College.
"Working with BC as a trustee, and in other ways, has enabled me to develop a deeper insight into the University's priorities and objectives," she said. "One of the most important things I've come to appreciate is the value of investing in junior faculty. Larry and I are pleased that John Christianson is the first Gianinno Family Sesquicentennial Assistant Professor."
Larry Gianinno added, "John's work not only illuminates a fascinating aspect of mammal behavior, but may help in combatting some of the most common and troubling mental health problems in our society."
Morrissey College Dean Gregory Kalscheur, S.J., said,  "I'm delighted that John has been appointed as the inaugural Gianinno Family Sesquicentennial Assistant Professor. His interdisciplinary study of the biological basis of human behaviors, his collaboration with colleagues in Physics and Biology, and his important contributions to the University's ongoing integrated sciences initiative planning process, make him an ideal selection as the inaugural holder of this professorship." 
Christianson's current work, supported by the Brain and Behavior Research Foundation and National Institute of Mental Health, focuses on the insular cortex, which receives sensory information of every mode and is vital for memory. He and his team hypothesize that the cortex's properties would allow for the integration of expectation with actual outcomes, a process critical to many kinds of human behavior—and with troubling consequences if it fails. 
"For example, individuals who suffer from post-traumatic stress disorder experience high levels of fear and danger expectation, even when clear cues for safety abound—like familiar friends or bright, safe rooms," he explained. "In other words, individuals with PTSD are not making use of safety cues to predict outcomes in their environment and the result is an inappropriate state of fear."
In experiments where rats were given a stressful treatment mirroring PTSD symptoms, Christianson and his colleagues found that rendering the insular cortex inactive inhibited the brain's "safety signals" from mitigating stress. 
"Our research now entails a more general study of the insular cortex in emotion regulation and recognition and we expect future work to inform the diagnosis and treatment of not only PTSD, but also social affective disorders such as autism spectrum disorders and schizophrenia where these individuals fail to read or react appropriately to the emotional cues of other people. These conditions need better treatments; we hope these will be the fruits of our study."
Christianson said he was attracted to BC because of the impressive research and scholarship in neuroscience, and the strong presence of junior faculty in psychology. Participating in the planning committee for integrated sciences, he said, has broadened his understanding of the University's mission and ambitions.
"I believe the work of our committee will put BC on the international map as a cornerstone for impactful, life-improving science that will reach our students through curriculum, and our communities through discoveries, outreach and new applied technologies. I look forward to the hard work ahead which will be required to see our vision through to fruition."
A native of Vernon, Conn., Christianson came to BC after serving as a research associate at the University of Colorado for seven years. He also taught for three years at the University of New Hampshire, where he earned master's and doctoral degrees; he holds a bachelor's degree from Susquehanna University. In 2013, he was named a NARSAD (National Alliance for Research on Schizophrenia, Anxiety & Depression) Young Investigator by the Brain and Behavior Research Foundation.
At Boston College, Christianson has taught Molecular Basis of Learning and Memory, Behavioral Neuroscience and Neurophysiology.
By Sean Smith | News & Public Affairs