On Newton Campus, the Stuart Hall parking lot is in the midst of a "complete re-do." (Lee Pellegrini)

Two of Boston College's major construction projects are at significant junctures this summer, with the new athletic field house nearing completion and the Connell Recreation Center having passed the halfway point in its timeline.

Several other ongoing and upcoming projects are likely to affect campus traffic or parking between now and the end of August, according to Associate Vice President for Capital Projects Management Mary Nardone and Director of Annual Capital Projects Kevin Ruby. These include a new roadway connecting Campanella Way to Chestnut Hill Drive; renovation of the Stuart Hall parking lot on Newton Campus; and infrastructural and other work in the vicinity of Cushing Hall and the Service Building.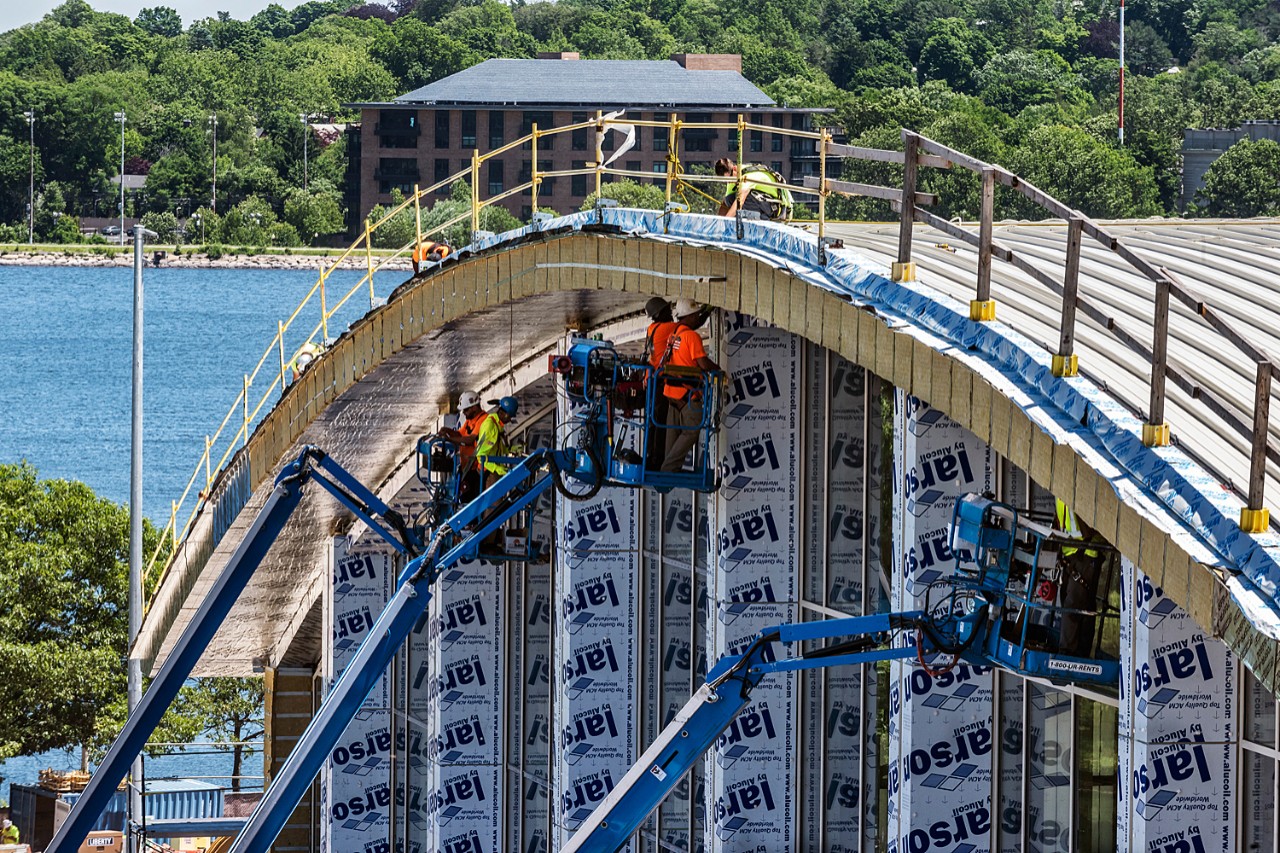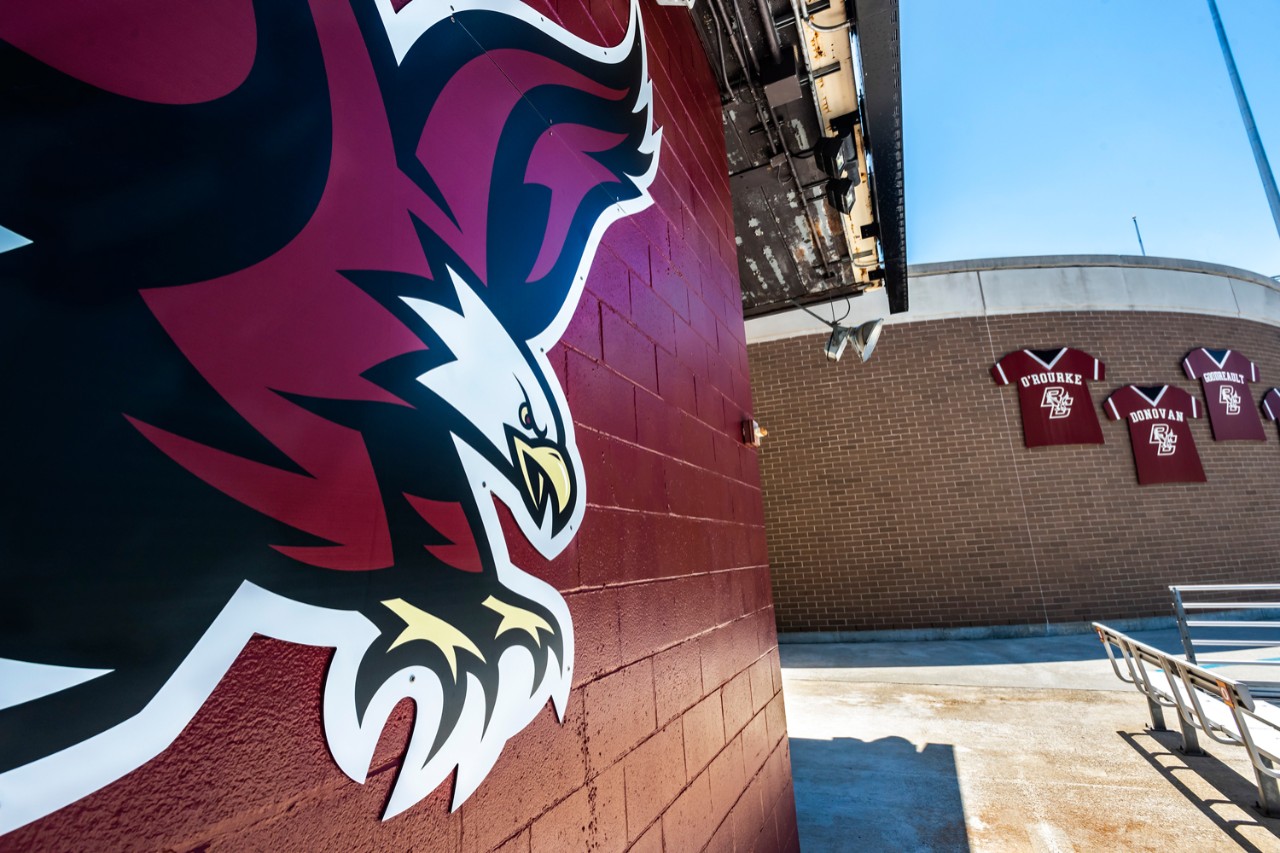 Its exterior and interior work winding down, the 115,000-square foot field house adjacent to Alumni Stadium, shown in three images above, is on track for two milestones: a certificate of occupancy that will be filed on July 27, and on Aug. 3, the BC football team's first practice. The very last phase in late summer will focus on landscaping.

With completion of all pre-casts, the Connell Recreation Center's structure is now finished, and attention has shifted to the building's façade, shown below. The foundation for the pool has been dug, and concrete will be poured by the end of June. The 244,000 square-foot, four-story center, which is being built on the former site of Edmond's Hall on Thomas More Road, is expected to be finished by August of next year.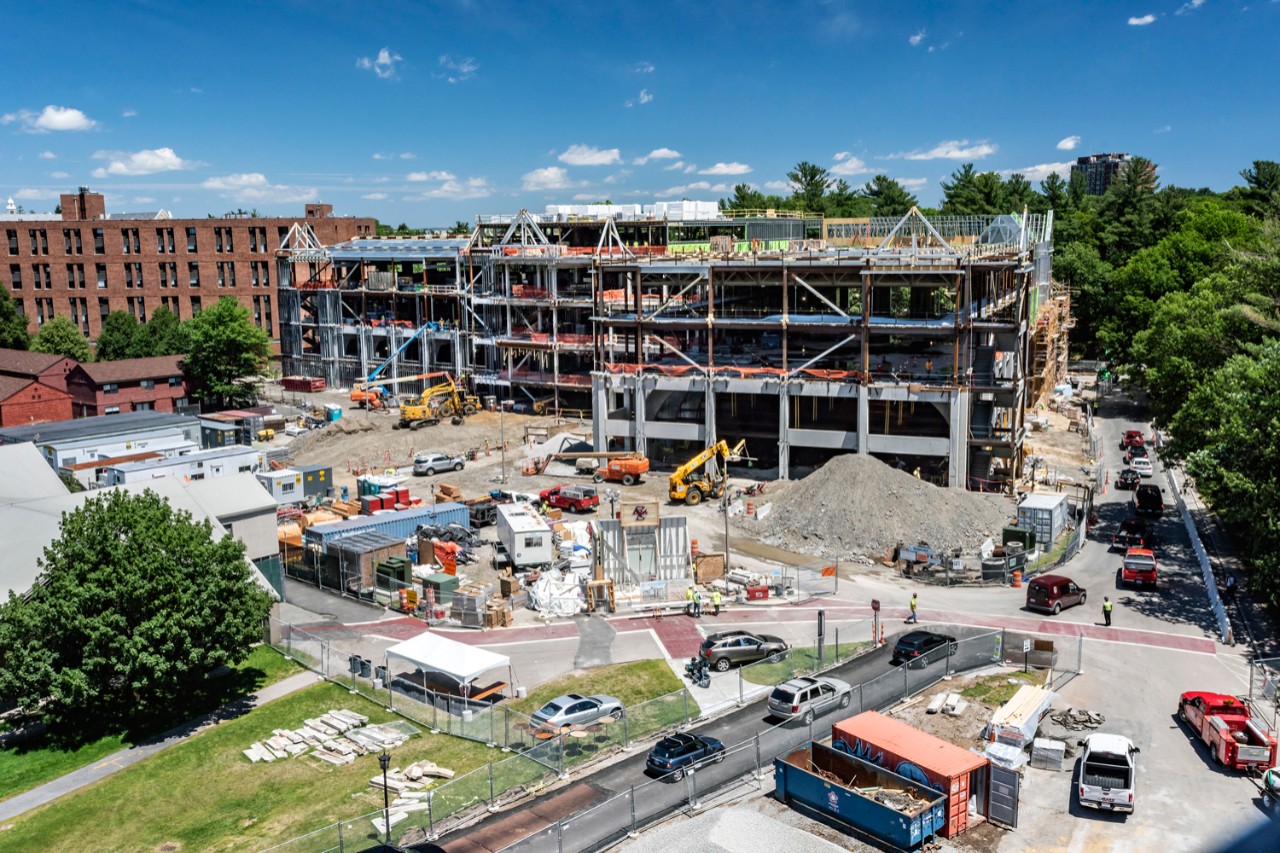 Meanwhile, vehicular traffic patterns on Lower Campus will be changed as the result of a project that will involve upgrading the former service road on Shea Field and linking it to Campanella Way. Once completed, this new roadway, which will dead-end on Chestnut Hill Drive, will replace the current one that directs vehicles past the Connell Recreation Center site onto Thomas More Road.

In addition, the current Campanella Way exit from the Beacon Street Garage will be relocated to next to the pedestrian ramp on the east side of Alumni Stadium.

Another multi-faceted project will see a series of renovations in Carney Hall to accommodate the shift of classroom and office spaces now in Cushing Hall. This will set the stage for the eventual demolition of Cushing – a prelude to the construction of a new science facility beginning next spring that will house the Schiller Institute for Integrated Science and Society.

"Between the work in Cushing, some service upgrades in the Service Building, and infrastructural work between McGuinn Hall and the Service Building, members of the University community should keep in mind that that part of Main Campus is going to be very busy," summed up Nardone.

Over on Newton Campus, the Stuart Hall parking lot is in the midst of "a complete re-do," said Ruby, which will result in new lighting, landscaping and islands "to improve the traffic flow for vehicles and pedestrians." The project has affected parking and necessitated a slight change to the University shuttle bus route on Newton Campus [for information, see the Department of Transportation & Parking website].  

A sampling of other summer projects:

•The stone façade of Rubenstein Hall is being rebuilt, and the residence hall's kitchens and bathrooms are being upgraded.

•The third, seventh and eighth-floor lounges in Walsh Hall are being converted into student-formation spaces that will accommodate reflection and prayer as well as social and study activities.

•Work is expected to finish in mid-July on infrastructure that will enable BC's participation in the ACC Network, which will provide access to live ACC events via a comprehensive, multi-platform network scheduled to launch next year.

•The Coro Café & Market on the third floor of McElroy Commons – where students can purchase various popular snacks and beverages and relax in a space set aside for socializing as well as events such as open mikes – will have new furniture and flooring installed.
Sean Smith | University Communications | June 2018