Section of the St. Patrick window in the Irish Room of Gasson Hall. (Gary Wayne Gilbert)

Beannachtaí na Féile Pádraig oraibh!
Founded in 1863 to serve the sons of Boston's Irish immigrants, Boston College today continues to honor its Irish roots, with information on Ireland's history and culture, as well as images and music, available for exploration on St. Patrick's day and year-round.

On March 17, you can pop over to O'Neill or Burns libraries and pick up a button to commemorate the day. The six variations, shown below, are created from vintage designs found in BC's Trenholm and Irish collections. Housed at Burns Library, the Boston College Irish Collection is the largest and most comprehensive collection of Irish research and literary materials outside of Ireland.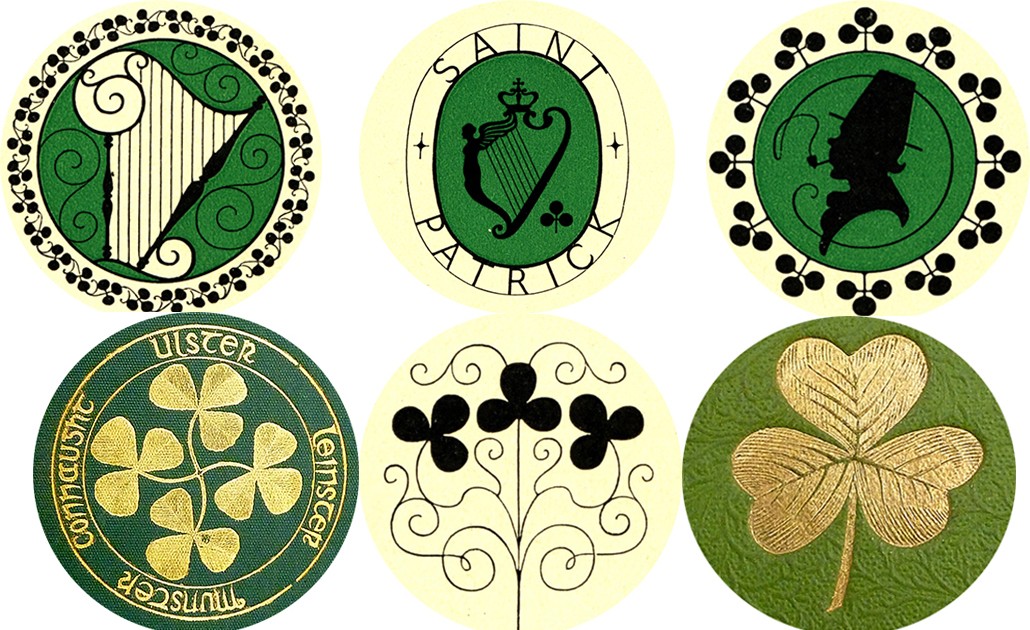 A visit to Gasson Hall's Irish Room reveals the spectacular St. Patrick window, a section of which is shown above. In 1914, BC President Thomas I. Gasson, S.J., commissioned Boston artist Thomas Murphy to create the University's first stained-glass window as the centerpiece of the room. It depicts the Catholic missionary bishop, Patrick, meeting the pagan king of Ireland, Laoghaire, at Tara on Easter Sunday 433. According to legend, the king granted Patrick the right to preach throughout the kingdom, marking the beginning of Ireland's Christianization.

The exhibit Irish Women Rising: Gender and Politics in Revolutionary Ireland, 1900 - 1923 is currently on view at Burns Library. For a deeper dive into the exhibit's subject matter, read a series of expanded, biographical essays on Irish Revolutionary Women on the Burns Library blog.
You can also explore Irish imagery available online through the Burns Library Flickr albums, including:
And, to top it off, add a soundtrack to your exploration: listen online to selections from BC's Irish Music Collections.

—University Communications