Sometimes, college students' lives just don't fit snugly into the conventional contours of the 24-hour day.
Instead of settling in for the night when the clock hits 11 p.m., students may be gathering to study, work on a project, or just unwind from a long day of classes, assignments, and other responsibilities. Or, in the hustle-bustle of a typical weekday, they may be looking to have a quiet conversation with a friend, a follow-up discussion with a faculty member, or perhaps even play music with a fellow undergrad or two.
Boston College administrators believe those experiences are an important part of higher education, and that there should be a place—literally—for them in the life of a BC student.
The University has formally launched a campaign, "BC After Hours," to provide locations and resources around campus that encourage the kind of informal socializing, collaboration, artistic expression, and other activities integral to students' personal and spiritual formation. "BC After Hours" builds on other recent efforts, including the McMullen Museum of Art's "Art After Dark" series and University Libraries' "24/5" program of expanded hours for studying and access to collections and services.
The initiative is the result of a collaboration between representatives from Student Affairs, University Mission and Ministry, Dining Services, University Libraries, Boston College Police, Auxiliary Services, Information Technology, Facilities Management, and Institutional Research, Planning and Assessment, as well as academic offices.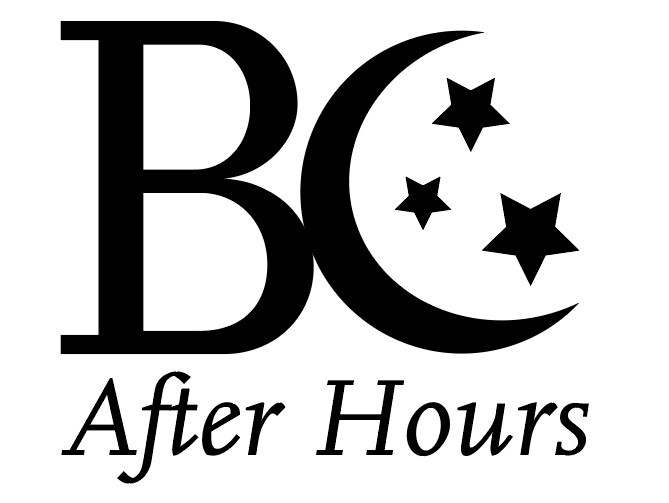 "One of the four components of the University's 'Ever to Excel' strategic plan focuses on student formation," said Vice President for Planning and Assessment Kelli Armstrong, a member of the committee, organized by Provost and Dean of Faculties David Quigley and Executive Vice President Michael Lochhead. "Creating spaces for students to collaborate, and to interact with faculty and staff, is an important part of our mission.  These enhanced spaces are the first step in a plan to continually improve the environment for students, and we plan to offer additional spaces each year."  
Jesuit education is centered on the concept of formation, noted Interim Vice President for Student Affairs Joy Moore, and the belief that personal and spiritual growth must accompany intellectual development. "Students tell us that spaces for collaboration, informal study, and comfortable socializing allow them to connect in intentional ways and create opportunities for engagement and dialogue—the very things that enable them to form deeper insights about themselves and others."
A website created by the Office of University Communications lists outdoor or indoor campus locations where students can hang out, find food service, or use rooms for group studying or collaboration, sometimes well into the night. Students also can look for available rehearsal spaces, printers or charging stations—even where a cup of coffee can be found.
Using the site, a student seeking outdoor relaxation or recreation would see that Upper Campus has Adirondack chairs in which to lounge, or that the Harrington Athletics Village on Brighton Campus has a field for intramural sports—and, if stopping off at The Loft at Addie's for a late-night snack, the student could also recharge his or her phone there.
A student group in need of a room for an evening would find options like the fourth floor of Maloney Hall or a classroom in Stokes Hall—some rooms are now available by reservation, or will be later this month—and could even arrange for food delivery with Eagle Bucks.
BC music or dance performance ensembles will now be able to rehearse in a multi-purpose room at 300 Hammond Pond Parkway, to which the University will begin providing shuttle bus service this month.
Student surveys and focus groups, along with consultations with student leadership, provided the basis for these and other proposals enacted by the committee.
The website will be updated as more spaces, services, and programs become available, Armstrong said. Among the plans under discussion are renovations in O'Neill Library for additional seating and collaboration space, along with a site for faculty/student dinners.
—Sean Smith | University Communications