Among the other various ceremonies, rites, and events that take place near the end of each academic year is a time when the University fetes its retiring employees.

The milestone was all the more special this year for two of those employees, Kevin Browne and Jimmy LaCroix, and the campus program that hired them.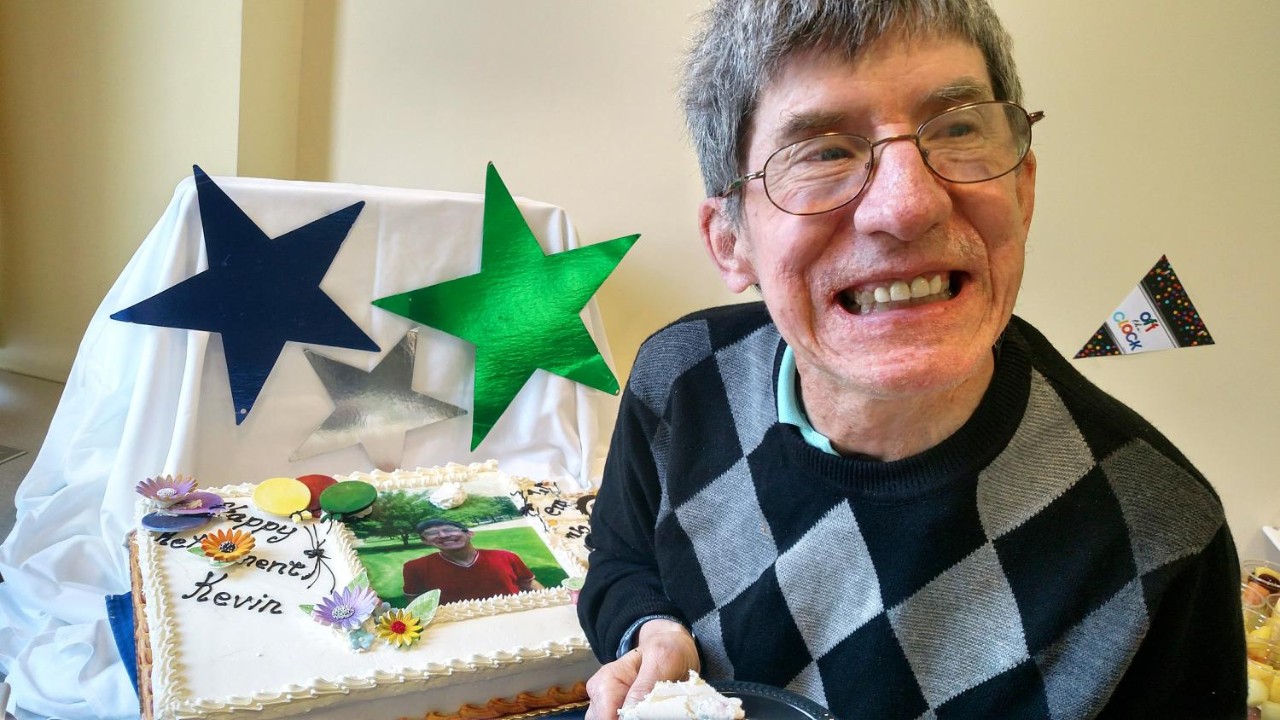 Browne and LaCroix, who worked at BC for 30 years, were among the first to join the University through the Supported Employment Program, which provides jobs for adults with developmental disabilities. SEP threw retirement parties for Browne and LaCroix, who were congratulated by co-workers and friends from across the University, especially Dining Services – which hosted the parties – and Facilities Services, where both of them worked over the course of their careers at BC.

Each SEP employee works one-to-one with a job coach who handles training and assessment and provides ongoing support as needed. In addition to Dining Services and Facilities, SEP participants are currently employed in University Libraries, the Flynn Recreation Complex, BC Bookstore, Human Resources, the BC School of Social Work, Connell School of Nursing, Woods College of Advancing Studies, and the Office of Institutional Research, Planning and Assessment.

Jimmy LaCroix
SEP, marking its own 30th anniversary in 2017, has been honored by the Arc of Massachusetts, a non-profit organization dedicated to improving the quality of life and services for Massachusetts citizens with intellectual and developmental disabilities.

A few weeks after their retirements began, Browne and LaCroix reminisced about their time at BC, recounting some of the many tasks and responsibilities they undertook: cleaning dishes, emptying trash, doing laundry, cleaning tables, weeding.

But working at BC was more than just work, they added. LaCroix liked the feeling of "working together as a team – everybody treated me well and helped me out. Hugo, Rudolpho [members of the Corcoran Commons kitchen staff] and others – I liked listening to them and doing things together: teamwork."

Browne said he always enjoyed "seeing all my friends" on campus, especially fellow SEP employee Kevin Slattery, his frequent lunch partner. He also spoke fondly of another Dining Services co-worker and friend, Cely Garcia: "Cely is my friend. I'm lucky. She makes me happy, helped me get better."

SEP offers its employees the opportunity to build vocational and social skills, enjoy friendships that can extend beyond BC, and derive a sense of personal fulfillment from participating in the workforce. But the University also benefits, says SEP Program Coordinator Julianne Ferro.

"SEP employees bring a unique set of contributions to the workplace, and with that comes disability awareness and understanding.  Beneficial relationships form between participants and their supervisors and co-workers, creating experiences for mutual learning and an appreciation of differences. These individuals bring a variety of essential skill sets and colorful personalities that positively contribute to campus diversity.

"With the right supports, participants are able to strive to meet their fullest potential while SEP and their BC partnering departments continue to promote an environment of inclusion and social justice."

Learn more about the Supported Employment Program here.
Sean Smith | University Communications