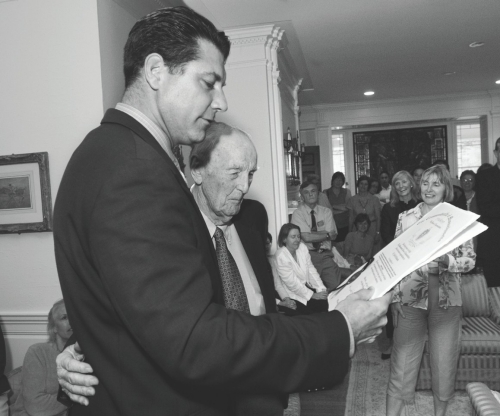 John C. McManama '37, MD, who treated generations of Boston College students and student-athletes with skill, care, and compassion during a nearly 40-year career at the University, died on Feb. 10. He was 100 years old.

Visiting hours will be held on Wednesday from 4 to 8 p.m. at the Joyce Funeral Home in Waltham. A funeral Mass will be celebrated on Thursday at St. Mary's Church, 133 School St., Waltham. Burial will be in Cavalry Cemetery.

 "Dr. John was a great doctor," said University Health Services Director Thomas Nary, MD. "Great physicians have a 'knack' – not unlike a great football player – in the ability to stay cool, not get rattled, and to play best when the big game is on the line. He had that ability.

"No matter how old he was, I don't think he ever missed a day," Dr. Nary added. "Even in the worst weather, he would clear his own driveway – and usually those of a couple of his neighbors – and show up right on time. You could always count on Dr. John."

A Waltham native and graduate of Tufts Medical School, Dr. McManama served in the U.S. Army during World War II, earning a Bronze Star award for his work as a battlefield surgeon in the Philippines and Okinawa. When he returned home, he followed the career of his physician father in establishing a private practice Waltham. From there, he served residents for decades – making house calls, delivering about 3,000 babies, and performing the wide-ranging medical trade of a small-city general practitioner.
"Dr. John would sometimes see a student in Health Services and tell them that he had delivered both their mother and father," said Dr. Nary. "In this age of specialization, that type of thing just does not happen any more – and never will. He was just wonderful."

Joining the University Health Services unit in 1972, he teamed up with athletics physician Dr. J. Joseph Burns to help provide medical services for BC's growing population of student-athletes.

"He and Dr. Burns were ahead of their time in insisting that all athletes get physical examinations and that we collect a medical history of athletic injuries and concussions so that we could better treat them," said Dr. Nary. "Most colleges at that time did not do that."

"Dr. Mac loved BC," said Assistant Athletics Director for Sports Medicine Steve Bushee. "He would be at practices even when he wasn't 'on duty.' You could always find him walking the halls of the old Roberts Center and McHugh Forum, and later Conte Forum and Yawkey Center, and of course, Alumni Stadium. He was omnipresent."

Dr. McManama, said Bushee, was an "old-time, old-school physician who had the ability to respond to the patient and provide what the patient needed to hear. He knew when to be compassionate and gentle and he knew when a kid might need a little kick in the butt. His practice, his wisdom and his knowledge of medicine were superb. He was always a great mentor to me."

Dr. McManama's brother George – also a doctor – served on the University Health Services medical staff.

A rabid Eagles' sports fan, Dr. McManama was frequently called "Coach" by other athletics staff members. "He knew all of the players and was very involved with all of the teams," said Bushee. "He certainly had a thought or two about who should be getting more playing time, and was not shy about sharing those insights – whether the head coaches agreed or not."

Dr. McManama retired from BC in 2009 at age 93.

In addition to his decades of work at Boston College, Dr. McManama was the patriarch of a large and supportive family. He and his wife of 49 years, Barbara (known as "Maggie"), were the parents of nine children – eight of whom graduated from Boston College. His daughter Susan McManama Gianinno '70 serves on the University's Board of Trustees.

In later years, when Maggie suffered through a long, debilitating illness, Dr. McManama stayed by her side and took care of her. When she finally had to be moved to a nursing care facility, he was a daily visitor to her bedside.

Dr. McManama established a scholarship in women's basketball in Maggie's memory. "She and the children were just about the only things that were more important to him than BC," said Bushee.

Boston College bestowed two major honors on Dr. McManama in recognition of his many contributions. He was presented with the Alumni Association's Medal of Excellence in Medicine in 1990, and, a year later, was inducted into the BC Varsity Club Athletics Hall of Fame.

 "Dr. John McManama is a gentleman's physician," said Dr. Nary in 2006 as University officials gathered to celebrate his 90th birthday, "and that is the highest compliment I can give."

In lieu of flowers, donations may be made to the New England Home for Little Wanderers or the Disabled Veterans of America.
—Reid Oslin, for University Communications