Campus Minister JoJo David, whose indefatigable spirit in battling cancer matched his passion for music and his faith, died on Oct. 18 at the age of 50.
A vigil service for Mr. David will be held this Thursday at St. Ignatius Church, with gathering and music from 6-7 p.m. followed by a prayer service from 7-8 p.m. A Mass of Christian Burial will be celebrated on Friday at 10:30 a.m. at Sacred Heart Church, 1321 Centre Street in Newton.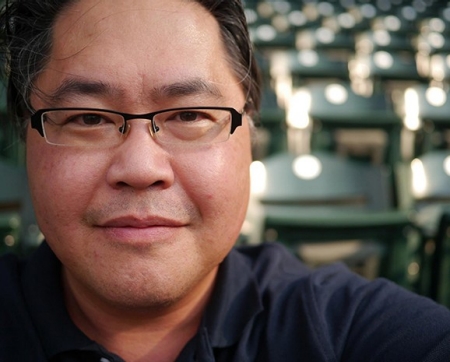 Campus Minister JoJo David
A graduate of the Berklee College of Music, Mr. David was a professional singer, composer, arranger, recording artist and educator whose musical interests included a cappella and vocal jazz ensemble music, contemporary folk, pop, and sacred liturgical music.

For many in the Boston College community, Mr. David was an integral part of Campus Ministry, which he joined in 2003 after arriving at BC several years earlier as vocal coach for the BC bOp! student jazz group. He was a warming presence in the Liturgy Arts Group (LAG), an ensemble that provides music for Sunday liturgies and special University events.

"The friendship-apprenticeship I had with JoJo will remain and flourish as one of the best and most formative relationships of my life," recalled Victoria Mariconti '15, who worked with Mr. David in BC bOp! and LAG. "No one has taught me more about why we make music and the elegant, unbearably light moral responsibilities that come with putting hands and breath to play. 

"JoJo spoke of the essence of service using his metaphor of the Sherpa, the mountain guides for Everest climbers. As best I can remember, he would teach that when we come to give our time and talents to the Mass – really, to any task of service or work – we are primarily there as spiritual companions to lead others along the way. But in offering our craft, lovingly refined through discipline, to light the trek to the summit, we, too, inevitably find the same exalted heights. And the better we can illuminate the path for those around us, the more often we ascend, and the view expands a little more each time.

"JoJo was masterful in this service, and his absence from this life charges us all to continue the work."

Added Emily Mervosh '14, "JoJo was the kind of person whose faith and love radiated from every part of him - he was kind, funny, compassionate, and just immediately put you at ease when you talked to him. And his voice was just transcendent. He's a beautiful example of how to live and how to treat others and I hope we can all learn from that."

In addition to his music and his faith, Mr. David's life at BC, and beyond, was enriched by his marriage: Anne Marie, who originally worked in Campus Ministry – she is now a music director for the School of Theology and Ministry – was his musical partner as well as his wife. The two had met at Berklee, where both sang in the concert choir.

But in 1998, the couple's life changed dramatically when Mr. David suddenly lost his singing voice. He was found to have a mediastinal mass in his chest, and diagnosed with an aggressive form of non-Hodgkin's lymphoma. He underwent nine bouts of chemotherapy and 28 radiation treatments.

Although he had to cut back on his teaching and music ministry, Mr. David continued his duties with BC bOp! while he underwent initial treatment, even though he couldn't raise his voice or use it to demonstrate musical phrases. A specialist told him that he might not ever regain it.

"But my loss somehow transformed into a deeper mutual gain," Mr. David wrote in a 2001 article for Berklee Today. "In the singers I heard a spirit in the music, an essence I thought was lost from me. I felt empathy with them in their approach to the music. As the group attained artistry within and among themselves, they delivered to me a new understanding of my 'instrument.' I saw my gift realized in those with whom I shared it. Our relationship as an ensemble manifested this synergy. Through the mingling of talent and belief, we created a mutual voice and instrument.

"At the fringes of my life, connections such as these sustained me. We experienced art and soul, a prelude to a miracle."

On his 33rd birthday, Mr. David discovered that a single tone had resurfaced in his voice. Gradually, it became stronger and its range increased. But along with this happy development came ominous news: The treatments were not working, and he had to undergo a bone-marrow transplant.

During his ordeal, friends formed e-mail prayer circles in his behalf, and staged a benefit concert at St. Ignatius Church, where he and Anne Marie were active in music ministry.

By late 2000, doctors declared him cancer-free.

"Given what we just came through, we're just happy to be up and around," said Mr. David, in a December 2000 interview with the Boston College Chronicle. "We're doing what we love, and doing it together. That's where our values are placed. Boston College offers the chance to do it. When I was struck by illness, the singers and the Band Department lived through the experience with me, and BC and St. Ignatius supported us through our odyssey."

Anne Marie added: "It feels like a gift. Every day is gone into with gratitude. It's been a full year of recovery, and a lot of changes happening. Serendipitous is the right word."

By 2004, Mr. David had recovered enough of his voice to record a jazz ballad album, "Small Hours," with jazz pianist Adam Birnbaum '01 that was released through his Arrhae Press music publishing company. He was able to resume working at BC and his other jobs, and later on supported cancer research organizations such as the Jimmy Fund through his performances at the Pan Mass Challenge and the Boston Red Sox/New England Sports Network telethon. In 2007, he sang the national anthem at Fenway Park prior to a Red Sox game.

But Mr. David's health declined over the past several years. In a blog post from August of 2015, he reported that he had recently been hospitalized due to pneumonia and other health issues related to progressing heart complications. In mid-September this year, he wrote that he had been approved and listed for a heart transplant, and in the meantime would need surgery to implant a heart pump.

He ended the post by expressing gratitude for the support he, Anne Marie and their daughter Madeline had received from friends and acquaintances. "Our lives are an affirmation of the deepest good and undeniable love. Grace among us."

His final blog post, dated Sept. 19 ("on the eve of surgery"), was a photo of a sunset amidst yellow, orange and purple-hued clouds.

Mr. David also served as music director for Sacred Heart Church in Newton. He held a bachelor's degree from the University of Colorado at Boulder and, after studying at Berklee, went on to earn a master's degree from the New England Conservatory of Music.

In addition to Anne Marie and Madeline, Mr. David is survived by his mother and two brothers.
—Sean Smith | News & Public Affairs