Mary A. Dineen, who served as dean of the Boston College School of Nursing from 1972 until her retirement in 1986, died March 4, 2017 at age 94.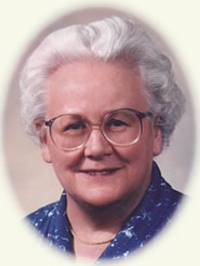 "I remember Dean Dineen as someone who loved Boston College and who was a formidable leader," said Connell School of Nursing Associate Professor Jane Ashley, who was hired by Dr. Dineen. "I'll always remember that she said to me, "At BC, we only hire the best and the brightest"...her comment always stayed with me and in many ways it set the bar for what was expected of nursing faculty."
During her tenure, the Boston College School of Nursing became recognized nationally for its excellence in preparing students for the nursing profession. Then-University President J. Donald Monan, S.J., praised Dr. Dineen for her "valuable and necessary leadership" during this period of time.
She had the vision to see that nurses were taking on more responsibility in the areas of health promotion and illness prevention, and that the advent of nurse practitioners would forever change the practice and education of nurses.
"Dean Dineen was one of the early leaders in nursing," said Ashley. "She got her Ph.D. at at time when very few nurses had advanced degrees and she set the stage for the development of the Ph.D. program in nursing at Boston College.  Under her guidance, CSON strengthened the master's programs and began work on the PhD program. This happened at a time when very few universities offered a PhD in nursing. In many ways, Dean Dineen was ahead of her time."
On the cusp of her retirement, Dr. Dineen told the Boston College Biweekly (precursor to the Boston College Chronicle): "I see nursing as a wonderful field for those who want to be in a helping field. I can't imagine anyone not liking it."
She added: "It has been a satisfying career, and I think I made the right choices. It has been a continual challenge. And I like challenges."

Dr. Dineen was born in Niagara Falls, NY. She completed her basic nursing education at Mt. St. Mary's Hospital School of Nursing. Following receipt of her RN License, she worked as a staff nurse at St. Mary's Hospital and in St. Louis, Missouri.
She graduated from St. Louis University with a bachelor's degree in nursing and later earned a master's degree from Niagara University and a doctoral degree from Columbia University.
She was one of the first faculty members appointed to Niagara University when the College of Nursing was founded in 1946. In 1963, Dr. Dineen joined the staff of the National League for Nursing in New York City, working as a consultant and department director with university-based nursing education programs throughout the country.
Dr. Dineen was active in many professional organizations, including the American Nurses Association, the National League for Nursing, Sigma Theta Tau and Alpha Sigma Nu. She was honored with the Nursing Education Alumni Award from Teachers College, Columbia and the Mary Adelaide Nutting Award from the National League for Nursing.
For a complete obituary and details regarding arrangements, visit the Rhoney Funeral Home website.