Photo by Gary Wayne Gilbert

Santa Claus is coming to town – or at least to the Boston College campus – early this year: He will make a special appearance at BC's annual Christmas tree-lighting ceremony on the Plaza at O'Neill Library, which takes place on Dec. 6 beginning at 4 p.m.; University President William P. Leahy, S.J., will officiate at 6 p.m.  
The event also will feature a Christmas village with games and ornament decorating, a replica ice sculpture of Gasson Hall, hot chocolate and cookies for revelers. BC musical groups, including the Dynamics, Bostonians, Heightsmen, Sharps, BC Bells, Liturgy Arts Group and Madrigals, will perform. The Campus Activities Board will have a Christmas card-writing station where students can create holiday messages to send to hospitalized children. Giveaways will include travel mugs and winter hats.
Other holiday happenings include the University Chorale and Symphony Orchestra "Christmas on the Heights" concerts tomorrow at 8 p.m. in Trinity Chapel on Newton Campus. [The performances on Saturday and Sunday are sold out.] Under the direction of conductor John Finney, the program will feature seasonal song favorites, as well as a variety of handpicked Christmas songs from cultures around the world.
Tickets may be purchased here or via the Robsham Theater Box Office. Admission is $12 in advance; tickets not claimed by 3 p.m. tomorrow will be brought to Trinity Chapel. After that day and time, tickets will only be available for purchase on-line using the Print At Home option. 
Finney and Chorale members also will present the "Music at St. Mary's" Christmas Concert Dec. 8 at 5 p.m.

The Boston College Bands will share the joy of holiday music with "A Christmas Festival" on Dec. 6 at 8 p.m. in Gasson Hall 100. It will feature performances, by the University Wind Ensemble and Symphonic Band, of such classics as "Greensleeves," "Sleigh Ride," and "A Christmas Festival." Attendees are urged to wear Christmas sweaters and garb, as they enjoy this seasonal event. For information, contact Kara Robbins: kara.robbins@bc.edu.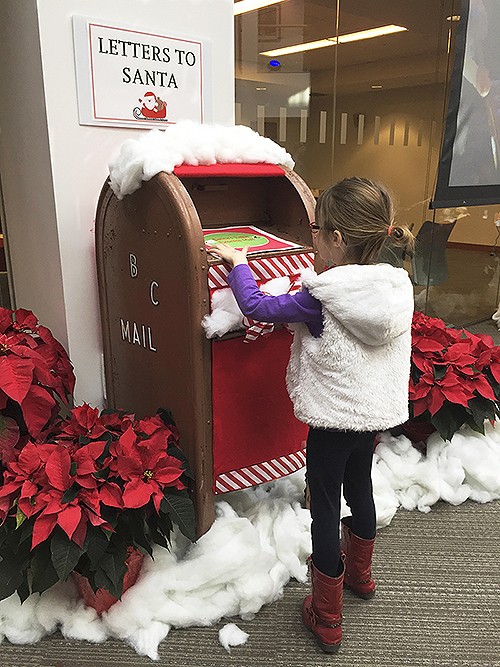 The Alumni Association's Dec. 10 "Winter Wonderland" event on Brighton Campus offers fun seasonal activities for families and children. (Photo by University Advancement)
More merriment comes with the Alumni Association's popular seasonal "Winter Wonderland" celebration for alumni, their families and friends on Dec. 10 from 10 a.m. to 2 p.m. on the Brighton Campus. Festivities include photos with Santa and Mrs. Claus, gingerbread cookie decorating, musical performances, visits with baby animals, and rides around campus on a horse-drawn carriage or a special Christmas train. 
Attendees are encouraged to bring new, unwrapped toys for boys and girls, ages six to 14, for donation to the Italian Home for Children.
Registration for Winter Wonderland is $15 for adults and $10 for children under 12; there is no charge for children under age three.  Hot cocoa and cookies will be available for guests; snacks and lunch items will be sold.
In conjunction with Winter Wonderland, Second Saturdays at the McMullen Museum of Art will feature a holiday celebration, with activities throughout its hours, from noon to 5 p.m. They include holiday-themed vocal performances, hot chocolate and treats, tours of the exhibition "Beyond Words: Illuminated Manuscripts in Boston Collections," and arts and crafts activities.
Children ages four to nine are invited to join a 2:30 p.m. program, "Identifying Animals in Medieval Manuscripts." Because seats are limited, advance registration for children and their chaperones is required.
For more information on these events, visit the University Calendar.
–Rosanne Pellegrini | University Communications