Bienvenidos! The opening event for Hispanic Heritage Month on the Plaza at O'Neill Library. (Christopher Huang)
BC's observance of Hispanic Heritage Month includes a series of events sponsored by the Thea Bowman AHANA and Intercultural Center, in partnership with other campus groups.

The celebration kicked off on campus Sept. 16 with Bienvenidos!, an opening night of art, food, music, and dance on the Plaza at O'Neill Library. On Sept. 21, the Latin American Business Club of Boston College presented a Sponsors for Educational Opportunity Info Session in Higgins Hall.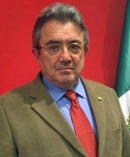 Dr. Rabasa-Gamboa

Christine Chavez
On Oct. 11, the Winston Center for Leadership and Ethics and the Carroll School of Management will co-sponsor a lecture by Christine Chavez, granddaughter of noted labor leader and civil rights activist Cesar Chavez. Ms. Chavez, farmworker coordinator for the U.S. Department of Agriculture, has turned the values passed down by her grandfather into a lifetime commitment to civil rights, the labor movement, and community organizing. She will speak on The Fight for Civil Rights, Social Justice, and Labor Equality at 6:00 p.m. in Gasson 100.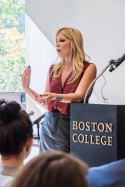 Pili Montilla
On Oct. 14, the BC Career Center will co-sponsor a guest appearance by Morrissey College of Arts and Sciences alumna Pili Montilla—an entertainment reporter, writer, and producer at Univision News/ABC News—at the HHM closing ceremony, which begins at 6:00 p.m. in the Murray Room of Yawkey Center.

All events are free and open to the public.


—News & Public Affairs