Assistant Professor of Sociology Gustavo Morello, S.J., makes a point during a panel discussion at the daylong Diversity and Inclusion Summit June 1. Panelists included moderator Joy Moore, associate vice president of Alumni Relations (standing); Center for Work and Family Executive Director Brad Harrington (far left), Lynch School of Education Professor Janet Helms, director of the Institute for the Study and Promotion of Race and Culture, and Associate Professor Richard Jackson (center). (Photo by Lee Pellegrini)
Approximately 200 faculty and staff attended Boston College's inaugural Diversity and Inclusion Summit on June 1, taking part in a daylong series of discussions about how the University contributes to the social justice mission of the Society of Jesus through its efforts to create a diverse and inclusive community.
The Office for Institutional Diversity sponsored the summit, titled "Building and Leveraging Partnerships Across Campus" and held in Gasson Hall.
"Creating an inclusive and welcoming Boston College is a priority for all of us," Provost David Quigley told the audience as the program opened. "This summit gives us the chance to reflect on our commitment to diversity and inclusion and how we can strengthen our efforts. Today, we can take a step back and think about what we can do in our local communities, but also more broadly in society."
In his remarks, President William P. Leahy, S.J., thanked the event organizers and those in attendance for supporting the University's commitment to diversity and inclusion.
"This summit on diversity is not just about our institution, but how we live in our world," said Fr. Leahy. "As Boston College moves forward, it is important to me that we take seriously issues of diversity. The bedrock is respect, a sense of welcoming everyone to our campus and entering into dialogues like this with each other, but also with our Jesuit, Catholic tradition."
Damon A. Williams, senior vice president and chief educational and youth development officer at The Boys and Girls Clubs of America, delivered the keynote address, "Strategic Diversity Leadership: Activating Change and Transformation in Higher Education."
"One reason I am a huge champion of these types of summits is they create an innovation 'hotspot' that brings people together to find solutions across boundaries, to recharge and to take things to a new level of possibility," said Williams, a former vice provost, chief diversity officer and faculty member at the University of Wisconsin-Madison.
Williams joined Boys and Girls Clubs of America in 2013.  He currently leads national program strategy for BGCA's strategic outcome areas with a focus on strengthening the club experience at more than 4,000 locations that serve some four million young people annually. His 16 years of experience in youth development, organizational design and strategic planning include research contributions and the co-authored book, The Chief Diversity Officer: Strategy, Structure, and Change Management.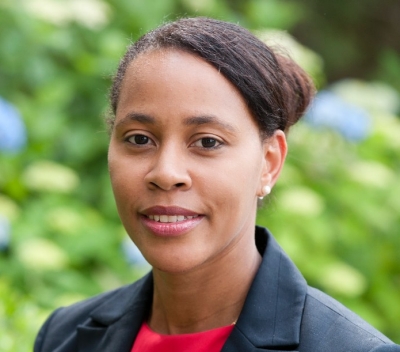 OID Executive Director Patricia Lowe (Frank Curran)
Associate Vice President for Alumni Relations Joy Moore moderated a panel discussion on best practices in the area of diversity and inclusion with nationally recognized experts from BC, including Janet Helms from the Lynch School of Education's Institute for the Study and Promotion of Race and Culture; Brad Harrington, executive director of the Center for Work and Family; Assistant Professor of Sociology Gustavo Morello, S.J.; and Lynch School Associate Professor Richard Jackson.
A showcase of campus programs, initiatives, and research related to diversity and inclusion highlighted efforts to provide a vibrant and continual learning experience for all BC employees. There were three concurrent discussion sessions that offered attendees the opportunity to choose from 20 talks on diversity and inclusion topics, including societal issues, campus initiatives and trends in higher education.
"There is a lot of good work going on at Boston College in the area of diversity and inclusion," said Patricia Lowe, executive director of the Office for Institutional Diversity, who noted that the summit provided the opportunity to come together as a community, and share these efforts with thought leaders across campus to build on and leverage the work.
For more information, explore BC's Diversity website.
—Ed Hayward | News & Public Affairs