A merry band from the Boston College Children's Center visited BC Dining Services' in-house bakery at McElroy Commons last week for a 'Daycare Adventure' that included a behind-the-scenes peek at the making of holiday delights—and a little tasting, too.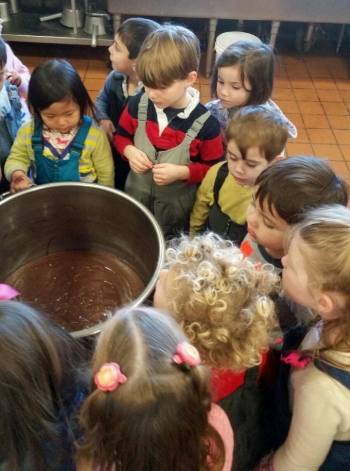 The BC Bakery is overseen by Executive Pastry Chef Tim Fonseca, who joined the University in 2014 following 16 years as executive pastry chef at Boston's Four Seasons Hotel.
The bakery supplies the BC community with a range of desserts—from brownies, cupcakes, cookies, and cakes to specialty items—all created to provide a scrumptiously memorable experience.
"I want students and faculty to wake up in the middle of the night thinking about something other than their studies. I want them thinking about that pastry experience they had and wanting more of it," Fonseca told the Boston College Chronicle in 2015.
The bakery also collaborates in campus events and activites, such as its partnership earlier this year with the BC Baking Club and Boston Bakes in a pink cupcake fundraiser for the Dana Farber Foundation for Breast Cancer.

—University Communications