A record-breaking number of students attended the Boston College 2016 Fall Career and Intership Fair in Conte Forum. (Photo by Lee Pellegrini)
It's been a banner month for career exploration at the Heights, as students flocked to events sponsored by the Boston College Career Center. More than 700 students turned out to mix fun, games, and exploration of the future at BC's first Careerfest on Sept. 7; the following week, the Fall Career & Internship Fair drew 148 employers and a record-breaking attendance of some 2,000 students.

The fair included some new features this year, including student tours designed to help make them more comfortable in approaching employers. The additions were very well received, according to Associate Vice President of Student Affairs for Career Services Joseph Du Pont, who noted that the fair drew a capacity crowd to the floor of Conte Forum.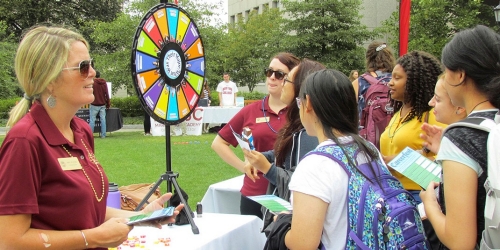 "Guess the Celebrity Major" was among the popular events at Careerfest.
At the new Careerfest, the key word was interactivity. Upon entering the site on the Plaza at O'Neill Library, students picked up a checklist and were encouraged to collect five stamps: four from the Career Center stations devoted to "Reflect," "Explore," "Prepare," and "Achieve"; the fifth from one of the 29 student organizations and partner departments' tables.
In addition to recreational activities like corn hole, a giant-size version of Connect Four, and a bungee challenge, attendees could play "Guess the Celebrity Major," a game which showed students that college majors and careers do not necessarily have to connect with one another: Author John Grisham, for example, was not an English major, as students guessed, but studied accounting.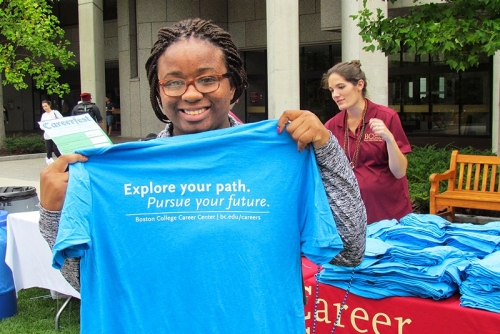 Lorena Curtis '20 shows off a Career Center t-shirt at Careerfest.
The exercise helped students see how "the skills they are gaining through their majors are transferable," said Associate Director of Career Education Rachel Greenberg, who, with Associate Director of Employer Engagement Lou Gaglini, spearheaded Careerfest.

Though the different stations were designed to be collaborative and fun, each had a specific objective, according to Du Pont.
"Our career paradigm is built around helping students reflect, explore, prepare, and achieve their goals, so the games are a fun way to introduce that concept. Career exploration, by nature, requires introspection and can be a bit intimidating for some students," he said. "We at the Career Center want to demystify that process a bit and encourage students to seek us out. By inviting others to join us in events like Careerfest, we hope to continue to build a supportive, inclusive community to assist students."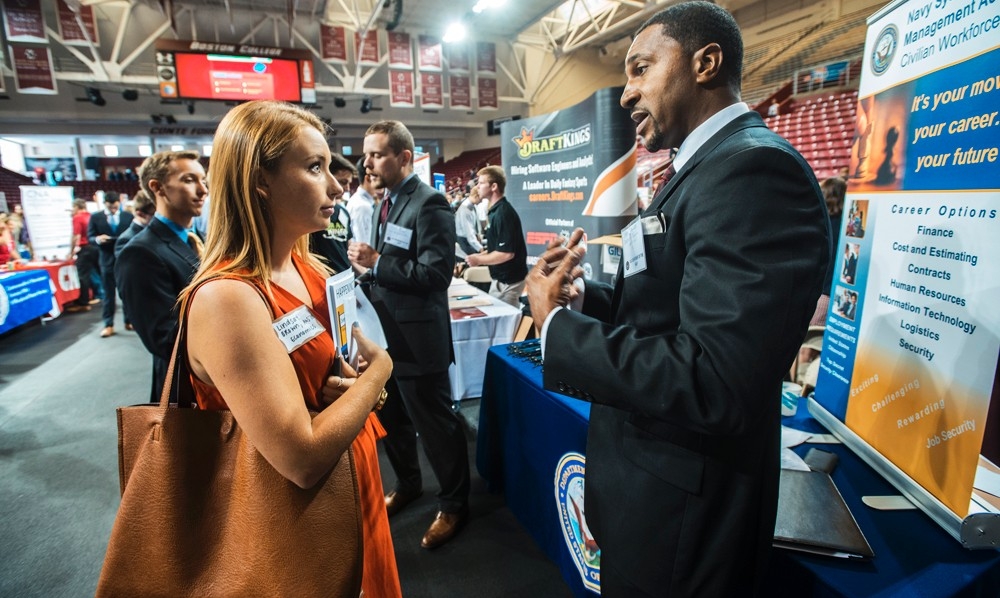 Morrissey College of Arts and Sciences junior Lindsay Brown stopped to speak with Steve Walker of U.S. Navy Systems civilian workforce at the Fall Career Fair. (Lee Pellegrini)
Marisa Marshalka, a senior philosophy major who thinks about her future career "all the time," found the Careerfest approach to be a great way for the center to call attention to its services. "The Career Center is the reason why I was able to do an internship that I really cared about this summer. So I'm really grateful to them," she added.

Just beginning her journey at BC is freshman Lorena Curtis, who also ponders her future a lot. Curtis said she stopped by Careerfest because "it's really helpful to see the different resources BC has to offer and everything you can take advantage of."
Given this year's success, the Career Center team hopes to make Careerfest an annual event.  
"The event was about connecting with students so that they saw the Career Center staff as approachable and welcoming," said Greenberg, "and about showing students that we are here to support them, regardless of where they are in the process of exploring or pursuing their goals."
Careerfest and the Fall Career & Internship Fair—as well as the Career Fair and Practice Interview Night on September 20, which also was at capacity—are among numerous avenues for students to reflect on their interests, explore career paths, and make connections to employers, added Du Pont. "We have many more events and upcoming programs to expose students to a wide range of employment possibilities whatever their interests. October 4, for example, is our first STEM Career Fair for students interested in these fields, and on October 14, we're hosting 'Launch,' a new career conference for juniors and seniors."

Morrissey College of Arts and Sciences alumna Pili Montilla—an entertainment reporter, writer, and producer at Univision News/ABC News—will be the keynote speaker at Launch, which also will include seminars and workshops at which students can explore career discernment and its relationship to personal values; learn about resume-building, structuring a job search, and negotiating job and salary offers; and listen to and get advice from other alumni and recruiters.
Learn more about upcoming events and other resources at the BC Career Center website.

–Siobhan Sullivan | News & Public Affairs