Photographs by Gary Wayne Gilbert

"I have failed many times and I'll fail again," Emmy Award-winning television personality Pili Montilla '00 told the audience of Boston College undergraduates. "See your failures as opportunities, love the unknown, and keep on keeping on."

Montilla was the keynote speaker at Launch, a one-day conference designed to assist students in considering their career paths, held earlier this month at the Thomas More Apartments. Sponsored by the Career Center and the Office of Residential Life, the event invited students to explore their skills and values, understand hiring timelines for their fields of interest, and hear valuable job search insights and tips from recruiters and young alumni.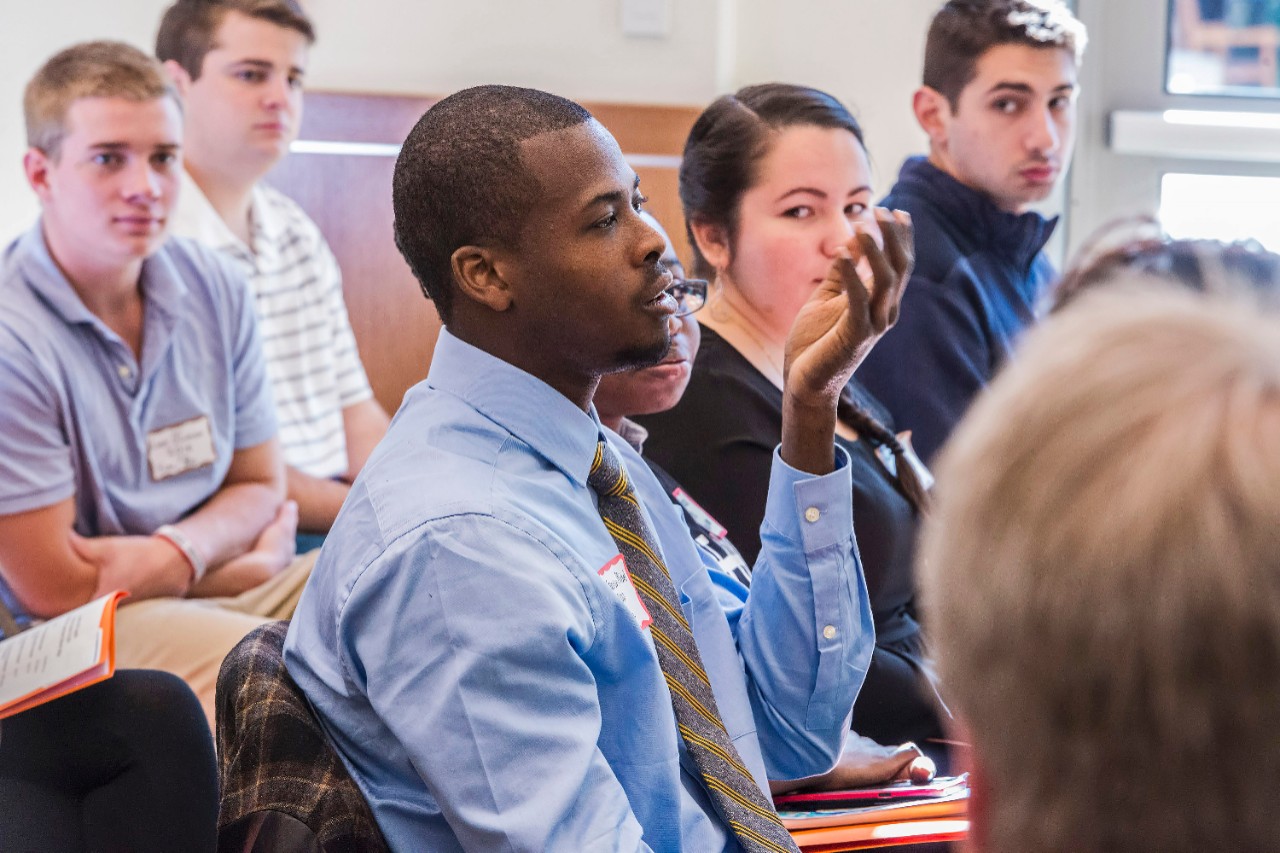 Launch joined a series of new career planning and discernment events this fall, including a Career Center-First Year Experience partnership that addresses all new students during orientation about striving to live an abundant life; an interactive Career Fest; and BC's inaugural STEM (Science, Technology, Environment, Math) Career & Internship Fair, hosted by the center in partnership with a number of academic departments to showcase full-time, internship, and engagement opportunities for students of all majors, from employers such as AstraZeneca, Amazon Robotics, Dana Farber, Earthwatch Institute, General Dynamics, and Shire Pharmaceuticals, among others. The new additions augment existing program offerings, such as the Fall Career & Internship Fair, which drew a record-breaking crowd of some 2,000 students to Conte Forum in September.

"Our data show that within six months of graduation, 96 percent of Boston College students are working full-time job or are in graduate school," said Associate Vice President for Student Affairs and Career Services Joseph Du Pont. "Our goal in the Career Center is to help students begin to imagine their futures when they arrive on campus, then to provide them with the support and resources that can help them explore, refine, and realize that vision—throughout their four years, and even as alumni."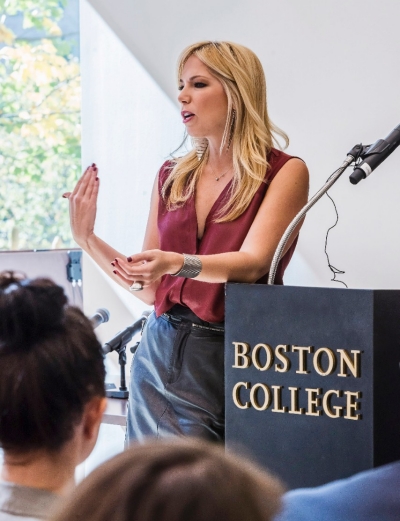 In her remarks at Launch, Montilla – who as creator, producer, and host of  "VidaLexus presenta: Té Para Tres con Pili Montilla" is considered the "go-to" host in the bilingual entertainment world – did not shy away from sharing with students the challenges she faced on the road to her current success.
Her first post-graduation job, she recalled, was as a coat-checker in New York City: "It was tough, very humbling, and I hated it, but I knew I had to pay my dues."
Speaking with grace and humility – and wit, often drawing laughter from the students – Montilla imparted what she said was a key lesson for young people about to graduate from college.

"The uncertainty of not knowing what's next will never go away; it's the beauty of life. Make peace with the unknown right now," she said. "It's okay if you don't know what will happen; embrace the unknown as fuel to drive forward. Thank people for rejection, in your head. Every 'no' is closer to a 'yes.'"

Conference organizers were pleased with the turnout, which had full registration, and hope it will become an annual event.

Du Pont said programs like Launch help students feel more prepared to explore their next steps.

"Students want and need exposure to career education earlier, and more intentionally, to ensure they are excited about their career options when they graduate," said Du Pont, who credits faculty and staff in the BC community for seeing the value of encouraging students to lead "meaningful professional lives."

Added Career Center Assistant Director and Pre-Law Advisor Amy DiGiovine, "We wanted all students who attended Launch to leave empowered with concrete action steps to reach their individual goals, whether those relate to internships, post-graduate jobs, or graduate school."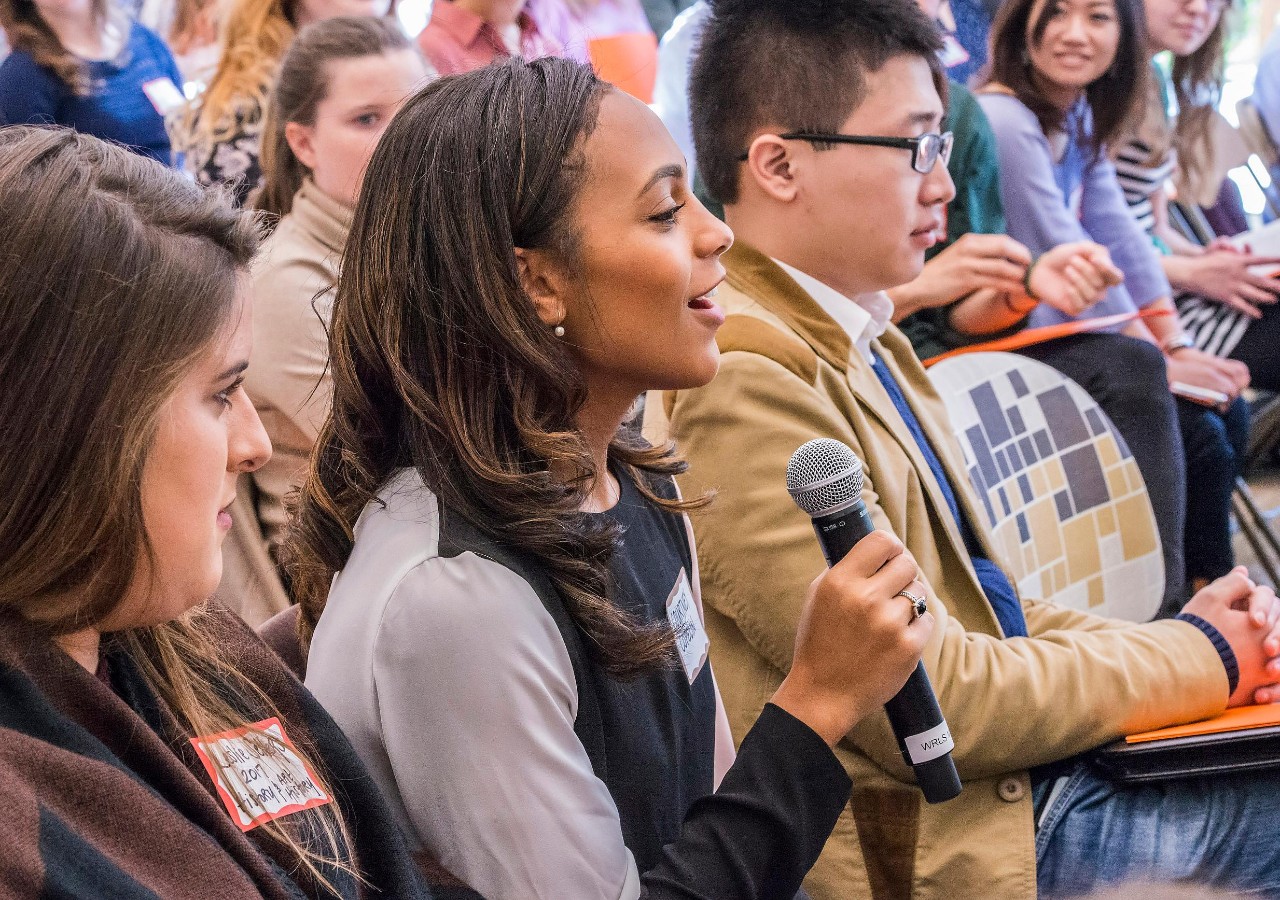 Students participating in Launch had the choice of attending break-out sessions with such topics as "Strengths, Skills, and Your Professional Success," "Powerful Storytelling: How to Stand Out and Get the Position You Want," and "Keep Calm and Search On: Using Hiring Timelines to Structure Your Job Search," among others.
"The break-out sessions were designed to allow students to fully customize their experience," said DiGiovine.  "We wanted to make sure there were sessions that would meet the needs of students in all stages of their career development."

Attendees also listened to a panel discussion at which young alumni discussed the process that led to their first job, the skills they gained at BC, and the transition from student into young professional.

Senior Isaacson Michel, who majors in philosophy and minors in medical humanities, found the panel extremely helpful because "it was just a very relatable conversation between BC people."

Michel added that the whole event helped him feel more at ease in contemplating his next steps. "Part of what I wanted to get out of the Career Center was a plan for the future. I gained more insight into what I want to accomplish before the year ends."

The key thing he learned from Launch, he said, was to be "okay with not knowing what you want to do, and to take the initiative to open yourself up to resources on campus to help you."
Evan Griesing '18, a major in economics and philosophy, noted the value of hearing about Montilla's non-linear career path, and her advice about staying positive during the job search.
The young alumni panel "calmed my nerves a bit" about the job search, he added. "It was very useful to understand how to market a liberal arts degree, as well," he said, and to learn about many career possibilities.

Though Kyla Nwede, a Carroll School of Management junior whose concentration is in marketing, management, and leadership, is still uncertain about her career direction, she found herself reassured by the conference.

"It will take trial and error," she said, "but that is okay, as long as I am following my heart."

–Siobhan Sullivan | News & Public Affairs
---
Pili Montilla shared posts from her day on campus, which included speaking to theater students and at the closing ceremony of BC's Hispanic Heritage Month celebration, on Instagram: