Forty-four years ago, on April 16, 1974, the campus awoke to find that a popular thoroughfare, the 100-yard walkway between McElroy Commons and the Gasson Quad (bisecting what was then known as the Dustbowl), had been painted as a yellow brick road. Along it, by mid-day, more than a dozen students displayed their paintings and photographs on folding tables, a bluegrass band played, and passersby were being invited to join a "frolic on the green." So began Spring Maverick.
Organized by roommates Peter Begans '75 and Jim O'Neill '74, Maverick included events spread out over six days, among these a student performance of La Bohème in McElroy Commons; blues, jazz, and spoken-word poetry in O'Connell House; and Medieval choral music at the Dustbowl. The week culminated with a concert in Roberts Center—the basketball arena of the time—by the Fifties retro band Sha Na Na, sponsored by the undergraduate government.
Maverick was a one-time event, but undergraduates have been performers and artists since members of the 48-student inaugural class staged Handel's oratorio Joseph and His Brethren on June 29, 1865—a feat "remarkably good for lads of slight experience," according to the Boston Pilot, a weekly that covered Irish-American news and culture.
In 1997 Arts and Sciences dean J. Robert Barth, SJ, formed a University Arts Council to raise the profile of the arts on campus, and the University's first official festival showcase of student talent took place in April 1999. What began as a 12-hour event, held mostly in one rented tent on the O'Neill Plaza, has since evolved into a three-day, campus-wide celebration pulling in more than 200 undergraduate volunteers and some 1,200 student and faculty performers in dance, theater, stand-up comedy, orchestra, a cappella, poetry, sculpture, painting, and the crafts—and attracting more than 16,000 visitors.
In the weeks before the 20th annual Boston College Arts Festival on April 26–28, BCM visited rehearsal spaces and studios as students prepared for the Show.
---
Footwork
7:00 p.m., Wednesday, March 14, O'Connell House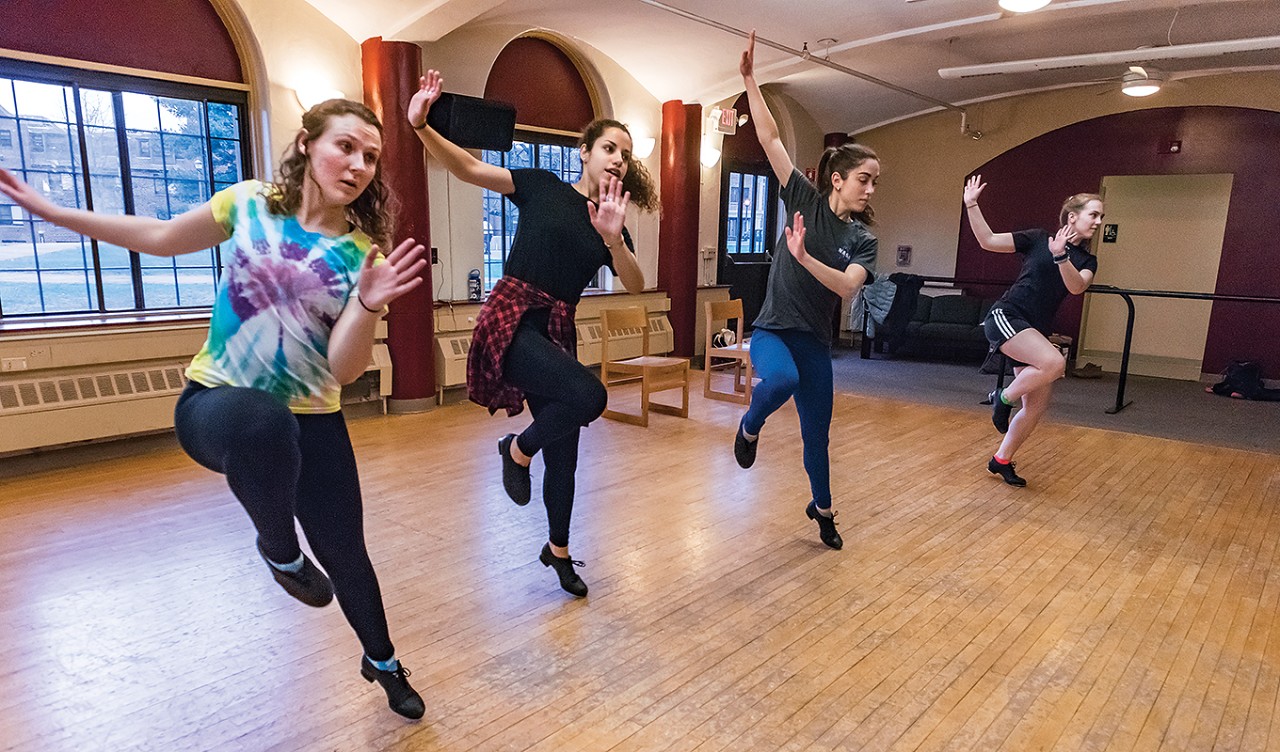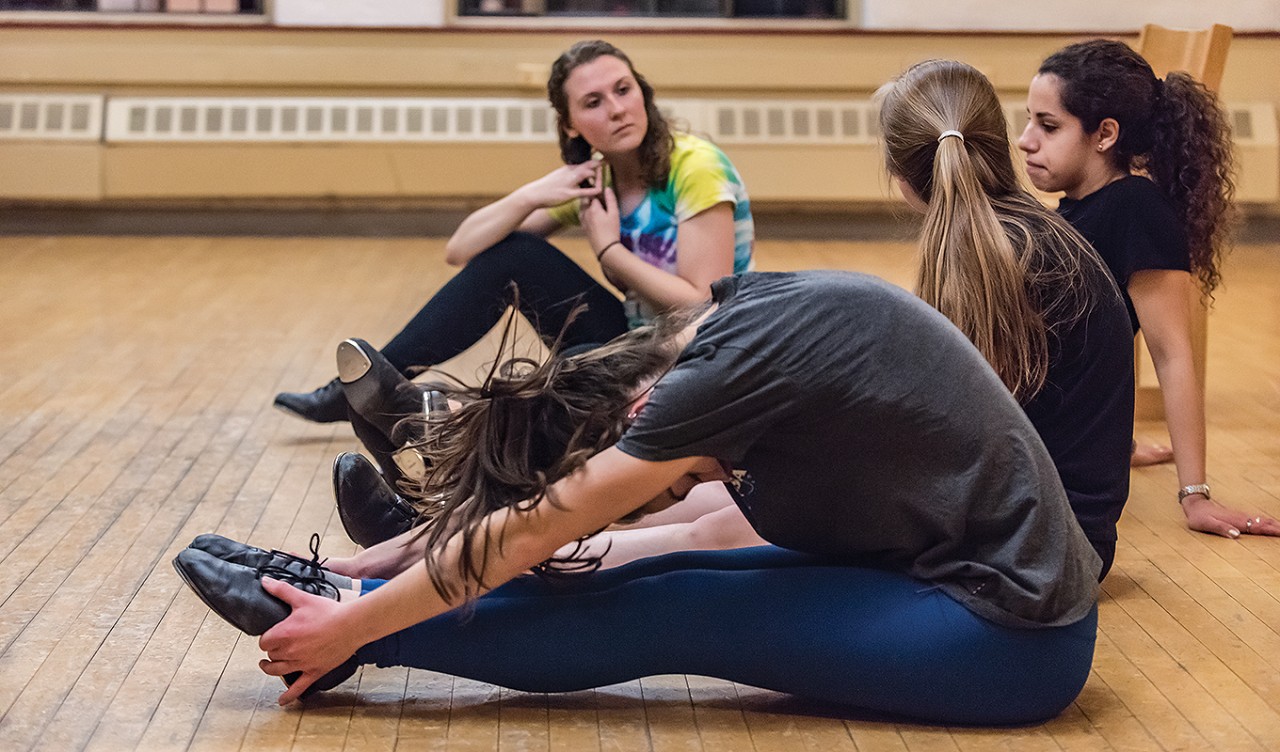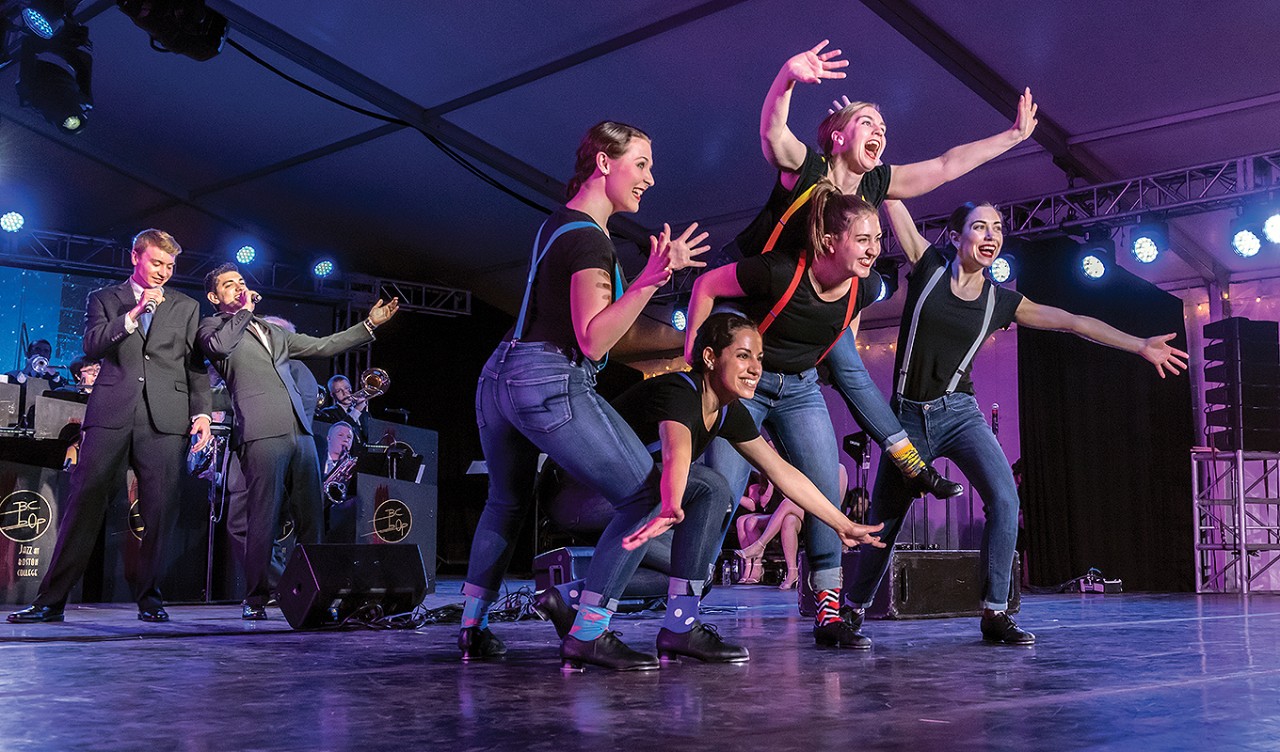 In rehearsal these five seniors from Boston College On Tap—Amanda Sackmaster, Emma Yates, Jennifer Rowland, Julia Nicholson, and Michaela Simoneau—have a tendency to finish one another's sentences with their feet. As Simoneau explains, tap operates like language. "A lot of tap is kind of building your own vocabulary and thinking about new ways to put different steps together," she says. "You have a pretty basic set of what your feet can actually do, and then it's just how fast you put the steps together in different orders and different complexities."
In six weeks, backed by the student jazz ensemble BC bOp!, the women will perform the comedic, acrobatic "Moses Supposes" scene from the 1952 movie Singin' in the Rain, in which Gene Kelly and Donald O'Connor tap atop chairs, desks, and across a floor. For now, an iPhone routes the swelling horns of the scene's score through a set of speakers mounted overhead.
Yates and Simoneau took the lead in viewing and reviewing the famous scene. "We've learned the first half, roughly; now we're just working through the rest," says Simoneau. "A decent amount of it has been Emma and I trying to decipher what the video is doing, and then maybe a third is our own choreography on top of it."
"Tap choreography is really dense," Yates says. "There can be 16 steps in an eight count. In other styles, you get a whole eight count to do a single kick. It's a lot of remembering."
"And it's a lot of communication," Sackmaster says, "a lot of having to talk things through, looking for the right sound." And where talk fails, there's demonstration. And if and when a dancer loses the thread, she steps aside and watches until she can leap back in.
None of the five women—all of whom have been taking dancing lessons since pre-school—plan a career in dance. Nicholson, from Foxborough, Massachusetts, is beginning graduate work at the Lynch School of Education; Sackmaster will attend law school in Minneapolis near her home; Yates, also from Massachusetts, is applying to medical school; Rowland, a nursing student from near Albany, secured a job at Georgetown University's hospital; and Simoneau, a biology and international studies major from outside Boston, is seeking employment in the public sector.
"We joke that we wish we could attach videos of our choreography to job resumes," Sackmaster says. "We're so proud of what we do."
---
In the zone
2:00 p.m., Wednesday, March 21, Connolly Carriage House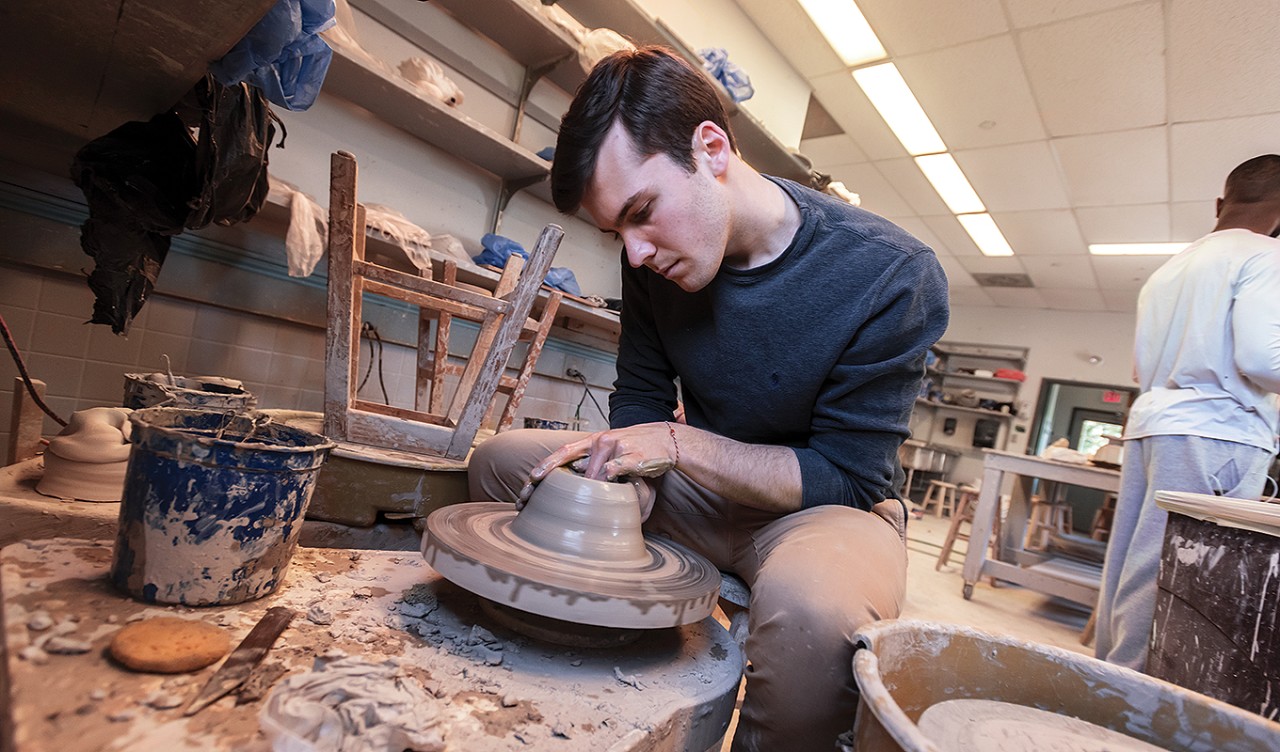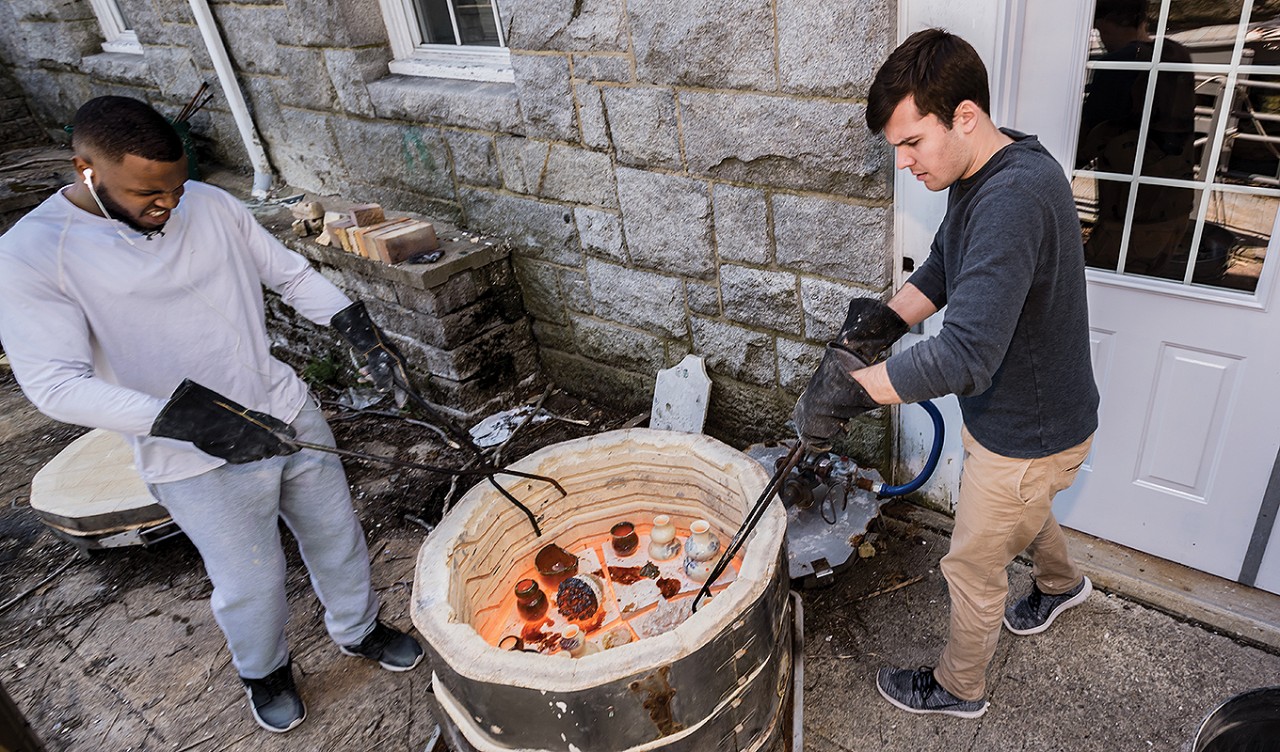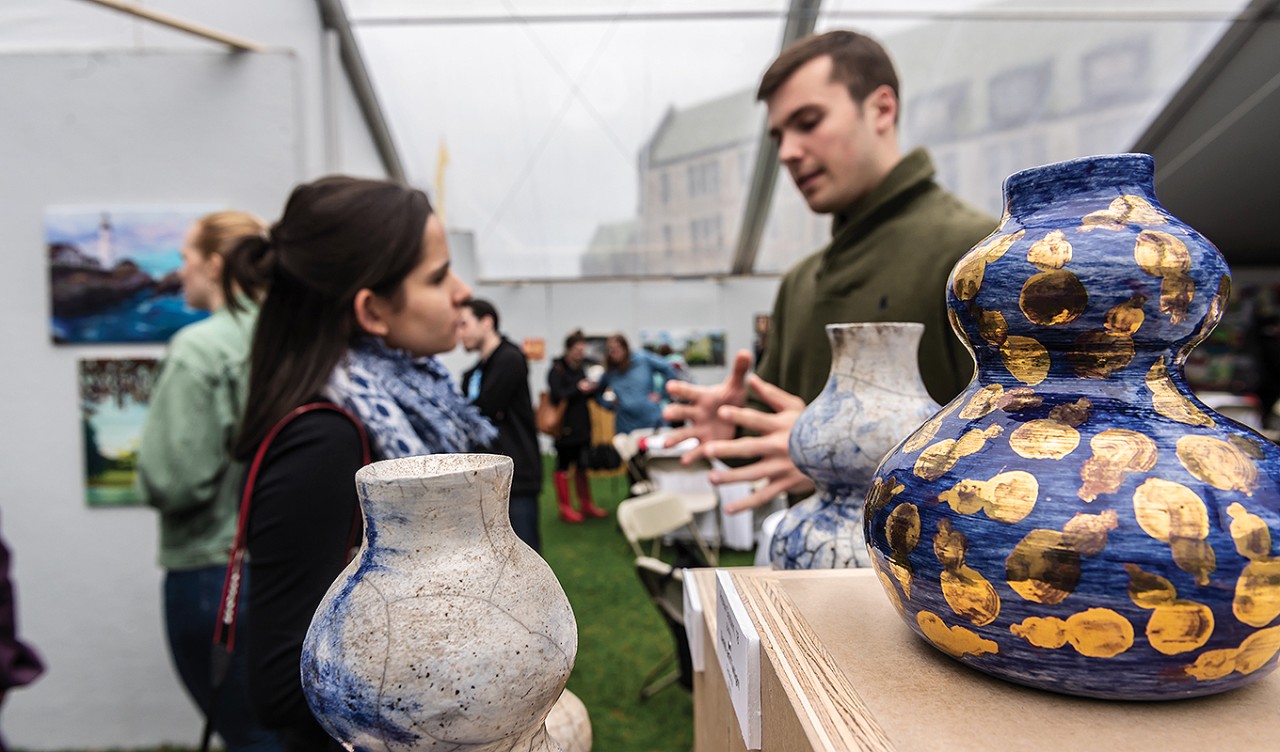 On the window panes, on the tiled walls and floor, on the bottoms of the stools overturned on the tabletops, on the tabletops themselves, and on the bare arms of Andrew Goodwin '18, who sits bent over a pottery wheel, lies a thin layer of clay dust. The day is mild and the door of the Connolly Carriage House ceramics studio is open to the outside while Goodwin works the clay.
Goodwin, who hails from a village in upstate New York and is applying to dental school, had no experience in ceramics a year ago. But in the spring of 2017, as he was looking toward his senior year, he realized he had space in his fall schedule for courses he hadn't planned to take, and so the biology major enrolled in "Ceramics I," taught by Mark Cooper. Frankly, he thought the class looked easy. "At first, I was really bad at it," Goodwin says, and "I don't like being bad at things." He began to spend long hours in the studio, "nights where I kind of just got in the zone." As his skill improved, Goodwin enrolled in a second class for the spring.
His growing absorption with ceramics coincided with another new interest, in Toyotomi Hideyoshi, a 16th-century Japanese military leader. A friend had forwarded Goodwin an article about Hideyoshi. It included a picture of a double-humped gourd, which, Goodwin learned, Hideyoshi had appropriated as his standard (commemorating a victory when gourds were raised as a signal). Goodwin saw "this beautiful double-humped gourd," and recalls thinking, "I want to make it."
Soon Goodwin was envisioning a series of six gourds to illustrate six eras in Hideyoshi's life, from birth to death. He'd finish the work using a medieval Japanese technique called raku firing. "You fire it in a gas kiln, and when it's ripping hot all of the glaze molecules are at a higher energy state and are vulnerable to any little change. You take it out, and you plunge the piece into a garbage can full of sawdust, leaves, newspaper, any type of organic material that's going to burn," he says. "The color changes slightly, depending on where the flames touched the clay . . . and the glaze cracks, which gives a nice crackle pattern . . . and then the smoke and the soot and the ash get in the cracks and give it a weathering and patina."
The gourd is "no longer perfect," he says. "But that's the whole point."
---
Greek life
8:00 p.m., Sunday, March 25, Rubenstein Hall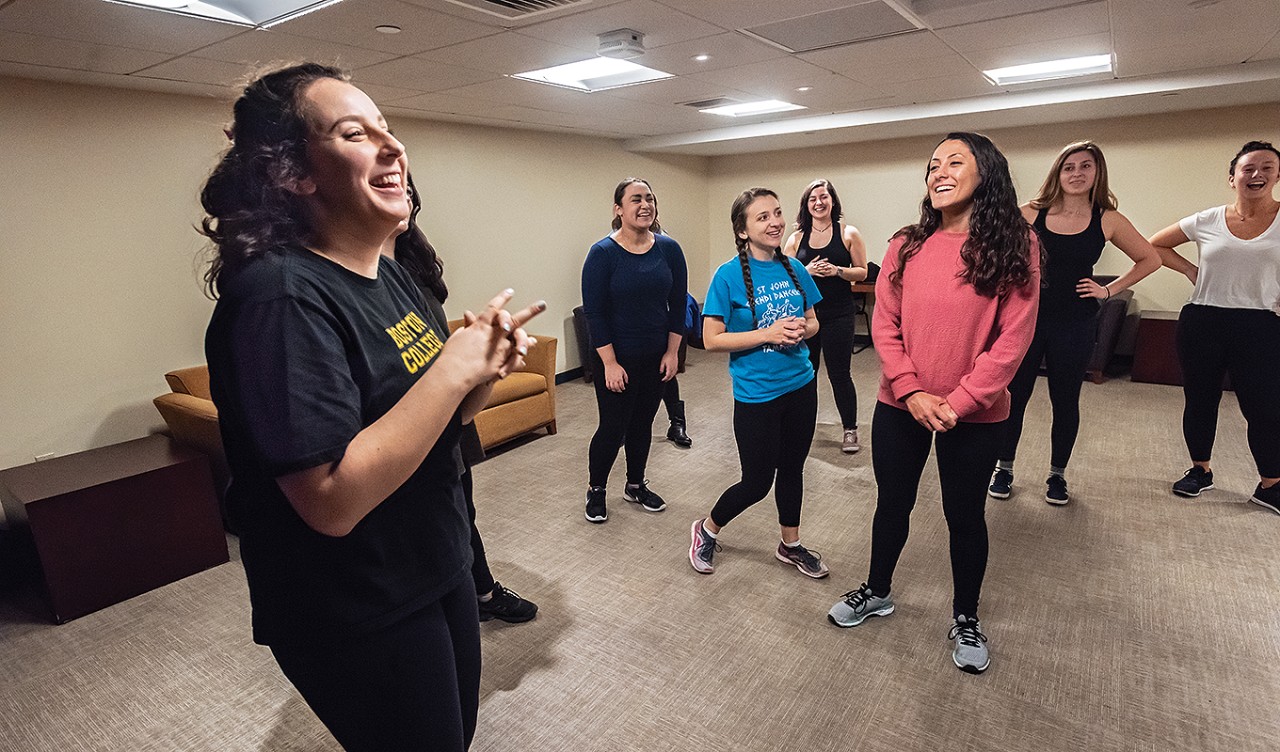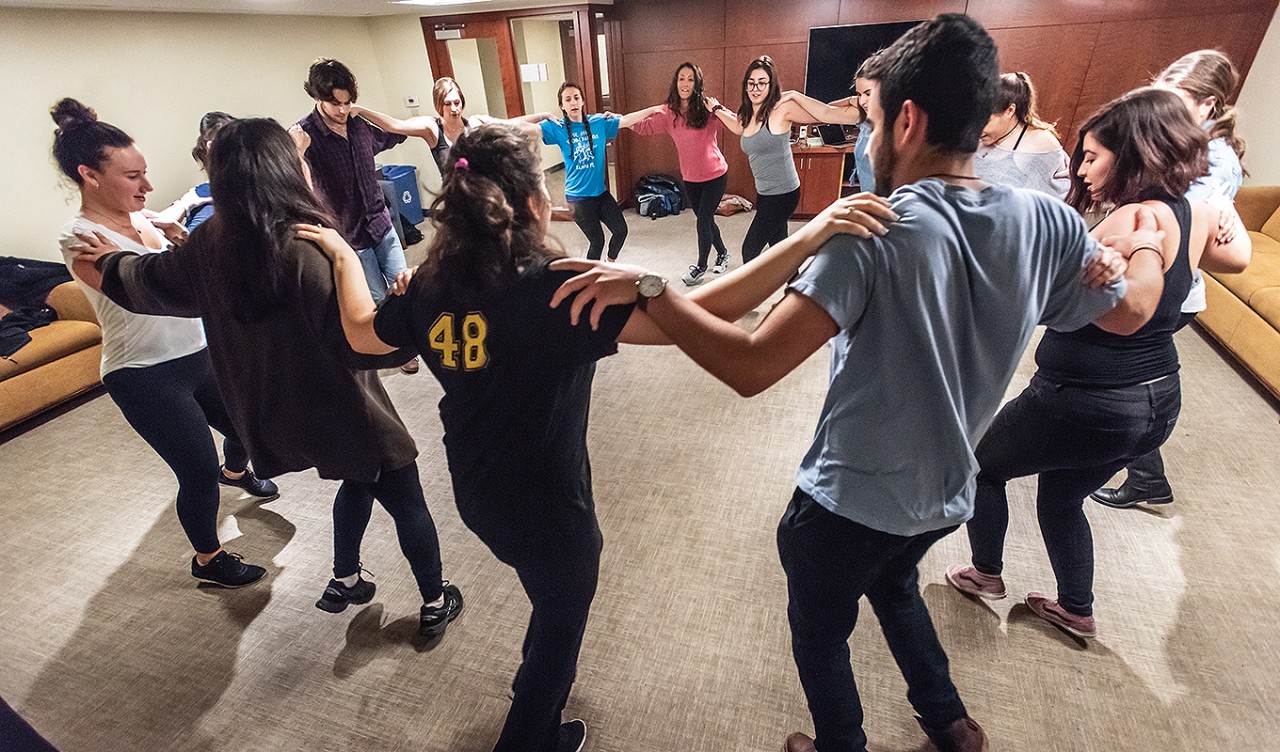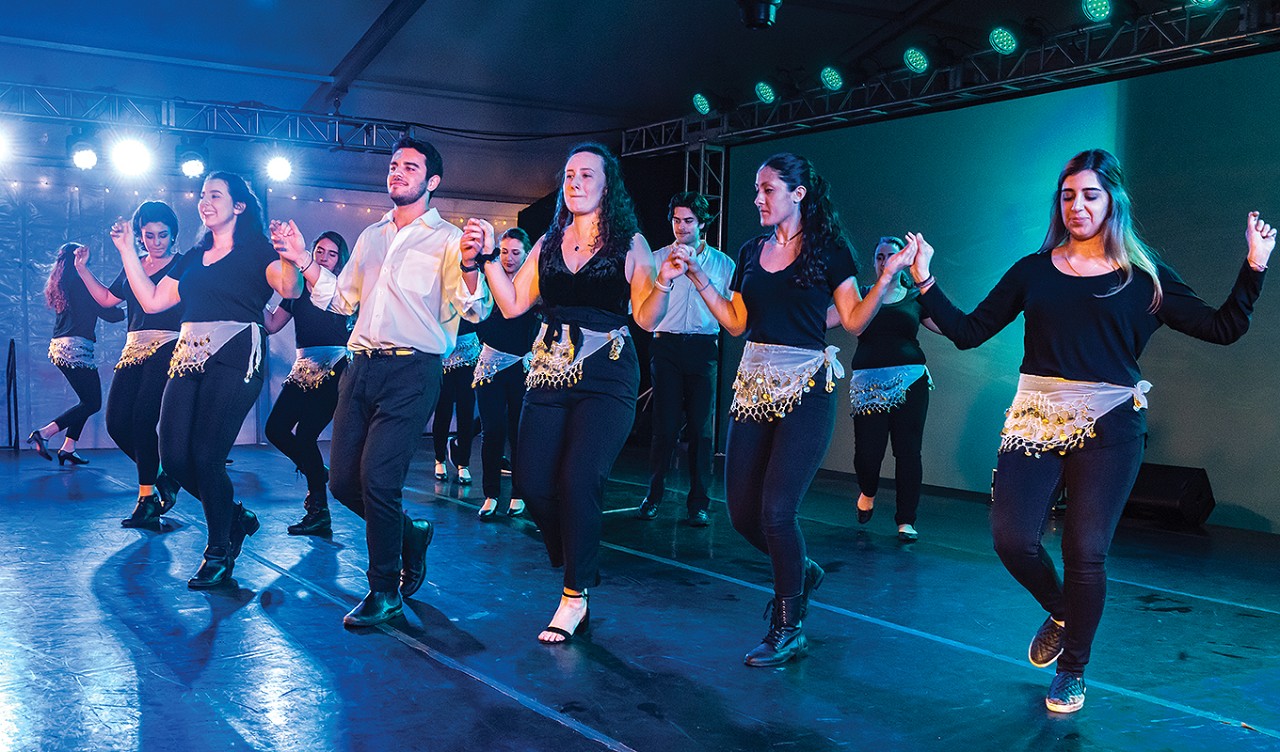 Like many Boston College Hellenic Society meetings, this one began with a delivery from Gyro City, just down Chestnut Hill Avenue, of pork gyros—pita bread, meat, tomatoes, onions, tzatziki, and honey mustard. Then came club business: "If you're looking to go to church during Holy Week, let us know; we'll roll through together." And then, in preparation for a performance at the 2018 Arts Festival, society members began pushing aside the gray and yellow couches in the residence hall's first-floor lounge. Soon 10 women and two men are lined up in two rows behind Anna Reganis '19, a sociology major (with a minor in faith, peace, and justice) from Salt Lake City, vice president of the club, and, having grown up studying Greek dance, their instructor-by-acclamation.
The students would perform "Kalamatiano," perhaps the most popular of Greek dances in the old country and in the Greek diaspora, and "Zorba's Dance," made famous by Anthony Quinn's performance in the 1964 film Zorba the Greek with music composed by Mikis Theodorakis. "Kalamat has 12 steps, 12 counts," Reganis says. "Remember, you're going in place, you're in your teeny, tiny rectangle, not going super forward and not going back. Do you remember how to do the forward for girls and the backward for boys?"
"A refresher would help," calls out Stavros Piperis '19, a copresident and a political science major from Omaha.
At Greek culture school "they kind of ingrain [Kalamatiano] into you," says Lia Frankis '21, a freshman in the Carroll School of Management from Manhasset, New York. "Even if you don't remember it completely, you did it at so many festivals and weddings."
Forming a ring, the students join hands—"if you're a girl, and you're next to two girls, right hand over, left hand under . . . if you're a boy, you'll always be under," Reganis says—and they begin to circle counterclockwise to the music, crossing their feet as they step.
"Who knows the Zorba?" Reganis asks next. "I know there's tons of different Zorba variations," she says. "We're going to do it this way." And she connects her phone to a speaker, presses play, and demonstrates the steps: "You're going to start with your left foot, your heel, then tap-tap kick . . . when you do a kick it's not up here, we're not doing the can-can. It's subtle." The music quickens.
"You're not making huge steps," Reganis calls out as she dances. "Especially girls. This doesn't seem right in our age, but the girls were always very dainty and didn't take big steps. . . . The girls are supposed to be very poised."
With arms here and there linked, the group dances to a rhythm that races into a dizzying crescendo, they hit some steps, miss others, move together or nearly together, stumble into walls or into the furniture around the edges of the make-shift studio, but laugh and smile as they largely succeed.
In February, Reganis accepted an invitation from Margaux Villeneuve '18, this year's Arts Festival production manager, for the Hellenic Society to perform. "For BC to reach out to us, giving us an opportunity to Greek dance . . . I was like, 'If I'm the only one dancing, I'll get up there,'" she says. "We need to do this!"
---
Illumination
2:00 p.m., Wednesday, April 18, Robsham Theater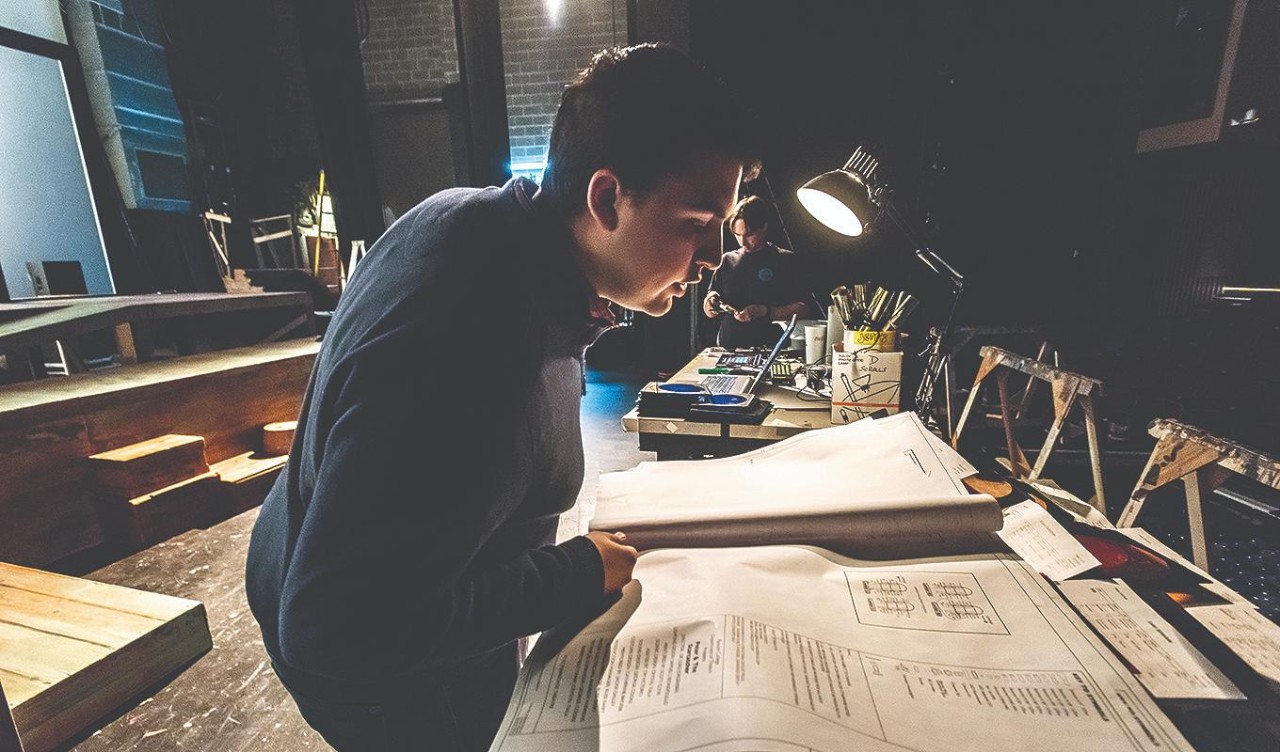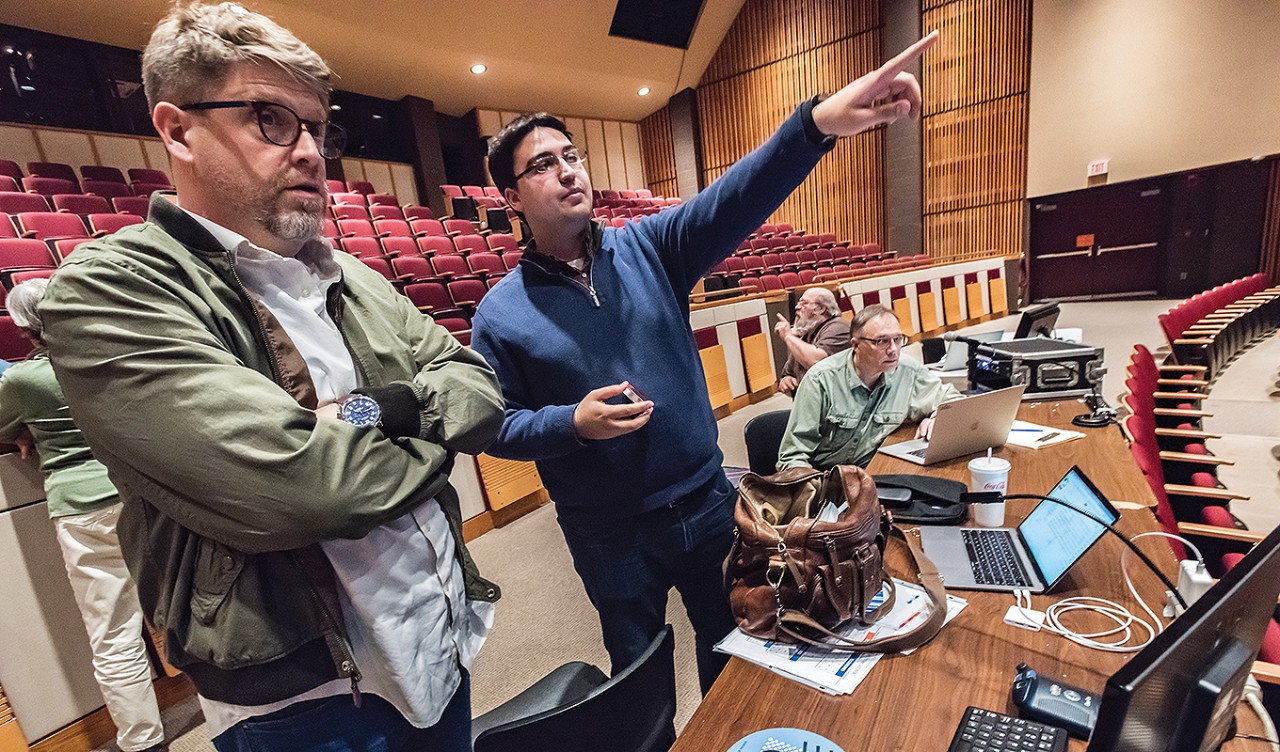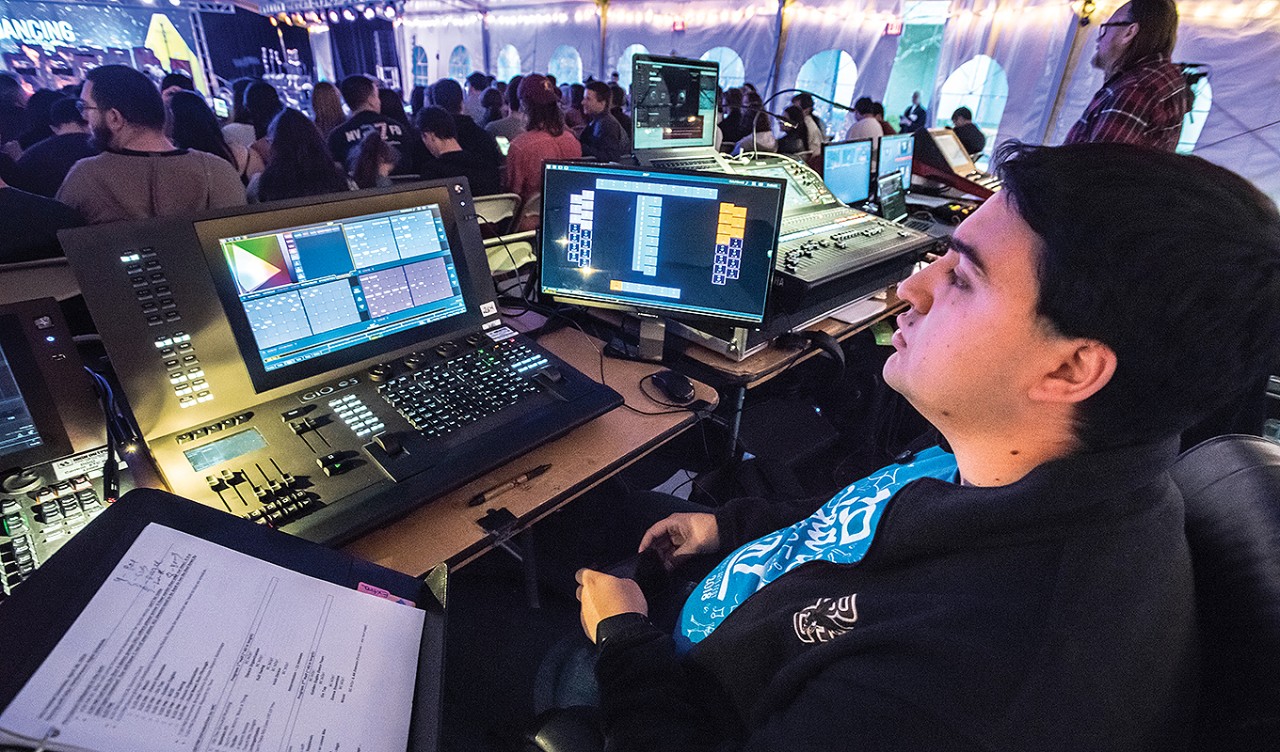 Senior Samuel Biondolillo steps into the light on the stage of Robsham Theater, raises his right arm, and calls out: "Cut to here."
Thirty feet above, in the cage of a hydraulic lift, Boston College electrician Andrew Andrews adjusts the shutter on a spotlight, narrowing the beam to strike a series of wooden platforms designed to represent a ship, but staying clear of a pit of blue and white plastic balls representing the sea. Save for Biondolillo and Andrews and two crew members grappling with the rigging on stage, the theater is empty.
Biondolillo is the lighting designer for the theater department's production of Peter and the Starcatcher, Rick Elice's multi-Tony–winning prequel to Peter Pan. In the fall, Biondolillo will attend the University of Connecticut to earn an MFA in lighting design.
The theater major came to his craft somewhat accidentally, in the eighth grade, after being cast in a part in The Miracle Worker at a regional theater in Montpelier, near his hometown of Barre, Vermont. "After the role I wanted to stay involved," he says, "so I joined the electrics crew." Then, in high school, "I was just someone who happened to know how to run a light board, which is kind of how I think everyone gets into it." In recent years he's lighted about a dozen professional productions a semester, and this past year he studied with Scott Clyve, a Broadway and Boston lighting designer and a 2017–18 Monan Professor in Theater Arts.
For Starcatcher, Biondolillo, in conference with faculty Luke Jorgensen and Crystal Tiala—director and scenic designer—developed a program of 215 lighting shifts and worked with Andrews to install 266 stage lights. On this afternoon, he is assessing, one by one, the effect of each. The fine-tuning will take two days to complete. When satisfied, he will meet with Jorgensen to review each lighting cue. Then will come two weekend days of what are called 8-out-of-10s—"eight hours of work with two hours of break"—when the actors are brought into the plan.
"I know a certain color from a certain angle creates a certain effect. We have a light lab that's kind of small, but you can throw gel in and see what a light will do," he says. "Part of my job is telling the audience where to look," helping them "choose what to see and not see."
"When you have a moment where the whole audience goes, 'Oh!' that's when I know I've done my job."
---
Bandwidth
8:00 p.m., Friday, March 23, Carney Hall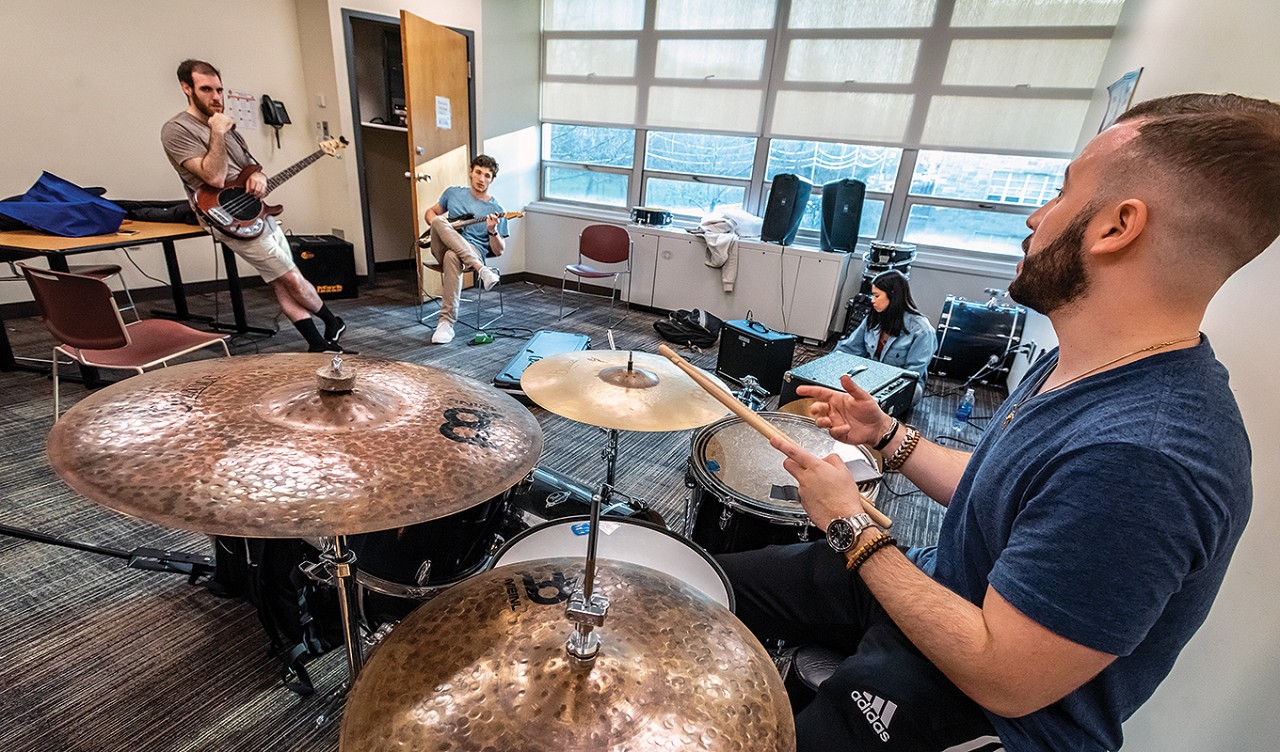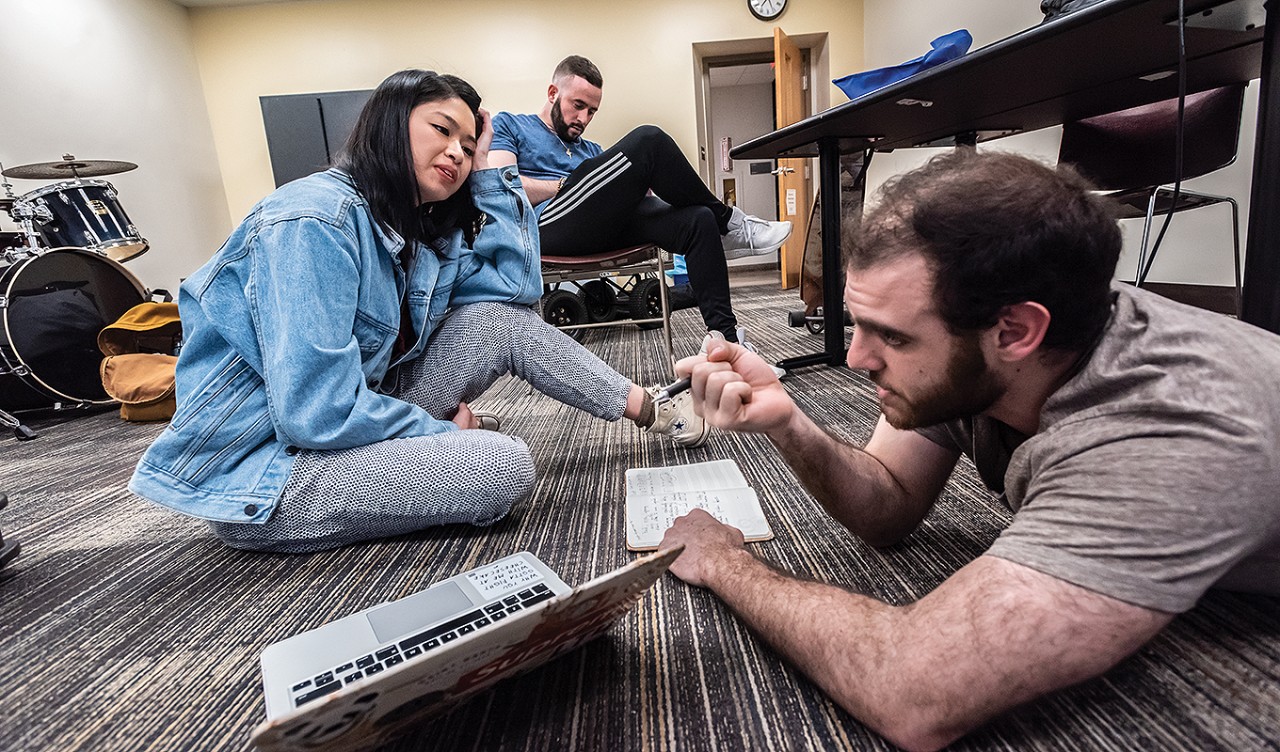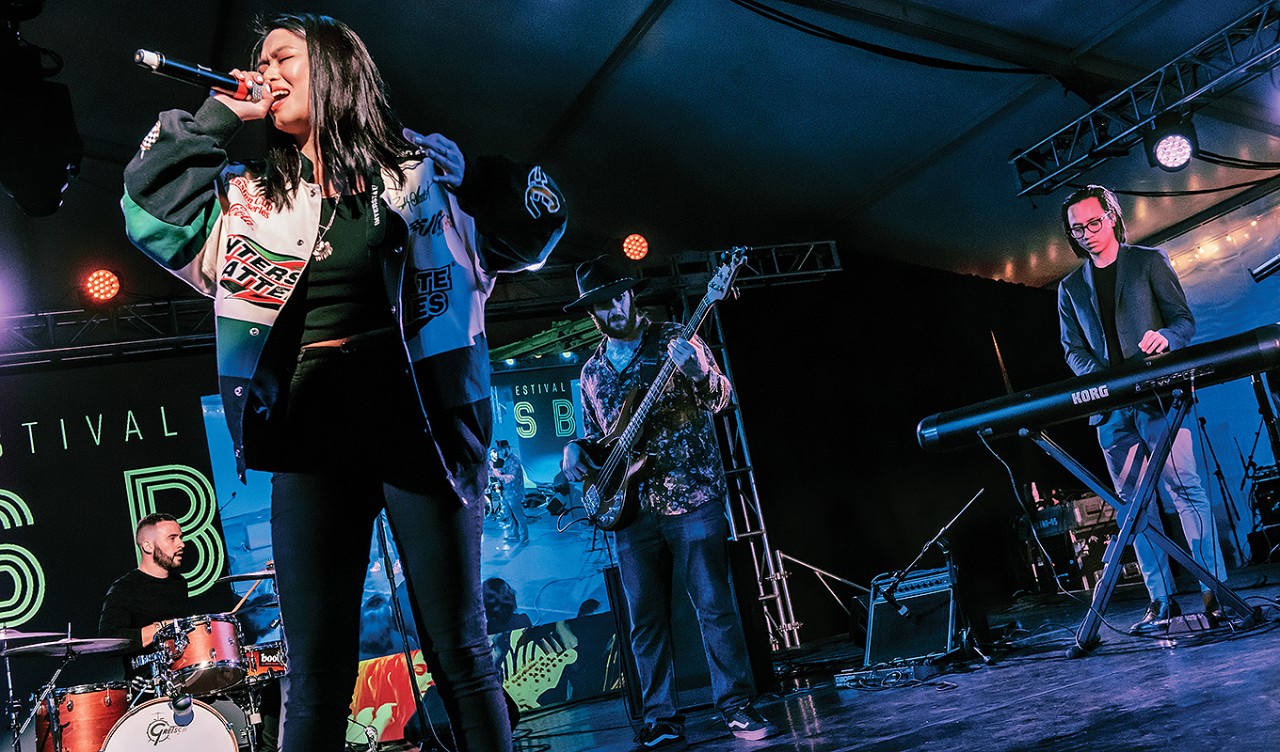 Seniors Matt Chilton (Massachusetts, guitar), Mario Borges (Ecuador, drums), Jaclyn Chan (Rhode Island, vocals), and Nicholas Rocchio-Giordano (Rhode Island, bass)—are rehearsing in a second-floor classroom. The overhead lights are off. Through the windows, which offer a view of College Road, dusk falls blue across these members of the band Funky Giant and their things: a skateboard (wooden, longboard), a tangle of electrical wires, a pull-cart, speakers, amps, a takeout plate of pasta (Rocchio-Giordano's dinner), and a white bag of cookies brought by Chan.
The musicians are seated, Chilton and Rocchio-Giordano facing each other on classroom chairs, Borges on a stool behind his kit, and Chan cross-legged on the carpeted floor with a microphone in her lap.
"If you don't want to write new stuff, why don't we go over and make cool things happen with the songs that we have?" Rocchio-Giordano says. "You know, add a harmony part to Jackie or to the breaks?"
"Can you toss me a cookie?" says Chilton.
Rocchio-Giordano reaches into to the bag beside him. "If you want someone to do something, you got to keep them incentivized," he jokes.
Funky Giant has been together since 2015. Rocchio-Giordano, a music and English major, met Chan, a communication major, through the University Chorale and got to know Borges (economics and philosophy) through friends. One day he ran into Borges outside the music rooms on the fourth floor of Lyons Hall, where each was practicing for "Keyboard Skills" (a corequisite for music theory and harmony courses). They got to talking about a progressive metal band, Dream Theater, and Borges started playing the rhythm to a song on his lap with his hands. "I could tell he was a good drummer," says Rocchio-Giordano, "because he nailed the part." The two men played with biology major Chilton in a second band, called O2, in spring 2017.
Funky Giant has performed its "alternative funk" both on campus—they won Battle of the Bands in 2016—and in town, at the Cityside pub in Cleveland Circle and the Hard Rock Cafe, among other venues. They play gigs on a weekly basis: covers, from the love songs of Ed Sheeran to the ska punk of Sublime, and their own music, which they write together during rehearsals or independently, as ideas strike. On April 26, they'll take their act to O'Neill Plaza to compete for the title of BC's Best (and will finish in the
top three).
Borges suggests they work on the reggaetón set they played the night before at Cityside. "People keep dancing to it, [but] it runs out of gas. It's like pop-pop-pop-pop-pop," he says, playing a rhythm on a snare.
"Can we do something where we all hit those?" Rocchio-Giordano asks, referring to Borges's beats.
Chan hums a melody. Rocchio-Giordano adds a complementary riff. "So, the verse 'fill up your bag, and I fill up a plate,'" Chan says, singing a line from Sheeran's "Shape of You"—she sings it again, this time following Borges's rhythm.
Rocchio-Giordano searches for notes on his bass. Borges cuts in: "So, so, so, can we start at the . . . at the—"
"The chorus," Chan says. She starts to sing.
Chilton begins to play; Rocchio-Giordano follows; then Borges. The sun has set, and what little light falls upon the band is yellow, from the hallway, spilling through a window of the closed door.