Campus School student Leah with teacher and alumna Sasha Greene and Sean Kane '19, who will run the Boston Marathon for the school on April 17. (Gary Wayne Gilbert)
The Jesuit call to be "men and women for others" will hold true this Marathon Monday as Boston College students, alumni and friends run to support charitable causes. Here are some highlights:


•The Boston College Campus School, which provides programs and resources for children aged 3-21 with multiple disabilities, still feels the impact of the 2013 Boston Marathon bombing. For years, the school drew considerable support from "bandit" runners who participated in the Marathon, but the post-2013 crackdown on bandits ended that source of fundraising.  

While the Campus School has since sought other means of support, it was able to secure two bibs for this year's run.

Sean Kane '19, who is a buddy to a Campus School student, will run in his first Boston Marathon with a goal of $5,000 for the school.

"My buddy Thiago [at the Campus School] is so kind, sweet, and loving and he's taught me so much about what friendship and caring for someone else is," said Kane. "He's gone through so much pain and suffering and wakes up every day with a smile on his face and comes to class. That to me is so eye-opening and heart-warming.

"Thiago has motivated me to want to run and finish and say I'm running for him because he deserves the world," said Kane.

Also running for the Campus School is preschool teacher Sasha Greene '08, M.Ed.'09, M.Ed.'12, whose goal of $12,000 is considered higher than the average. The alumna says training for the race was challenging, but she has a community of support behind her.

"I hadn't really ever planned on a marathon again, but I knew if I did, it would have to be for something that was so meaningful and inspiring, it would get me to the end." Sasha Greene talks about why she's running for the Campus School.
"My students work so hard, harder than anyone I know," said Greene. "This is just one thing I can do for them and it's really challenging, but they face more challenging situations every single day and work so hard through it all. That's what I have to think about on Monday to get me through."
Greene, who like Kane gets emotional talking about the school and its students, added, "My students will get me to the finish line. They smile through all of the challenges and never give up.  It's incredible to be able to do this for them."

"We need a lot of support," said Campus School Project Manager Kristen Morin, who added that the school will continue to apply for approved charity status for future marathons. "Even if both of our runners hit their goals it's still significantly less than we used to raise at the Marathon, so we're hoping to have more numbers next year."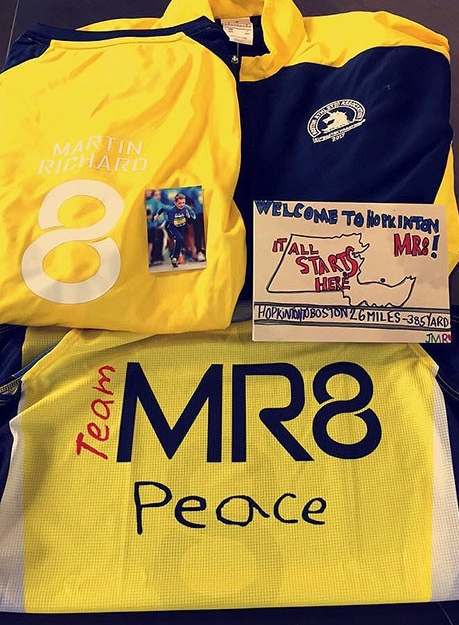 Maggie Crowley's Team MR8 running gear.
•Lynch School of Education senior Maggie Crowley is running to support Team MR8, the Martin Richard Foundation, established in memory of the boy who was killed in the 2013 bombing.

"The goal of the Martin Richard Foundation is to challenge both youth and adults to take action and foster greater togetherness, compassion, peace and kindness in their communities," said Crowley.  "The foundation wants to keep Martin's message alive through investments in education, athletics and community."

Crowley says she will continue to run the Boston Marathon for Team MR8 as long as her legs will allow and calls the experience life changing.

"Running for Team MR8 means so much to me and I have worked hard to raise funds for the organization.  It has been such a humbling experience and I have met some of the kindest, most generous people through these experiences."

Learn more about Team MR8 here.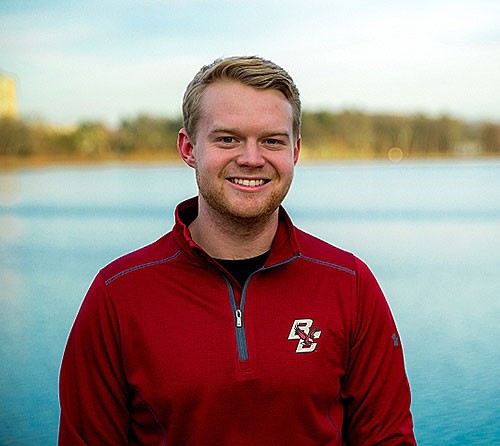 Bennet Johnson.
•Making his Marathon debut, Bennet Johnson '17 aims to raise $10,000 as a member of the Special Olympics Massachusetts charity team. Johnson's brother Sam was diagnosed with severe autism spectrum disorder at age three and needs direct supervision from a caregiver or family member 24 hours a day.

"Sam is blessed with caregivers and volunteers who support him and work to make the most of his abilities," said Johnson, an English major in the Morrissey College of Arts and Sciences. "I am inspired by these people and others in organizations that serve people like Sam.  Special Olympics is one of the best organizations in the world supporting people with physical and intellectual disabilities."

Johnson also praises the support he has received from Boston College throughout his training.  "I'm ecstatic to run past BC at Mile 21," said Johnson.  "The love and support I've received from the BC community has been inspiring."

Learn more about Bennet and his brother Sam here.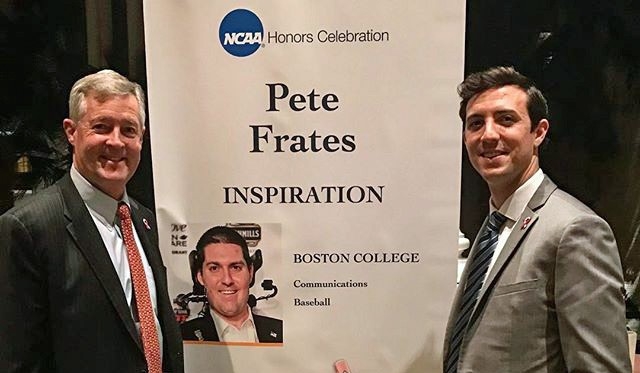 •Andrew Frates, brother of BC Baseball Director of Baseball Operations Pete Frates '07 – whose struggle with ALS became national news on the heels of the Ice Bucket Challenge phenomenon, for which he was a driving force – will run to raise awareness of the disease.

His fundraising goal is $33,333, in honor of Pete's BC No. 3 jersey, which the Eagles retired last year.
"It's been in the back of my mind since the diagnosis. It's Boston's signature event and Pete has such a close tie to the city of Boston," Andrew told the Salem News.

Pete also remains close to the Eagles baseball team; BC assistant coach Greg Sullivan ran last year's Marathon in his honor. The team will play its sixth annual ALS Awareness Game at Fenway Park on April 22.

Read more about Andrew Frates' run for Pete in the Salem News.

—Siobhan Sullivan / University Communications