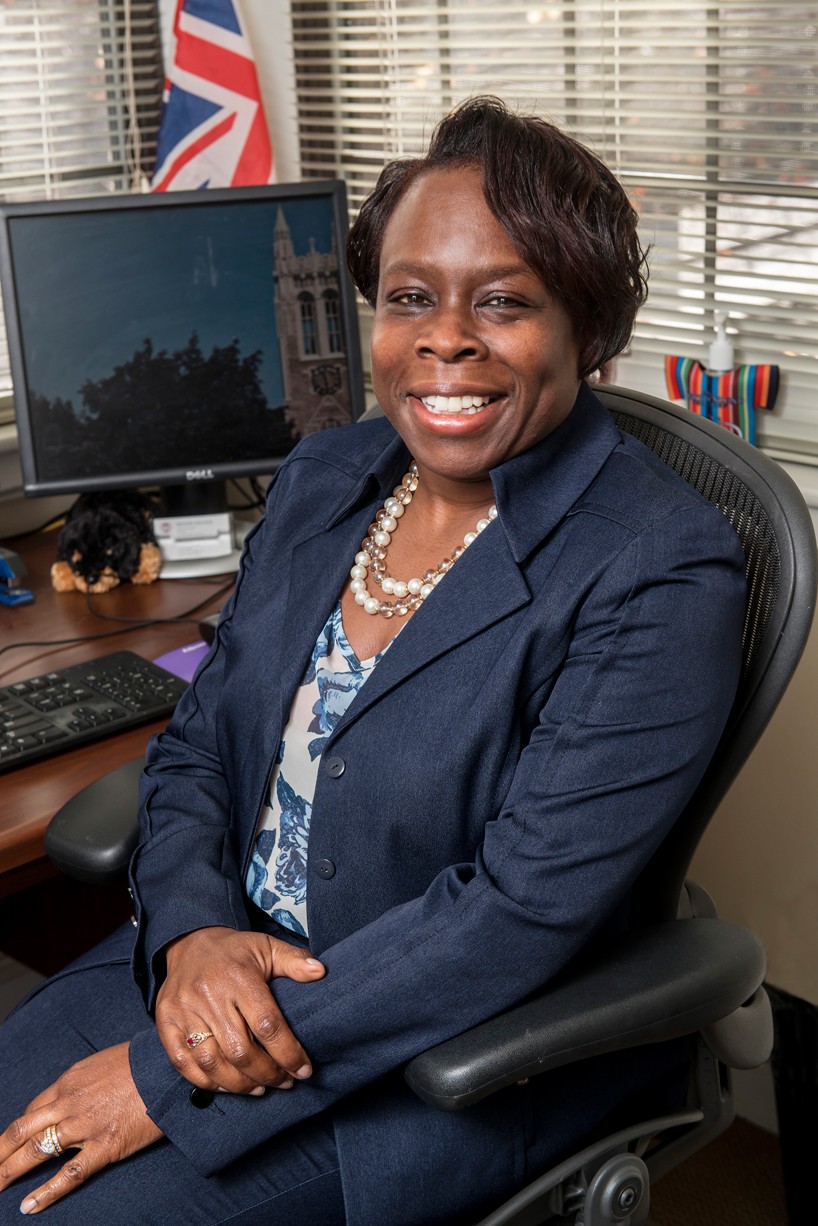 For Yvonne McBarnett, Boston College is all about cultivating mutually beneficial relationships: BC has done a lot for her and her family, she explains, so she relishes the opportunity to do a lot for others on behalf of BC.

Having worked for the Sister Thea Bowman AHANA & Intercultural Center and the University Advancement Alumni Relations department, McBarnett – who joined the University full-time in 2002 – is now in her first year as manager of BC's Montserrat Coalition, a seven-year-old University Mission and Ministry initiative that helps undergraduates at the highest level of financial need to realize the benefits of a Jesuit education.

Through Montserrat, a coalition of administrators and faculty from across the University, McBarnett is able to direct students to academic, social and spiritual supports that will better ensure them a successful experience at BC. Among other features, Montserrat provides these students – about 1,400, or 15 percent of the undergraduate population - with funding for participation in retreats, service programs, independent study and research, and free tickets to campus dances, concerts, theater productions and sporting or cultural events.

It's precisely the kind of job McBarnett relishes.

"This is what I'm passionate about: I love the students, I want them to succeed, and I'm inspired by how hard they work," she says. "They're empowering me."

"We have been delighted to welcome Yvonne to University Mission and Ministry," said Burt Howell, director of the Intersections Program. "She has a strong record of working with students and helping them thrive at Boston College. The Montserrat Coalition is always improving its services and Yvonne brings both skill and vision to the job of guiding this growth."

Born in London, McBarnett moved with her family to the Boston area when she was 13. She worked in the corporate sector for a number of years, then decided she needed a career change. Her brother, a BC Police officer, had a ready suggestion as to where she could go.

"I didn't know much at all about BC, but he loved it – family-oriented and very welcoming," she recalls. "He felt I'd find my niche here."

McBarnett joined the BC Temp Pool, and after five months she was offered a full-time position at the Bowman Center, first as administrative assistant and later as counselor and program administrator. Her wide-ranging duties included advising students on academic and personal issues, which she says provided her with valuable perspective and insight for her current position – and earned her a nickname, "Ms. Smiley."
"Being in Montseratt enables me to better understand the complexity of these students' situations, and extends what I'm doing in terms of advocacy," says McBarnett, who briefly served as assistant director for alumni classes in Advancement until her appointment in August. "They're brilliant, very resilient young people – they simply lack financial means and some other resources.



"What's heartening is the favorable response of our partners across campus, who want to do more for our students so that they can enjoy Boston College life like anyone else."

In addition to being a BC employee, McBarnett has been a BC student herself, earning a bachelor's degree in sociology and a master of science degree in administrative studies at the Woods College of Advancing Studies. And besides her brother, she has another family tie to the University: Her daughter is a member of BC's Class of 2016.

"Boston College has been wonderful for us in so many ways," she says. "That's why I feel so strongly that any student should have the opportunity to experience the many positive aspects of the BC community – and I want to help them do that."  

McBarnett hopes the program can expand to serve more students, and be a model for similar ventures at other colleges and universities. She also seeks to continue promoting greater awareness of the coalition, through campus events such as an open house on Dec. 10 from 5-8 p.m. and a social featuring talks by Montserrat alumni.

"The best testimonials for Montserrat are from the BC graduates who are doing great things with their lives because the coalition helped them get the most out of their time at BC," she says.