Rev. James P. Burns, I.V.D., dean of the Woods College of Advancing Studies since 2014, has been named president of Saint Mary's University in Winona, Minnesota.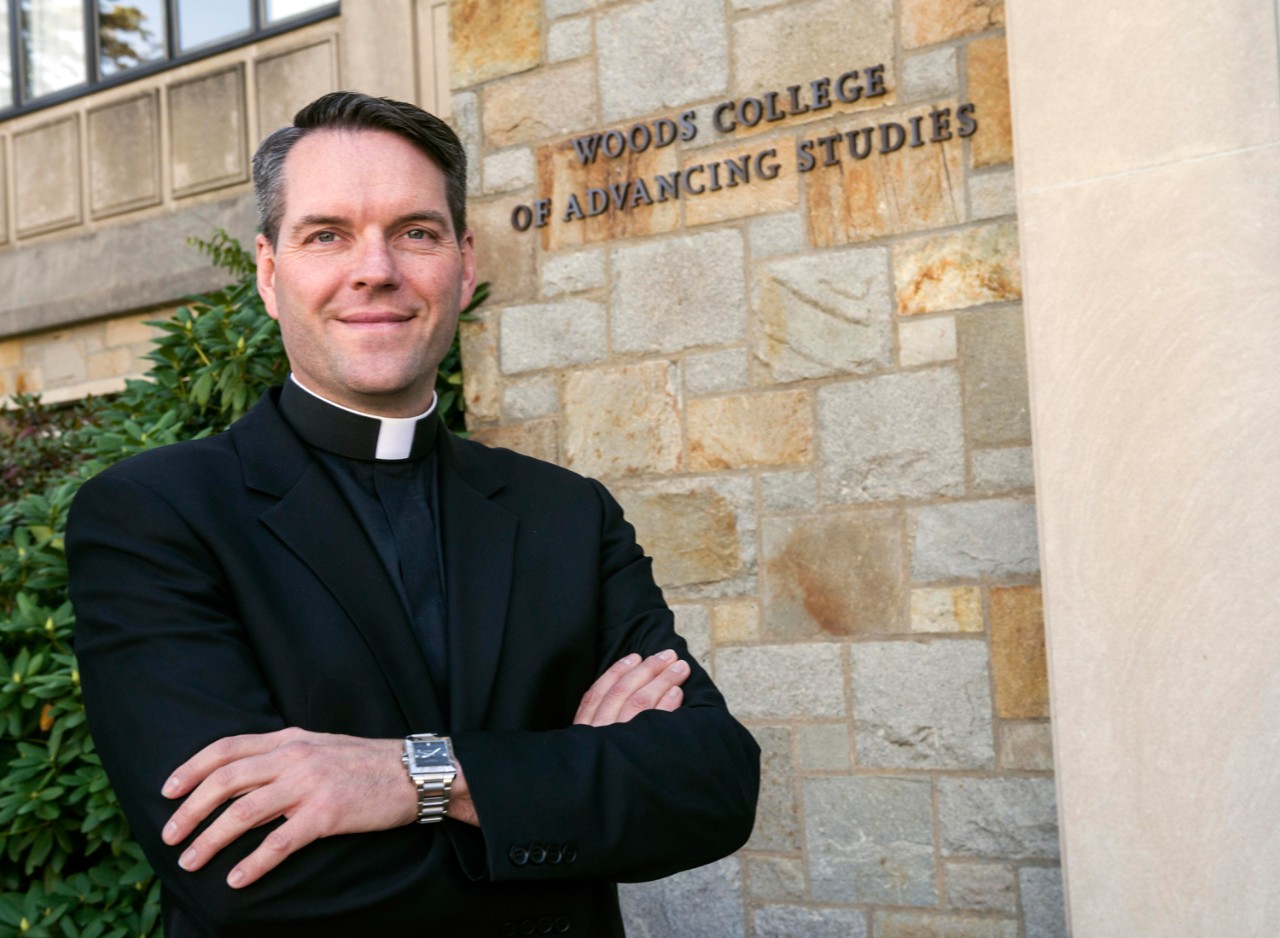 Fr. Burns was the unanimous selection for the presidency of the De La Salle Christian Brothers Catholic liberal arts institution, which has an enrollment of 5,700 undergraduate, graduate and online students. He will step down as dean of the Woods College on June 15, and begin his new role as Saint Mary's 14th president on July 9.
Provost and Dean of Faculties David Quigley praised Fr. Burns for his efforts in enhancing one of the nation's best colleges for advancing studies.
"I've been blessed to work closely with Fr. Burns during the past eight years," said Quigley. "I have long admired his commitment to and belief in Woods College students, and his leadership has advanced the school to a new level of excellence. We wish him every success as he returns home to his beloved Minnesota."
"I want to express my sincere thanks to [University President] Fr. Leahy for his guidance and mentorship throughout my time as dean and for providing me this opportunity at Boston College," said Fr. Burns. "In addition, the opportunity to work closely with Provost David Quigley and my fellow deans, as well as BC's vice presidents and its Jesuit community, has been a wonderful and singular experience. I am very grateful."
As dean, Fr. Burns, who succeeded the school's founding dean and namesake, James Woods, S.J., is credited with strengthening the undergraduate and graduate offerings within the Woods College, expanding its popular certificate and executive education programs, and introducing its first online program in 2016. During his tenure, he responded to market needs by adding several highly successful graduate programs, including new M.S. degrees in Applied Economics, Leadership and Administration, Cybersecurity Policy and Governance, and Sports Administration, as well as its online master's degree program in Healthcare Administration. He also expanded collaborative partnerships with other academic units on campus, including BC's Law School, Carroll School of Management, and Connell School of Nursing, as well as several key foundations, and expanded both the Boston College Summer Session and the Boston College Experience program for high school students.
Fr. Burns said he was proud of the team he assembled at the Woods College and the many successes they enjoyed in enhancing the student experience.  "We have built upon the strong foundation that Fr. Woods left us and crafted a smart, caring and thoughtful staff that is focused on student success and faculty support," said Fr. Burns. "As a result, we have seen our student retention rates increase significantly and our enrollments have doubled and tripled in some areas. We have been a hub of innovation, and have become the leader in online delivery systems to students at BC, with a focus on quality and rigor.  Our proudest accomplishment, however, has been in providing a supportive and nurturing formation environment for our students, who say regularly that they have never been to a school like the Woods College or a university like BC that offers them so much and wants to see them succeed, not only in their careers but in their personal lives."
Fr. Burns said that the decision to leave the Woods College and BC after eight successful years was a difficult one, but that he was excited to serve a school he knows well in state that he calls home.
"I intend to bring the same energy, passion and conviction to my work with students, faculty and staff at Saint Mary's that I brought to the Woods College each day," said Fr. Burns. "There are so many natural connections between the Lasallian charism and the Jesuit charism. Both highly value and honor education at all levels, both seek to find God in all things and to live in God's presence, both have clear concern for those who are on the periphery and both seek to provide opportunities for all men and women.
"I look forward to further refining and integrating the Lasallian proposition and offering it to the upper Midwest and the world. Being the first non-Christian Brother to lead the university in more than 100 years is a humbling opportunity, but one that I hope to engage to the fullest."
Quigley has named David Goodman, the associate dean of academic affairs and advising in the Woods College, as interim dean, effective June 15. As an experienced and respected administrator within the Woods College, Goodman is well positioned to continue the school's momentum in the years to come, said Quigley.
"The University is fortunate that David Goodman will be serving as Interim Dean of the Woods College beginning this summer," said Quigley. "David has been a key member of the team that has transformed the school in recent years and he brings tremendous energy and integrity to the position.  I look forward to working closely with him in the months ahead."
Jack Dunn | University Communications | May 1, 2018