The Woods College of Advancing Studies at Boston College. (Photo by Gary Wayne Gilbert)

The Woods College of Advancing Studies has experienced a major transformation over the past several years, with a number of recent and ongoing initiatives that include master's degrees in cybersecurity policy and governance as well as in applied economics, a full redesign of its undergraduate program, and a graduate degree in leadership, along with the appointment of a board of advisors composed of industry leaders, senior administrators, and academics.

Additionally, the Woods College also now offers the University's first fully online master's program, a Master of Healthcare Administration, which after only two terms is already receiving rave reviews from students.

Woods College Dean James P. Burns, I.V.D. (Lee Pellegrini)
"It's been a busy couple of years, but we are very confident in the direction things are moving," said Woods College Dean James Burns, I.V.D., who was appointed dean in September of 2014 after serving as interim dean for two years. "The level of expertise we're getting at the Woods College, combined with the new initiatives we're introducing, make this a really exciting time for students to be here and for faculty to be teaching with us."

The board of advisors, made up of senior University administrators and chaired by former University Trustee John M. Connors '63, has played a valuable role in supporting the new Woods College degrees and programs, said Fr. Burns.

"The committee has been extremely helpful in reviewing and guiding our strategic planning effort, a five-year project that's currently well under way and producing results practically weekly. We're focusing on 10 strategic initiatives and are already making headway in successfully achieving our goals. It serves as our road map, if you will, for how we see ourselves moving and growing over the next three to five years, and is meant to be complementary with the direction of BC's overall new strategic plans."
Play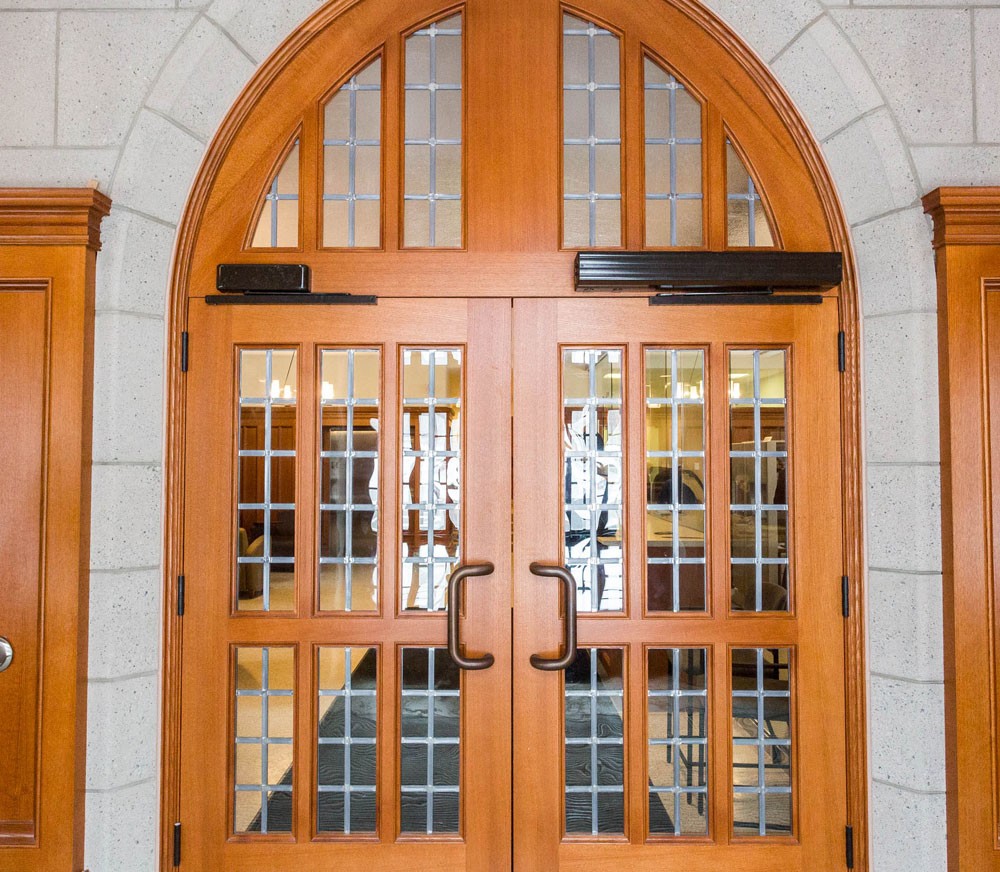 A new video focused on the Woods College undergraduate program highlights alumni success stories.
The Woods College master of science degree program in cybersecurity policy and governance, is unique among similar offerings in the northeast because it emphasizes cybersecurity policy along with executive leadership and management, critical thinking, and analytical problem solving, according to program director Kevin Powers.

"Our program is designed to bridge the communication and management gap between IT security professionals and senior business and government executives," said Powers, a former Navy JAG officer and general counsel for a software company. "Cybersecurity has become a strategic priority for private industry and government and there is an increasing need for a unified approach to the challenges faced today.

"We not only prepare practitioners to manage cyber risk and develop strategies to effectively defend, mitigate and recover from a cyber attack, but also to design and make the case for investment to senior business executives and government officials."  A major new initiative is that the program will be teaming with the (FBI) to hold the first Boston Conference on Cyber Security (BCCS) in Spring 2017. [Read a Q&A with Powers about the cybersecurity master's program here.]

The cybersecurity program joined the master of science in applied economics program as a degree focused on professional practice and application. Under the direction of Sasha Tomic, the program features innovative practice-oriented courses taught by industry experts from organizations such as the Federal Reserve Bank of Boston, and as well as by academics with considerable work experience in the energy industry and in environmental consulting, advising organizations such as the World Bank.

"Our focus on real-world, applied skills is resonating very well with current and potential students, as well as our contacts in industry," said Tomic. "The interest in the program is growing and we have established advanced standing options for qualified graduates from BC, Suffolk, Stonehill, Merrimack, and Virginia Military Institute. We continue to strengthen our faculty roster and our electives offerings to better prepare our students for the demands of the job market."

The applied economics program has conducted a project-based class in partnership with BC's Office of University Advancement, which provided students with practical experience in managing and analyzing big data, said Tomic.  The project-based Big Data course will be run in spring semester as well, further refining the insights from the fall course. In addition, students in the program's applied stress testing course have made well-received presentations to the chief financial officer of Century Bank and to the head of risk analytics for Citizens Bank, and the program's internship course has provided students with placements ranging from Shell (Oil Company) Techworks to the United Nations Economics Directorate.

Part of the strategic plan calls for a greater use of technology, and for the Woods College to be a key site for incubation and innovation at Boston College. That's why the college currently offers BC's first fully online master's program – in executive health care administration – which is both credit and transcript-based as well as a competency-based education.

"In many ways, a fully online master's program is in keeping with the current and foreseeable trend in higher education," said Fr. Burns. "It also aligns with clear movements in technology-based platforms in place at most schools across the country – not just evening or continuing education schools but universities that are offering this through their day programs."

Another change is the master of science in leadership and administration program, which is replacing the MS in administrative studies. The MS in leadership and administration offers specializations in human resource management, executive leadership and organization development, corporate communication and marketing, and sports leadership, each available as stand-alone graduate certificates that will eventually be available online. The change has been well received, with the program enjoying enormous demand, administrators say. Three more concentrations are planned for fall 2017.

The redesign for the Woods College undergraduate program has meant a stronger liberal arts core, with each of the 14 majors now incorporating the best each academic discipline and the humanties have to offer while addressing current industry needs, according to Fr. Burns. In addition, there are eight professional studies certificates that align with employer demands for applied skills, including finance, accounting, and marketing; criminal and social justice; and human resources.
"We invited industry leaders from the areas in which we offer majors and certificates to determine what would be most attractive to them in terms of their needs as future employers of our students," said Fr. Burns. "We've gotten a great response and have really strengthened the applied nature of our curriculum and program offerings, while keeping the best of the liberal arts core, which allows our students to be very desirable to employers in areas such as business, communications, IT, economics and psychology."

"We're thrilled with our upward trajectory. We really believe students who are enrolling are getting a rigorous, relevant, flexible education not only from our talented University faculty, but from highly accomplished experts who can take what they practice every day in the real world and bring it here to students in the Woods College. In turn, our students are successful, thriving, and giving back to their communities."

Sean Hennessey | News and Public Affairs