Boston College has named Stanton Wortham, the Judy & Howard Berkowitz Professor and former associate dean for academic affairs at the University of Pennsylvania's Graduate School of Education, as the inaugural Charles F. Donovan, S.J., Dean of the Carolyn A. and Peter S. Lynch School of Education.

He will begin at Boston College in July and succeed Maureen Kenny, who will return to the faculty after five years of service as dean.

Wortham, a noted scholar whose research interests include classroom discourse and the linguistic anthropology of education, is also a respected expert in online education who serves as faculty director of the Penn Online Learning Initiative.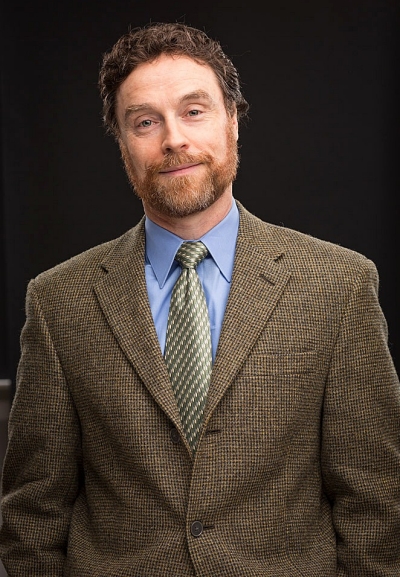 Stanton Wortham (Stuart Goldenberg)
During his 18 years as a teacher and administrator at Penn, Wortham won multiple awards for teaching excellence—including the University of Pennsylvania Lindback Foundation Award for Distinguished Teaching—and served as both acting and interim dean of the Graduate School of Education.

The author or editor of nine books and more than 80 articles and chapters, he has written widely on immigration and the social identification of children in schools, among other topics. His work has included action research and service learning, ethnography in schools and their surrounding towns, and discourse analysis. He is also executive producer of the award-winning documentary film "Adelante," which portrays the mutually beneficial relationship between Mexican immigrants and Irish-American parishioners in revitalizing a parish in suburban Philadelphia. He is completing a book on the town's transformation that has resulted from an influx of close to 10,000 Mexican immigrants during the past two decades.

Provost and Dean of Faculties David Quigley praised Wortham as the unanimous choice of the search committee and an individual uniquely qualified to advance the Lynch School of Education at this time.

"The search committee was impressed by Stanton Wortham's range of experience within the Graduate School of Education and across the University of Pennsylvania, and we were inspired by his vision for the Lynch School of Education," said Quigley. "I expect Stanton to provide strong leadership for the Lynch School through a challenging time for schools of education, and his commitment to imaginative collaborations with faculty colleagues and school-based partners will serve us well. We look forward to welcoming Stanton to Boston College later this summer."

Added Daniel E. Kearns Professor Mary Walsh, who served on the search committee, "We are delighted to welcome Dr. Wortham as dean. His commitment to the common good and his work at the intersection of research and practice make him an excellent fit for the Lynch School. He comes to us with a deep set of experiences as both a faculty member and administrator at the University of Pennsylvania Graduate School of Education. His scholarly work draws from a wide range of fields and disciplines in the social sciences including psychology, education, history, sociology, anthropology and even business/management. He is deeply engaged in thinking about the intellectual basis of educational and clinical practice. We are happy to have him as our colleague and academic leader."
    
Thomas More Brennan Professor Andy Hargreaves, another search committee member, offered a similar assessment.

"My colleagues and I are delighted that Dr. Wortham has chosen to accept Boston College's invitation to be the Donovan Dean of the Lynch School of Education," said Hargreaves. "After a very active search that included a wide range of strong candidates with prominent reputations in the field, we felt Dr. Wortham's outstanding qualities and achievements as an experienced administrator and accomplished academic set him apart. His vision for the Lynch School at a time of rapid change in the fields of education and human development, his respect and admiration for the achievement and values of the Lynch School and Boston College, and his manifest enthusiasm about working with us to move forward in innovative ways have already garnered great support from the community that welcomes him. We are excited about the prospect of Dr. Wortham leading us forward into the next era of impact and accomplishment."

Wortham said he was honored to become the first Donovan Dean at the Lynch School and welcomes the opportunity to work with the school's distinguished faculty.

"I'm excited to be joining the Lynch School and Boston College," said Wortham. "Both the school and the University have significant momentum that is recognized nationally, and I am impressed by the quality of the people, the strength of the community, and the remarkable work of the faculty. Through research and service, the Lynch School and BC have been building a compelling vision of education and human development—one in which educators focus on developing the whole person, including ethical and relational dimensions as well as knowledge and skills. We have an opportunity to lead the field by further articulating this vision, exploring what it means to help young people become fuller human beings, and we will put the vision into practice by implementing it in our own work and through our students."

A native of West Roxbury who studied at the Roxbury Latin School, Wortham had an early experience with Boston College that left a favorable impression. With Spanish courses unavailable at his high school, he studied Spanish at Boston College at night for three years to learn a language that today figures prominently in his research and community service. He received a B.A. in psychology from Swarthmore College, and an M.A. and Ph.D. in human development from the University of Chicago.  

He began his academic career as an assistant professor of education at Bates College in 1993, before joining the faculty of the University of Pennsylvania in 1998. He was named full professor in 2004 and given an endowed chair in 2006. An advocate for interdisciplinary studies, he has chaired the Educational Leadership and the Education, Culture and Society divisions within the Graduate School of Education and has served as associated faculty in Penn's Annenberg School for Communication and in the Anthropology and Folklore Graduate Groups in the Penn School of Arts & Sciences. He is currently a member of the editorial boards for American Anthropologist; Anthropology & Education Quarterly; Discourse, Context & Media; Linguistics & Education; Pedagogies; Qualitative Psychology, and Theory & Psychology.
 
Among his extensive academic awards and fellowships, Wortham has been a University of Chicago Century Fellow; a National Graduate (Javits) Fellow; a Spencer Foundation Dissertation Fellow; a National Academy of Education Spencer Postdoctoral Fellow; a William T. Grant Foundation Distinguished Fellow, and an American Educational Research Association Fellow.

"The deanship at the Lynch School gives me an opportunity to take on a new challenge, to come back to Boston where I grew up, and to join a university on a strong upward trajectory. I am eager to work with my new colleagues on articulating and putting into practice our distinctive vision of education, one that involves enhancing the human condition, expanding the imagination and making the world more just," said Wortham. "I look forward to beginning in July."


—Jack Dunn | News & Public Affairs