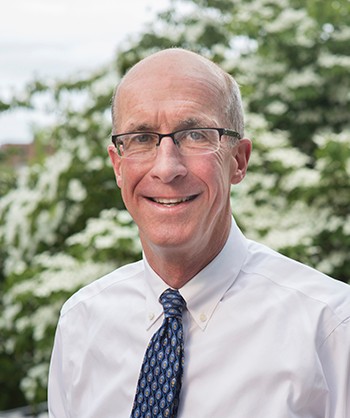 Dean of Undergraduate Admission and Financial Aid John Mahoney has been appointed as Boston College's vice provost for enrollment management, Provost and Dean of Faculties David Quigley announced this week.

Mahoney, a 1979 alumnus, is nationally recognized as a leader in the field of undergraduate admission, having directed the University's Office of Undergraduate Admission for 28 years until his appointment as dean this past spring.

In his new position, Mahoney will lead University strategies and policies on all enrollment-related matters, and oversee the offices of Enrollment Management, Undergraduate Admission, and Student Services (including the offices of Financial Aid, Bursar, and Academic Registration). He also will collaborate with key institutional stakeholders to develop and implement a comprehensive long-term enrollment strategy aligned with the University's goals, priorities, and mission.

"Over his many years leading Undergraduate Admission in Devlin Hall, John Mahoney has earned respect among faculty and staff across campus and nationally among his admissions colleagues," said Quigley. "He has helped lead Boston College to new heights by attracting generations of talented young men and women to the University. I'm pleased that John is joining the group of vice provosts and will bring his principled and visionary leadership to the broader work of enrollment management."

Said Mahoney, "This is a great opportunity for me at a critical juncture for Boston College. I look forward to addressing the demographic, cost, and financial aid issues facing all colleges today. BC confronts them from a position of strength."

During his tenure as director of the University's Office of Undergraduate Admission—a post he assumed in 1990, after having served as senior assistant director since 1984—Boston College saw an unprecedented rise in freshman applications from 12,403 in 1990 to 20,743 in 2000 to 34,061 in 2012.

This past year, Boston College received approximately 31,000 applications for the 2,300 openings in the Class of 2022, a nine percent increase over last year.  The acceptance rate was 27 percent. The Class of 2022 is the most academically distinguished in BC history, with a mean composite SAT score of 1392 and a mean composite ACT score of 32.  This strong applicant pool follows a freshman class that was the most diverse in BC history, with an AHANA enrollment of 31 percent.  Overall, the current freshman class draws from 44 states and 40 countries.

These and other achievements have earned Mahoney respect from his peers. In 2002, he won the John B. Muir Editor's Award from the National Association for College Admission Counseling for his article "Perception of the Profession Is a Cause for Concern," published in the Journal of College Admission. In 2014, he was selected for the highest award given by the New England Association for College Admission Counseling: the Harry R. Carroll Distinguished Service Award, which recognizes a college admission counseling professional whose contributions and achievements merit special recognition and whose work reflects the spirit and principles of its namesake.

Mahoney, who has long praised the work of administrators and staff in Undergraduate Admission and other related offices as integral to BC's success, said he was happy to continue drawing upon such expertise and commitment in his new role.  

"Knowing the people, particularly the leaders in the different enrollment areas, is a huge advantage for me. We're all committed to playing our part in advancing Boston College's reputation."

Technology has played an increasingly prominent role in the admission and enrollment profession, Mahoney said, and BC is committed to using state-of-the-art programs and systems to better serve students.  

"I want to provide my fullest support to our Information Technology and Student Services professionals as they continue to implement EagleApps, BC's new student information system. The Student Accounts module went live in June, so now we're focused on the Enrollment module and the integration of a new CRM [customer relationship management] for Undergraduate Admission."

Prior to Mahoney's appointment as director of Undergraduate Admission, when he was senior assistant director of Undergraduate Admission and associate director for staff affairs, he was responsible for student recruitment, application evaluation and the editing of admission publications. He also served as the Admission liaison to the College of Arts and Sciences, chairman of an Admission task force investigating volunteer programs and coordinator of visitor reception, office coverage and orientation for new staff.

After earning a degree in English at BC, Mahoney went on to teach that subject at St. John's Prep in Danvers, Mass., for five years prior to joining the BC Admission staff. In 1985, he earned a master of arts in teaching from Boston College.
— Sean Smith, University Communications | August 30, 2018