Thomas F. Walsh, a beloved custodian who made the Boston College community his extended family during his 40 years of service. Mr. Walsh – known as "Tucker" to family members and many friends and co-workers – died on March 10.

A Mass of Christian Burial was celebrated on March 20 at St. John the Evangelist Church in Wellesley, the town where he had lived all his life before moving to Scituate to stay with his sister, Inez Moore, and her husband Thomas.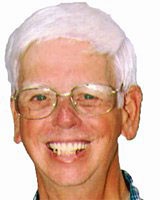 Tucker Walsh
Born with special needs, Mr. Walsh came to BC in 1965 at the behest of his family, who thought that working in a supportive environment for a few weeks would help him develop occupational and social skills, and thus be a positive life experience. But what was expected to be a brief stint turned out to be far longer, and more rewarding, than they could have envisioned.

"Tommy loved to interact with people, and BC was the perfect atmosphere," said Custodial Services Director Gerard Boyle. "He lived to come to BC, not just to work but for the hockey and football games and other events."

Mr. Walsh's employment at the Heights deepened the ties between the University and the Walsh family, several of whose members had graduated from BC.

Mr. Walsh spent most of his BC career working in McElroy Commons, earning the unofficial title of "the Mayor of McElroy," according to colleagues. He was known to strike up conversations with passersby, whether he knew them or not, while tending to his duties.

Some of his BC relationships extended beyond the workplace. One longtime friend and co-worker, lead custodian David Walsh, recalled their excursions to movies like "The Blues Brothers" or to Friday lunches of Chinese food in Brookline or pizza in Cleveland Circle – a perfect opportunity, he said, for them to sing along to the car radio.

"He was a legend around here, and a pleasure to be with," said Walsh.

Speaking with Boston College Chronicle upon Mr. Walsh's retirement in 2005, Moore described how, on a family trip to Florida, her brother had been hailed by a BC alumnus who had spotted him passing through the airport.

"Everyone recognizes Tucker. Why shouldn't they? He's the only one in the family who has that impressive head of hair," she laughed.

Mr. Walsh also was a familiar figure at Alumni Stadium and Conte Forum for Eagles sports events, and – as Moore recalled – got to know the lay of the land.

"We once asked him how he got tickets to the games," she said.  "And he replied, 'I just follow the cheerleaders in.'"

In fact, Mr. Walsh had a knack for finding his own communities and moving comfortably within them, according to family and friends. One of his favorite places to spend time was at the Wellesley Fire Department, which made him an honorary fireman and, at his retirement, presented him with a singular honor: a golden axe, which Mr. Walsh proudly displayed in his bedroom.

Walsh, his co-worker, said Mr. Walsh also enjoyed taking himself out by public transportation to a local golf club for refreshment and relaxation.

His devotion to BC and its people was reciprocated in many ways. While an undergraduate, Mr. Walsh's nephew Timothy Walsh '99 nominated his uncle for membership in the Golden Key National Honor Society, and Mr. Walsh was accepted. At his combination retirement-birthday party, attended by some 400 people, Mr. Walsh was given a rocking chair from the BC Bookstore and a BC hockey "National Champions" cap signed by Eagles hockey coach Jerry York.

Mr. Walsh continued to stay connected with the University, especially through sports. In 2015, he was named BC Football Season Ticket Holder of the Year.

"I saw him at a football game last fall," said Boyle. "He loved to see BC play, but also to run into people he knew – his eyes would just light up. BC was always in his heart."
In addition to his sister Inez, Mr. Walsh – son of the late Norinne Feeny and E. Corbett Walsh – is survived by his brothers Robert and Quentin, and sisters Bonnie Stoloski and Toni Curry, and many nieces and nephews; his brother E. Corbett Walsh, SJ, died in 2015.

Condolences may be sent to: Mr. and Mrs. Thomas W. Moore, 10 Gannett Road, Scituate, MA 02066.
-Sean Smith / University Communications