Boston College President William P. Leahy, S.J., and Provost David Quigley joined Newton Mayor Setti Warren '93 in the Yawkey Center on Oct. 6 to announce a research partnership between the University and the City to support Warren's new Economic Growth for All initiative.

The announcement marked the comprehensive launch of Economic Growth for All, a research-based policy framework to address income inequality, which persists for a percentage of the city's roughly 89,000 residents, and find ways to increase the economic mobility of residents of all backgrounds for generations to come, according to Warren's office.

To support the initiative, Boston College faculty have been invited to provide their expertise in partnership with city officials and Newton residents to help develop data, programs and policies that contribute to ensuring economic mobility and opportunity for all Newton residents. Proposals will be submitted to the city by December 2.

"I think there are great possibilities for this partnership to enhance not only what goes on in Newton, but for other communities in the United States," said Fr. Leahy. "I think there will be lessons to be learned about ways the economic well-being and health of citizens can be enhanced through partnerships between institutions of higher education and a caring and dedicated city government."

As chair of the U.S. Conference of Mayors Community Development and Housing Committee, Warren convened a two-day conference at BC and other Boston locations last year, bringing together leaders from across the country to explore ways to develop pathways to the middle class and beyond.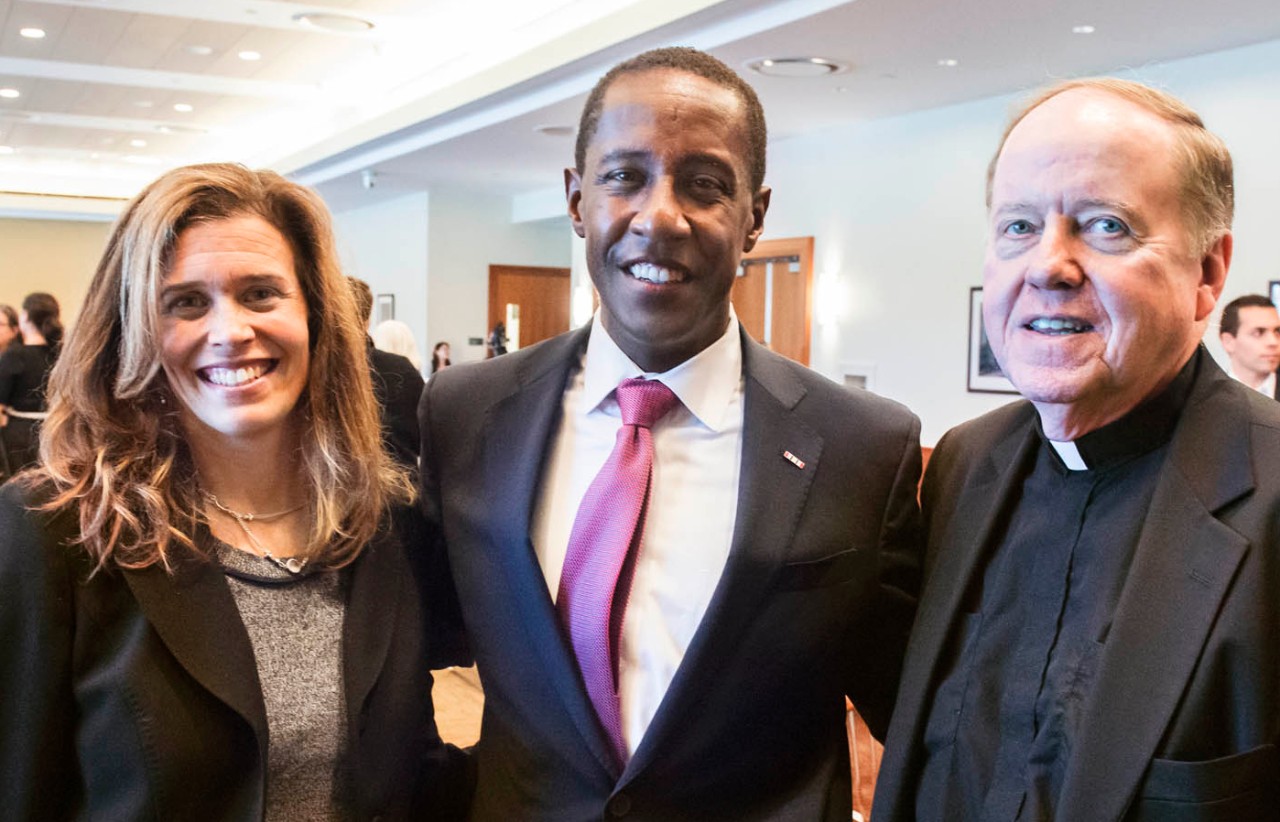 At left: Newton Commissioner of Health and Human Services Deborah Youngblood, Newton Mayor Setti Warren, and BC President William P. Leahy, S.J., at the October 6 press conference announcing the partnership.

"The issue of our time is income inequality," Warren told an audience of nearly 200 people in the Murray Room. "The idea that an individual or family could work hard, take care of themselves, contribute to a community, be self-sufficient and pass that on to their children and still [achieving economic well-being] may not be possible for future generations in this city, or this state or country. We know we have to tackle this very serious issue. If we do nothing we will leave a generation behind."

Warren added, "This university is committed and has been since its inception around its motto of 'men and women for others' and I know this initiative goes hand-in-hand with this university and what our city needs to do to ensure economic opportunity."

The city has asked for faculty proposals that address issues of early childhood, K-12 and lifelong education, income self-sufficiency, health and wellbeing, and economic innovation. Faculty involvement may take the form of research, public service, student internships, class projects, undergraduate and graduate student research, and working group participation.

Provost David Quigley said the initiative fits with themes echoed through the University's current strategic planning process.

"We are really trying to push to research and scholarship as an institutional commitment that has an orientation toward the common good," Quigley said. "In 2016 in metro Boston, in larger U.S. society, in the world we are handing to our child and grandchildren, there's a real obligation to think seriously about how to contribute to the common good in our own research, teaching and scholarship and this partnership opens up some rich possibilities to us."

The early work on the initiative was fueled by research from BC's Center for Retirement Research, as well as the Brookings Institute.In particular, city officials examined the Center's Retirement Risk Index, which illustrates how prepared people are for retirement. They then asked CRR Research Economist Geoffrey Sanzenbacher to determine how much it costs to live in Newton.

Sanzenbacher developed a cost-of-living calculation that takes into account the city's above-average housing costs and puts a finer point on the true cost of living in Newton and the impact on household finances.

Sanzenbacher said he's excited about the partnership, citing the role of cities and towns as incubators of new ideas to stem the widening gap between rich and poor, which has grown steadily for the past 40 years.

"It's a great idea and it is important that it be done at a local level," said Sanzenbacher, a member of the Department of Economics faculty. "Cities and towns are great laboratories of our country, especially since there has been paralysis at the federal level on these issues. The Mayor is thinking about this and focusing on the local level, where it is probably easier to get things done."

The research initiative builds on BC's extensive commitment to support the city that is home to roughly half of its Main Campus and the Boston College Law School Campus on Centre Street. Boston College also employs more than 700 Newton residents.

Through the Boston College-Newton Technology Collaborative, the University is on pace to contribute $600,000 by 2017 to purchase new computers and educational technology to support instruction in the Newton Public Schools.

Through its Lynch School of Education, BC provides dozens of undergraduate and graduate students to teach in the Newton Public Schools. Veteran teachers are eligible to take classes tuition-free at the Lynch School in return for mentoring BC students. In addition, Lynch School faculty have worked collaboratively with the school system on a range of research into primary and secondary education.

BC also offers a long-standing tuition remission program for City of Newton employees that allows them to take undergraduate and graduate courses for free.

—Ed Hayward / News & Public Affairs