Former University of Miami President Donna Shalala, chair of a delegation of educators that will evaluate Boston College for reaccreditation, visited campus in preparation for the group's visit this coming March 12-15.
Shalala spent a full day at BC on Nov. 16, meeting with University President William P. Leahy, S.J., other senior administrators and the BC committees involved in the reaccreditation process, which is conducted every 10 years by the New England Association of Schools and Colleges' Commission on Institutions of Higher Education (CIHE). She also took a tour of the Middle Campus with three undergraduates.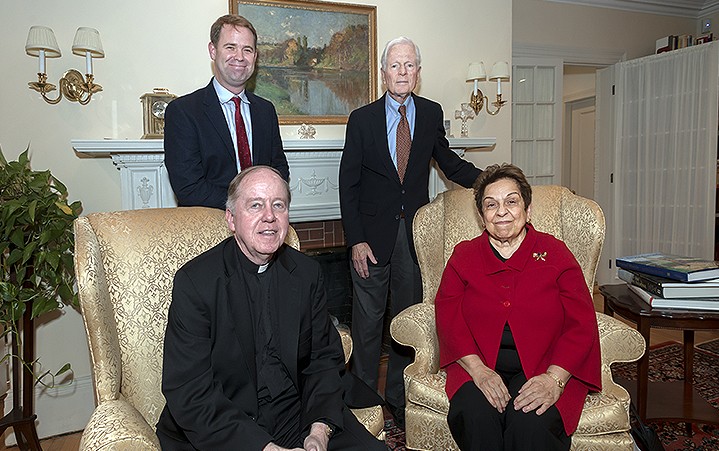 The discussions concerned the schedule for the three-day March visit by the CIHE delegation. Prior to the visit, the group will review a self-study BC conducted as part of the reaccreditation, and during its stay will interview members of the BC community and examine supporting documents.
"At our final debriefing session, Dr. Shalala was satisfied that she was departing with a good overview of Boston College that would allow her to organize her team and the visit in March 2017," said Special Assistant to the President Robert Newton, who along with Institute for Advanced Jesuit Studies Associate Director Seth Meehan is co-chair of the University committee that produced the self-study. "She seemed pleased with our self-study process and the community members she met."
Both the self-study and visiting committee report will be integral to the CIHE decision on BC's accreditation status.  Good standing in a regional accreditation association is a requirement for participation in federal programs that support higher education.
–University Communications