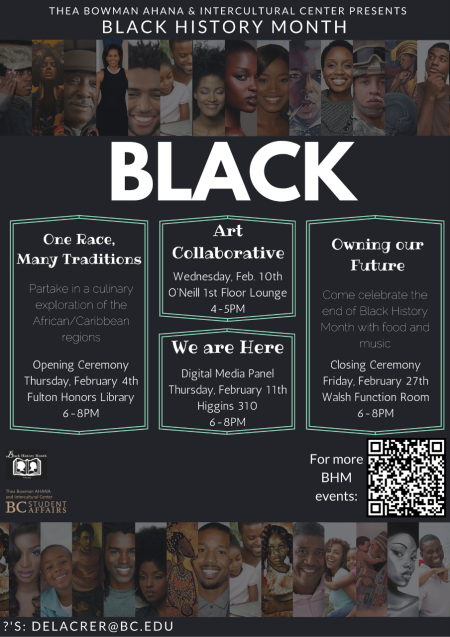 Boston College's celebration of Black History Month begins on Thursday, Feb. 4, with the opening ceremony, "Black: One Race, Many Traditions," featuring food from the African Diaspora. The event takes place from 6-8 p.m. in the Fulton Hall Honors Library.

Other events to be held during Black History Month will include: an art collaborative on Feb. 10 at 4 p.m. in the O'Neill Library first-floor gallery; a screening of the film "Passage at St. Augustine" on Feb. 11 at 4:15 p.m. in McGuinn Auditorium; a meet-and-greet with AHANA faculty and staff on Feb. 11 from 4-6 p.m. in the Fulton Hall Honors Library; and the annual Martin Luther King Jr. Scholarship Ceremony on Feb. 16 at 5:30 p.m. in Gasson 100.

The schedule also will include the Voices of Imani Winter Jam on Feb. 21 at 5 p.m. in Lyons Dining Hall, and a talk, "This Could Be You: Confronting the Specter of Racial Violence in Postwar New York and London," with Princeton University historian Joshua Guild, on Feb. 25 in Devlin 101 from 4:30-6 p.m.

The closing ceremony for Black History Month will be Feb. 27 from 6-8 p.m. in the Walsh Function Room.

For more on the BC Black History Month celebration, see the Thea Bowman AHANA & Intercultural Center Facebook page at http://www.facebook.com/BowmanCenter.