Vice President for Student Affairs Joy Moore will become the inaugural executive director of the Pine Manor Institute for Student Success, which will oversee outreach and academic support programs for underrepresented, first-generation, low-income students at both Boston College and Pine Manor College, which integrated with Boston College this summer.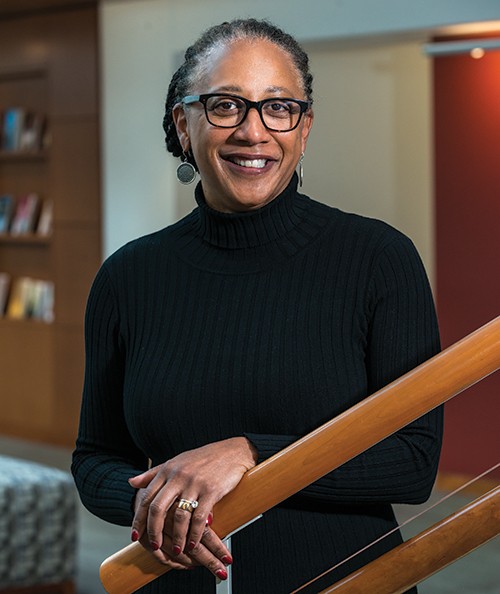 Key offices at Boston College engaged in supporting underserved students, including Learning to Learn, Options through Education, and the Thea Bowman AHANA and Intercultural Center, will be placed under the umbrella of the Pine Manor Institute for Student Success, which Moore will lead while continuing her duties in Student Affairs. All of Pine Manor's approximately 200 students will have access to BC's support programs through the Institute. With the $50 million endowment established by Boston College, the Institute will also link Pine Manor College students to such BC campus programs as the Montserrat Coalition, the Volunteer and Service Learning Center, Appalachia Volunteers, and 4Boston.
Boston College and Brookline-based Pine Manor College, a 111-year old private liberal arts college whose recent financial struggles had threatened its reaccreditation, signed an agreement on July 1 to integrate the two institutions in a common mission to serve first-generation, high-financial need students. Under the agreement, Pine Manor College students will remain at their school in a "teach out" arrangement for a period of up to two years.  Students currently enrolled at Pine Manor will be able to continue their Associate of Arts or Bachelor of Arts degree programs in classes taught by Pine Manor faculty on the Pine Manor College campus. Pine Manor College students who gain admission to Boston College's Woods College of Advancing Studies can finish their Bachelor of Arts degree at Boston College.
The University's integration of Pine Manor College, which serves a population that is 85 percent students of color, 84 percent first generation, and 80 percent low income, was praised by New England Commission of Higher Education President Barbara Brittingham, who described it as "an exemplary model of what can happen when schools look to one another as potential partners in pursuit of the common good."
University President William P. Leahy, S.J., said Moore was well suited to serve as the inaugural executive director of the Pine Manor Institute for Student Success because of her strategic thinking and planning skills and her experience in supporting students as vice president for student affairs at Boston College and former leader of the Archer School in Los Angeles, the Dana Hall School in Wellesley, and the Oprah Winfrey Leadership Academy for Girls in South Africa.
"I am grateful that Joy is willing to take on additional responsibilities in this important new role," said Fr. Leahy. "She will bring great experience and commitment to students as the inaugural leader of the Pine Manor Institute for Student Success."
Moore, a popular administrator who has won praise from students for her leadership and accessibility, said she was excited to take on this new role, which will expand access to the programs that have helped Boston College to become a national leader in student retention and graduation rates among Pell-eligible students.
"I am excited to be named the inaugural executive director of the Pine Manor Institute for Student Success," said Moore. "The creation of the Institute demonstrates Boston College's commitment to developing a national model for how best to ensure pathways to success for first-generation students and students from under resourced communities.  
"Partnering with the Pine Manor College Success Coaches, who provide support for Pine Manor students, will be key to designing a model that can be individualized for each student.  It will also require the involvement of many talented colleagues at BC and Pine Manor College to make the Institute a reality.  I look forward to all of the opportunities the Institute will provide the students as they chart their course to success."
Moore, who had also served as director of University Commencement since 2018, will be succeeded in that role by Associate Vice President for Alumni Relations Leah DeCosta.
Pine Manor College President Thomas O'Reilly said his students are eager to work with Joy Moore and other BC administrators, as the school begins its integration with Boston College.
"Boston College and Pine Manor College are joining forces to advance the crucial mission of expanding educational opportunities for traditionally underserved and underrepresented students," said O'Reilly. "Boston College brings strength, stability, outstanding programs and faculty, and a proven track record in serving this important demographic of students. Pine Manor College brings a distinctive educational model of proven success for underserved, underrepresented first-generation students owing to outstanding faculty and staff, programming, and a commitment to social justice.  It is a win-win for both institutions that will help preserve the mission and heritage of Pine Manor College through the Pine Manor Institute for Student Success at Boston College. We look forward to working with Joy and our new colleagues at Boston College."
 
Jack Dunn | University Communications | July 2020