A Mass of Christian Burial was celebrated for Rev. J. Donald Monan, S.J., 24th president and first chancellor of Boston College, at St. Ignatius Church on March 22, 2017. Fr. Monan died on March 18 at age 92. (Photographs by Gary Wayne Gilbert)

He was, according to one eulogist, a Renaissance man: a man of faith; an academic of high intellect; a leader who gathered talent and resources to achieve ambitious goals; and an intense competitor and inveterate sports fan who liked to lace up his skates for a turn on the Conte Forum ice.

But J. Donald Monan, S.J. – Boston College's longest-serving president – also was known for paying attention to the small things that made a difference in people's lives, like a promise made to a young boy at a hockey game.

Family members, colleagues and friends packed St. Ignatius Church for a Mass of Christian Burial on March 22 to remember the life and legacy of Fr. Monan, who died on March 18 at the age of 92.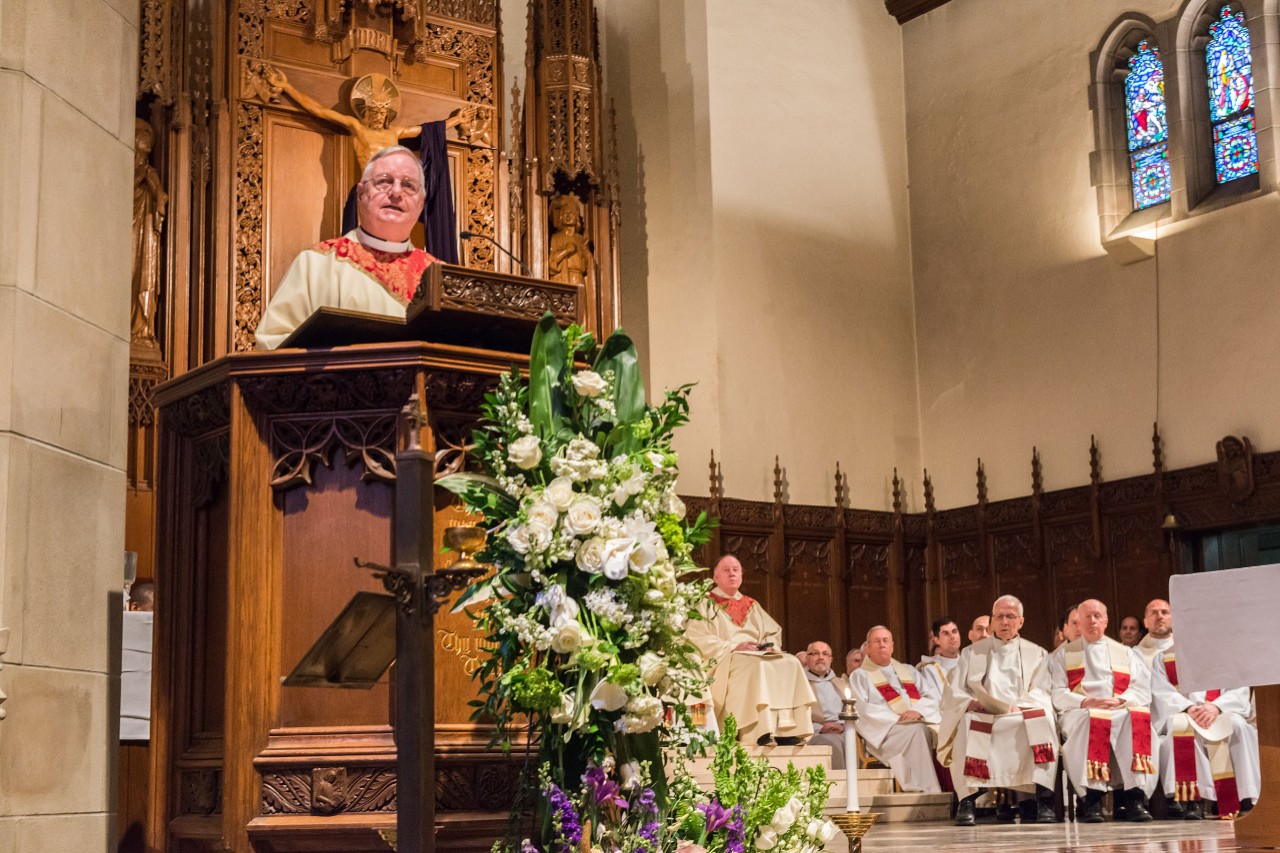 Fr. Monan, who was president from 1972-96 and then served as BC's first chancellor, was credited with saving the University from fiscal crisis and guiding it into a period of then unparalleled financial and academic success. He also was an important figure outside of the University, through his activity on a number of educational and social issues as well as his involvement in various local and state initiatives.

"Eagles fly far, far away, but many are here with us now," said BC Jesuit Community Rector Robert L. Keane, S.J., principal celebrant of the Mass, welcoming the many alumni as well as former faculty, administrators and staff to St. Ignatius – and those watching a livestream of the funeral. "While we hate to say goodbye, this is a day to rejoice, because Fr. Monan is where he hoped to be, entering the kingdom of God as the faithful servant he always was."
In his homily, former Lynch School of Education Dean Joseph O'Keefe, S.J. – now rector for the Ciszek Hall Jesuit Community of New York City – said the grief felt in the University community over the loss of Fr. Monan and his "exemplary leadership" would give way to gratitude "for having known him [and] for his scholarship, graciousness, wisdom, dedication to public service and faithfulness."

"Fr. Monan's parting words for us," said Fr. O'Keefe, "were to ask us to preach the Gospel for which he pledged his life, and to urge each of us to fight the good fight, finish the race, keep the faith."
Fr. O'Keefe praised Fr. Monan as a "skilled, masterful teacher" who, while an accomplished scholar in ancient philosophy – among his publications was Moral Knowledge and its Methodology in Aristotle – also took an interest in more recent perspectives, such as those of Gabriel Marcel. Along with his intellect, added Fr. O'Keefe, Fr. Monan possessed qualities of caring and compassion shared not only with students but administrators, faculty, staff, alumni and especially his fellow Jesuits.
"Don Monan was truly alive, and he showered this taste for life on those lucky enough to be around him. He was living proof that that the humanities can indeed humanize," said Fr. O'Keefe. "No matter where you stood in life, from the highest halls of power to humblest state in life, Don would treat you with warmth and respect."
A video of the funeral Mass for Fr. Monan, held on March 22 at St. Ignatius Church.

Also officiating at the funeral were University President William P. Leahy, S.J., and John Hanwell, S.J., assistant to the provincial for the Northeast Province of the Society of Jesus.

In his eulogy, Trustee Associate and longtime BC benefactor Geoffrey Boisi '69 underscored Fr. Monan's attention to others. He recalled how Fr. Monan had escorted a nine-year-old hockey fan to the BC men's hockey team dressing room after BC had lost the 2006 National Championship game, telling him that someday he could play as a member of the Eagles. When the boy asked if he was being offered a scholarship, Fr. Monan told him that if he worked and studied hard, "I'll be there for you."

That boy, Boisi said, is now BC hockey's star forward, Colin White '19.

Along with the dedication he showed to Boston College, Fr. Monan "brought the best of the priesthood to the public forum," Fr. O'Keefe said, "crossing seemingly unbridgeable differences": chairing a committee to improve the Massachusetts judiciary, for example, or helping muster support for the construction of the Fleet Center (now TD Garden) and to keep the New England Patriots in Foxborough. One of his finest moments, Fr. O'Keefe noted, was his call for justice for the victims – including six Jesuits ­– of the 1989 massacre at El Salvador's University of Central America.

"Fr. Monan's parting words for us," he said, "were to ask us to preach the Gospel for which he pledged his life, and to urge each of us to fight the good fight, finish the race, keep the faith."

Fr. Monan's grandnephew, Anthony Bellia Jr., offered some insights on "Uncle Don's" devotion to family members: performing their marriages, welcoming their children, and offering them prayer and comfort in times of loss and sadness.

"He moved us to be better people, better servants to God," said Bellia, adding that he and his younger relatives "loved the gentle spirit of this man, even before we knew he was a priest."

In his final days, his granduncle continued to give advice and counsel "as sound, measured and spot-on as any he'd ever given me," said Bellia.

Fr. Monan, Bellia said, had shown the same dedication to his "spiritual family," the Jesuits, and "the family God gave him at BC" – a legacy of words and deeds he said will live on through the University and anyone whose life had been touched in some way by his granduncle.

"As long as there is us, all of us," said Bellia, "there will always be Fr. Monan."

Fr. Leahy thanked the Monan family "for sharing him with us all these years." To those who had paid their respects to Fr. Monan, "your presence and your prayers have been consoling" to the University community, including Fr. Monan's fellow Jesuits. Fr. Leahy also expressed gratitude to those at all levels of the University who, over the years, had endeavored to make Fr. Monan's vision for BC a reality.

"Thank you," he said, "for all the ways you assisted Fr. Monan."
 
—Sean Smith | University Communications

Read tributes to Fr. Monan from the Boston College community and other friends, from Chestnut Hill and around the world, in this social media Storify.