On a July day in 2014, Pete Frates '07, his caretaker Guy Lucien and Pete's dad, John, went out into the backyard of the Frates family home. John filled an old wheelbarrow with ice and water and Guy dumped the mix over John as he lay on the ground.
Following the advice of Pete and his brother, Andrew, John shared a video of the icy dousing on Facebook and challenged three friends to do the same inside the next 24 hours.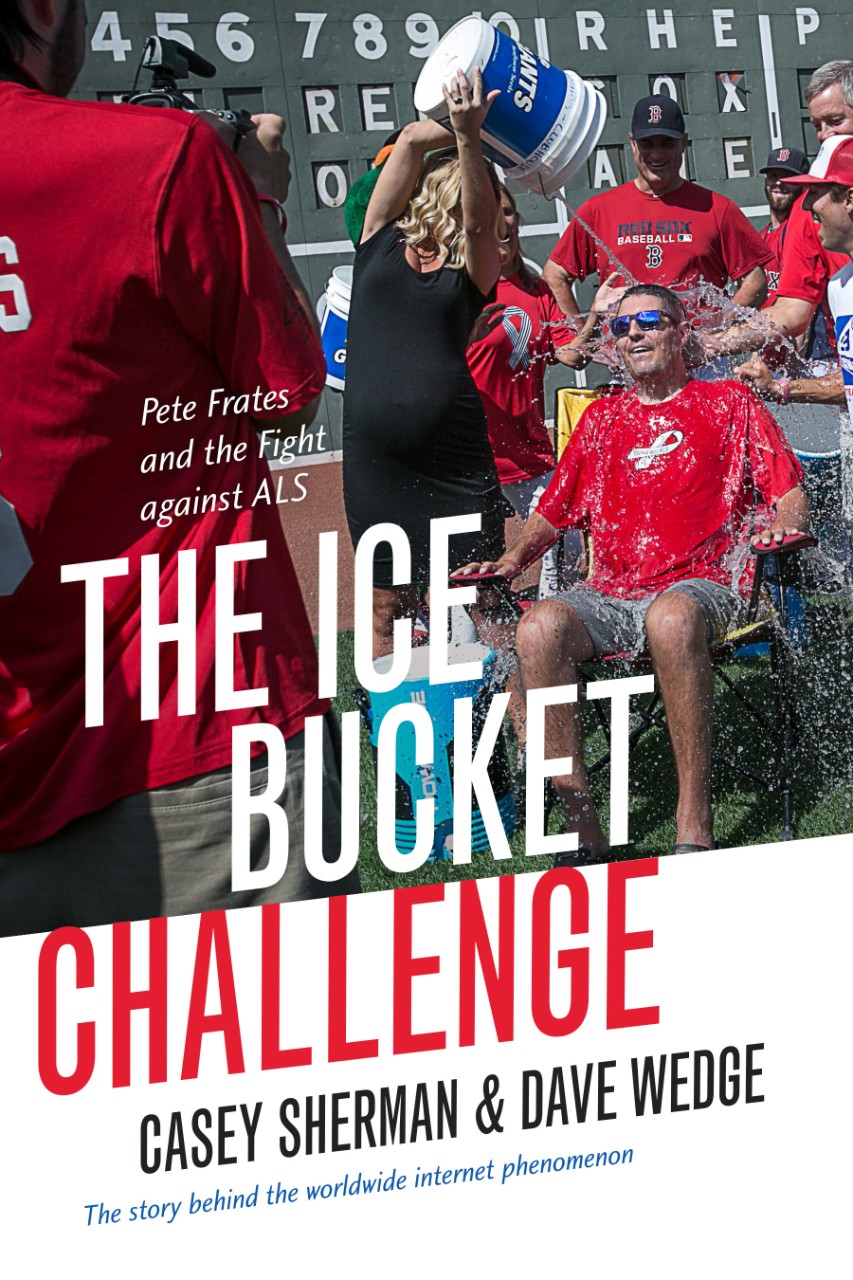 Within days, the Ice Bucket Challenge – up to that point used by a few charities – became a social media phenomenon and the chilly, feel-good emblem of Pete Frates' drive to combat ALS, which had robbed the former BC baseball captain of nearly all mobility during the two prior years.
The inspirational story about Pete and how he, his family and friends turned his diagnosis into an international juggernaut of awareness- and money-raising social media power is the subject of the new book The Ice Bucket Challenge: Pete Frates and the Fight against ALS (ForeEdge), by Boston-area writers Casey Sherman and Dave Wedge '93.
The book's release date is Tuesday, Sept. 5, designated "Pete Frates Day" by Boston Mayor Martin J. Walsh.
"I hope this book will serve as an inspiration to others and show them what can be accomplished through determination and through the love and support of family and friends," Pete Frates said in a statement about the new book.
Hundreds of thousands of people, including ALS patients, their friends and families, celebrities, CEOs, politicians and former presidents, and star athletes filmed themselves pouring buckets of ice water over their heads to raise awareness for ALS, the neurodegenerative disease also known as Lou Gehrig's disease.
Since it was launched by Pete, fellow ALS patient Pat Quinn, and Jeanette Senerchia, wife of ALS patient Anthony Senerchia, the Ice Bucket Challenge has raised more than $225 million. It is the largest research fundraising effort ever led by a BC alum.
The book details the inspirational story of Pete Frates and his family; how the disease robbed the once elite athlete of his physical prowess, but drove him to mobilize people around the world to combat ALS.
Wedge, a former newspaper reporter and co-author with Sherman of 2015's Boston Strong: A City's Triumph Over Tragedy, spoke recently about the new book.
What drew you and Casey to the story of the Frates family and the Ice Bucket Challenge?
After writing "Boston Strong," Casey and I were looking for another really inspirational story of courage and resilience. The Frates family approached us and we met with them and there was an instant connection and we knew that this was a perfect follow-up for us. The fact that the whole family are BC alums gave me personally another real personal connection to the story. It's such a quintessential BC story and Pete represents the school motto as much as anyone I know: "Ever to excel."
Pete took a dire diagnosis and turned it into a new beginning. Why do you think he was able to do that?
I think it's the kind of person Pete has always been. In the book, we tell a story in the prologue where Pete is frustrated with his job and tells his mother he thinks he's meant for something bigger. No one knew what it was he was meant for, but everyone who knew him was certain he was destined to do big things. ALS was his calling and as tragic it has been to see him get sick, I think the family and certainly Pete have embraced his role and are at peace with the notion that he was chosen to do this important work in raising awareness to help find a cure.
What kinds of inroads have been made by researchers who have received funding from the Ice Bucket Challenge?
Earlier this year, a new gene was isolated that they believe might hold some clues and may be able to slow down the disease. Not stop it, but it's a small step toward a potentially larger breakthrough. The identification of this gene, as well as a new treatment drug that just won FDA approval, are the direct result of the Ice Bucket Challenge and are a tribute to Pete, his family and all their hard work. With all this research money focused now on ALS, the hope is that more breakthroughs are on the horizon.
What do you hope readers take away from the story?
At the end of the day, this is a story of a family's love and a young man's passion and zest for life. No one should be sad for Pete - he certainly would not want that. What he wants is for people to look at him as an example of how to live life, even under the most trying of circumstances. He is more alive than almost anyone I know and he lives every day to the fullest - for himself, his family, his wife, Julie, his beautiful daughter Lucy and the entire ALS community. He has become a cultural icon in Boston and across the world and his strength and resolve are infectious. We can all do worse than looking to Pete as a true role model.
—Ed Hayward | University Communications