Photographs by Frank Curran

Former U.S. Ambassador to NATO and Under Secretary of State R. Nicholas Burns '78, H'02, whose distinguished career in international diplomacy spanned four presidential administrations, was the featured speaker at the University's Laetare Sunday celebration on March 26 in Conte Forum. He also received the University's Ignatian Award, which honors individuals who "live out the Ignatian mission of 'men and women for others.'"

Laetare Sunday marks the mid-point of Lent, and this annual communion breakfast is the Alumni Association's oldest tradition. The event began with a Mass presided by University President William P. Leahy, S.J.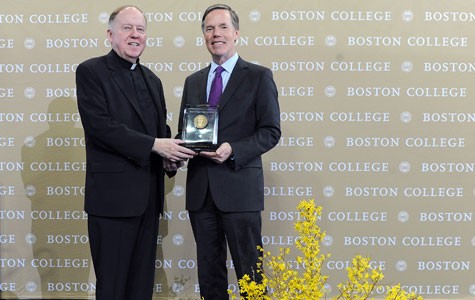 In his remarks, Burns focused on a message of hope for challenging times at home and abroad, noting his gratitude for a Jesuit education that reflected the Ignatian exhortation "to find God in all things."
At a time when the nation faces deep political and ideological divisions, as well as complex economic and social issues including growing income inequality and widespread opioid abuse, he still remains hopeful, he said, recalling the many great thinkers and achievers who have effected positive change throughout human history. Even today, he said, he sees hope all around him, in particular reflected in the families from the Middle East who seek refuge in the U.S.

"Hope fuels the human heart, as they say," said Burns, recalling the University's founding in 1863 as a school for the sons of Irish immigrants, who had come to the U.S. with similar hope for a better life.

Hope also rests with Boston College, he said, as its students are called to be more, and to do more, to make a difference in the world. In this way, he said, the University will continue to be "a beacon of hope for generations to come."
In 2001, Burns received the BC Alumni Association's Public Service Award; the following year, he addressed the Class of 2002 and received an honorary degree at University Commencement. Burns currently serves on the faculty of Harvard's Kennedy School of Government.
–University Communications