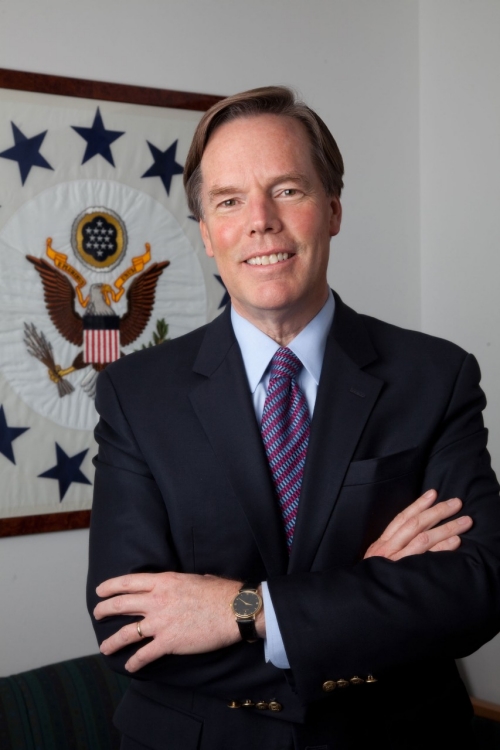 Former U.S. Ambassador to NATO and Under Secretary of State R. Nicholas Burns '78, H'02, whose distinguished career in international diplomacy spanned four presidential administrations, will be the featured speaker at the University's Laetare Sunday celebration on March 26 in Conte Forum.

Laetare Sunday marks the mid-point of Lent, and this annual communion breakfast is the Alumni Association's oldest tradition. The event will begin at 9:30 a.m. with Mass, at which University President William P. Leahy, S.J., will preside, followed by breakfast.

Burns is the Roy and Barbara Goodman Family Professor of the Practice of Diplomacy and International Relations at the Harvard Kennedy School of Government. He also is director of the Future of Diplomacy Project, faculty chair for the Programs on the Middle East and on India and South Asia and is on the board of directors of the Kennedy School's Belfer Center for Science and International Affairs.
"Thousands of BC alums have left here over the years, as you will today, having been imbued, whether we consciously realized it or not, with the Jesuit tradition of faith and service to others—to our families and friends, our communities, our country, the world. This is BC's distinguishing feature. It is the core belief that how we lead our lives should not be just about and for ourselves but about what we all can do, in the poet Tennyson's words, to 'seek a newer world' here on earth."—R. Nicholas Burns, addressing the graduates at Boston College Commencement in 2002. Read the full text of his speech here.
As under secretary of state for political affairs from 2005-08 during the George W. Bush administration, Burns dealt with major international issues such as negotiations with India on its nuclear weapons program, resolution of the conflict over Kosovo, and efforts to impose sanctions on Iran.

During his four-year tenure as ambassador to NATO, Burns headed the combined State-Defense Department U.S. Mission to NATO at a time when the alliance committed to new missions in Iraq, Afghanistan and the global war against terrorism, and accepted seven new members.

Burns also served as ambassador to Greece, State Department spokesman, National Security Council director for Russia, Ukraine and Eurasia affairs under President Clinton and director for Soviet affairs for President George H.W. Bush.

A native of Wellesley, Burns has received 12 honorary degrees, the Presidential Distinguished Service Award, the Secretary of State's Distinguished Service Award, the Woodrow Wilson Award for Public Service from Johns Hopkins University, the Boston College Alumni Achievement Award, and the Jean Mayer Global Citizenship Award from Tufts University.

For information on attending Laetare Sunday, visit the Alumni Association website.

–University Communications