Atlanta Falcons QB Matt Ryan greets BC students at Alumni Stadium on November 19, when he returned to the Heights for his jersey retirement ceremony. (John Quackenbos)

Former Boston College star quarterback Matt Ryan is used to the spotlight, but it's grown a lot brighter since his spectacular 2016 season scored him the NFL's Most Valuable Player and Offensive Player of the Year awards, and led the Atlanta Falcons to an appearance at Super Bowl LI.

During his time with the Eagles, he was the winner of the Johnny Unitas Golden Arm Award, given to the nation's top senior quarterback, the Manning Award for the nation's top quarterback, and was ACC Player of the Year. In 2007, Ryan capped his accomplished BC career with a record-setting final season that put him in the running for the Heisman Trophy and made him BC's highest NFL draft pick when he was chosen third overall in 2008. His achievements at the Heights only burnished the nickname he earned for being cool under pressure as a top-flight high school quarterback in Pennsylvania: Matty Ice.
Boston College Associate Athletics Director for Football Barry Gallup said Ryan is among the best he's seen at BC in his 37 years as a coach.
 
"I'm not saying he's perfect, none of us are perfect, but he's everything you would expect an All-American quarterback to be," Gallup told the Boston Herald. "I really think character is one of the reasons he's as successful as he has been. He wasn't a five-star recruit coming out of high school."
Ryan's devotion to his alma mater still runs deep.
 
"Boston College is an amazing place," Ryan said last summer, when Director of Athletics Brad Bates announced BC would retire Ryan's No. 12 jersey. "I am very fortunate to have had so many great memories during my college years at BC."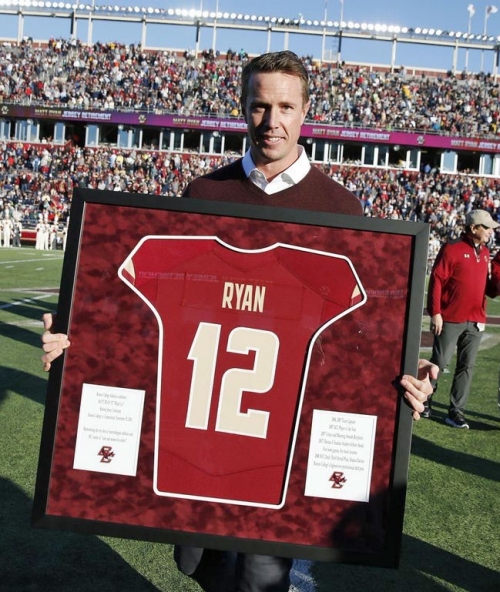 True to form, Ryan was humbled by the decision to add his jersey to a very exclusive list of former Eagles, including 1984 Heisman Trophy-winning quarterback Doug Flutie '85 and defensive lineman Mike Ruth '86.
 
The team frequently practiced in the stadium, and "in the end zone on that left-hand side you would see those names and jerseys retired up top," Ryan said at the time. "You always hope you play well enough that it could happen but I never really sat there and thought about having my name up there with them. For me, I was more focused on just getting to start. Get the starting job and then after that you improve and help our team win games. Looking back now, it's surreal to think that tomorrow it will go up there and hopefully I will be able to bring back family members and show them at one point I was pretty good here. It is a really nice way for BC to honor me and I am humbled to be here to celebrate that this weekend."
 
It was in a study hall for student athletes that Ryan met BC women's basketball team captain Sarah Marshall MCAS '07. The two married in 2011.
 
"Some of my favorite memories have nothing to do with football," Ryan said while on campus for the November 19 ceremony to retire his jersey. "There are a lot of good times that I had here with teammates and friends. I met my wife here. That is probably the most important thing that happened during my five years here."

Ryan, who began his BC career at the Carroll School of Management, earned his bachelor's degree in communication. "With the career I'm in there could not have been a better major to prepare you for all of the things playing quarterback in the NFL (requires) and all the things it asks of you off the field. My degree prepared me for that."

"Matt always worked well with others," said Don Fishman, an associate professor of communication who taught Ryan in class. "He is a very thoughtful and very considerate person, and he was a good student, too, and was always in class, despite a busy schedule. Matt was always prepared, he enjoyed exchanges with his professors and, as I learned, he was very disciplined and organized. He represents Boston College's motto of 'Ever to Excel' in a way of which we can all be proud."
Matt Ryan joined distinguished alumni in wishing Boston College 'happy birthday' in this nationally televised video produced for the University's sesquicentennial anniversary in 2013.
Chris Cameron, who served as the director of communications in Athletics during Ryan's career at BC, said Ryan's on-field heroics were matched by modesty off the field.
 
A 2007 game against Virginia Tech, where Ryan orchestrated a comeback victory by throwing for two touchdowns in the final two minutes, was called the quarterback's "Heisman moment" by broadcasters, Cameron recalled.
 
"Afterwards, he was graciously and patiently speaking with a media mob when wide receivers coach Ryan Day appeared," Cameron said. "Ryan had an emergency appendectomy the day before, then checked himself out of the hospital against doctors' orders to fly to the game. Upon spotting Ryan Day, Matt said, 'why are you all talking to me? That man is the real hero of this game'."
 
Ryan has returned to campus to talk about more than just football, joining his wife as the speakers at the 2014 Brennan Symposium in Leadership and Ethics, sponsored by Carroll School's Winston Center.
Ryan said he's constantly amazed by the connections he makes with former teammates, classmates, and other BC alumni.
 
"The network that BC provides you is huge," Ryan said in 2014. "You don't realize it while you're here…It's everywhere. I think that is one of the unique things about going to a place like Boston College. Wherever you go, people are impressed about the school that you came from. I think it says a lot about you if you graduated from Boston College. It's pretty cool to be a part of that network."

—Ed Hayward | University Communications