ThredUp's distribution center in San Leandro, California, in 2015. Created in 2012, it was the company's first. (Image: ThredUP)
James Reinhart, a 39-year-old father of three, strolls into a Boston restaurant one autumn afternoon, wearing black jeans, a V-neck T-shirt, and a pair of Nikes. He's the cofounder and chief executive of a retail clothing experiment—called ThredUP—but fashion doesn't propel him. Reinhart '01 has a vision of the closet of the future: It will come with a revolving door.
ThredUP is an online marketplace for used clothing that has grown to be the largest secondhand consignment store on the web. Its approach to retail adds a dose of planet-consciousness to the way Americans outfit themselves; and it can be viewed as a countervailing force against the rise of "fast fashion," in which clothing trends ricochet globally from the runway to the sweatshop to the rack at the mall, in a matter of weeks.
The ease of acquiring new looks through fast fashion means the average consumer now purchases 60 percent more clothing than in 2000 but keeps items only half as long, according to the research firm McKinsey. Streamlined supply chains and aggressively cut product costs have led prices to drop so low that some people, and not just the wealthy, consider garments disposable, throwing them away after seven or eight wears.
ThredUP is attempting to reshape the cycle of consumption. The San Francisco-based company helps people sell their used clothing and, in so doing, offers customers a lower-cost, more environmentally friendly alternative to fast fashion. Reinhart believes that consumer sentiment is shifting in this direction, driven largely by socially conscious millennial and Gen Z shoppers, and he anticipates that the resale clothing market will outpace fast fashion in sales by 2027. That means he is one chief executive in the clothing industry who doesn't concern himself with what's trending. After all, his customers provide the product, and they also determine what sells.
---
"I love not being in the fashion business," Reinhart says. A modicum of glamour aside, fashion is a dirty business. Garment production comes in second only to petroleum mining in the amount of pollution it creates, and the notion of "wear today, gone tomorrow" clothing has been tied to countless ills, from oppressive labor practices to climate change, as reported by sources ranging from Nature to Fast Company to the UN Environment Program. Many brands, from the Swedish fast-fashion retailer H&M to the upscale jeweler and accessorizer Cartier, have been caught adding to the waste, burning or otherwise destroying excess products to prevent them from ending up discounted on the secondary market.
When the news broke last July that Burberry had burned more than $37 million of its own products in an effort to "maintain its 'brand value'," as the New York Times put it, Reinhart saw an opportunity. In an open letter to the British fashion company, ThredUP offered to take any excess Burberry items and sell them, pledging to donate the proceeds to an environmental charity.
"The fact is, consumers are waking up to this kind of waste," the letter stated. "They want to see brands that take action and care about the planet. Tomorrow's successful luxury retailers will meet the ethical demands of the rising, inevitable wave of conscious consumerism."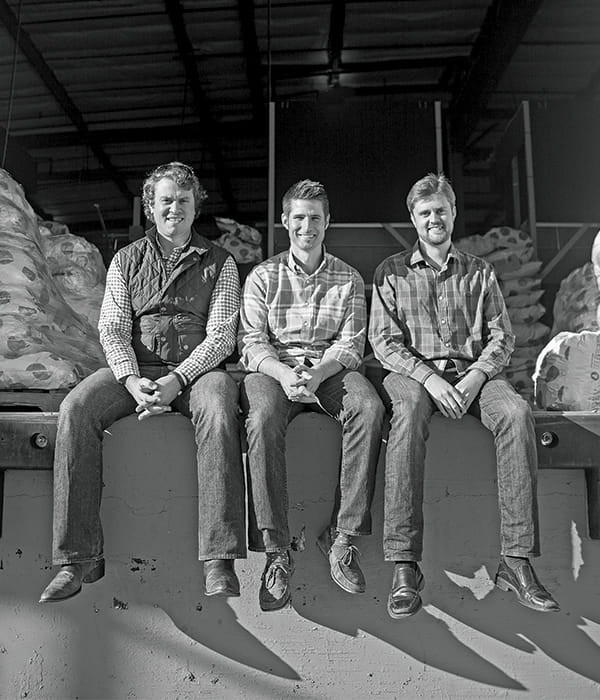 The letter made international news, and this past fall, during New York Fashion Week, Burberry updated its policy, promising not to destroy any of its garments in the future. Although Burberry refrained from striking a deal with ThredUP, it was a win for Reinhart, and for the notion of conscious consumerism that he hopes will allow the company to be a leader in online retail—or in retail, period.
Traditional consignment stores have always offered an ethical way of shopping, but they have required a lot of work, for both seller and buyer. Sellers must bag up and bring in their clothing, then wait for the stuff to sell before they see a cut. Shoppers must be ready to hunt through racks upon racks of clothes for the occasional find.
Since starting ThredUP in 2009, Reinhart has sought to bring consignment into the digital age. He has made major investments in automating the systems in the company's four warehouses across the country, introducing proprietary software that can help categorize and organize hundreds of thousands of garments. The company now processes up to 100,000 items a day, and keeps close to three million items in its inventory at any given time. Over the last decade, ThredUP has recycled more than 60 million pieces of clothing through repurchases, most of which, Reinhart notes, otherwise would have ended up in landfills.
Each piece is photographed and posted online, where shoppers can browse, filtering for brand, size, color, and price. And there are deals to be had: A $239 Ralph Lauren cocktail dress sells on ThredUP for $45; a Banana Republic sweater that sold for $78 can be snagged for $11; and Frye boots that sell for more than $368 can be scooped up for $57.
According to ThredUP's annual resale report, the secondhand clothing market—online and storefront combined—is worth $20 billion, and is predicted to double to $41 billion in sales by 2022. More women are shopping consignment than ever before—44 million in 2017, up from 35 million the year prior. ThredUP isn't the only player in the online space. The RealReal, which focuses on luxury goods, has raised more than $288 million in funding since starting in 2011, and the peer-to-peer clothing marketplace Poshmark, which launched the same year, has raised $153 million.
For its part, ThredUP has raised $131 million since its founding, and Reinhart has spent the last several months jetting around the country in an effort to raise more cash as he looks to steer the company toward its first public sale of stock. That's what brought him back to Boston this September afternoon.
"Our mission for the past 10 years is inspiring a new generation to shop secondhand," he says, offering a well-honed pitch. "What we have built is an incredible operating platform. It's supply chain, it's data, and it's a marketplace," he says. "And the core marketplace that ThredUP is today is just the beginning."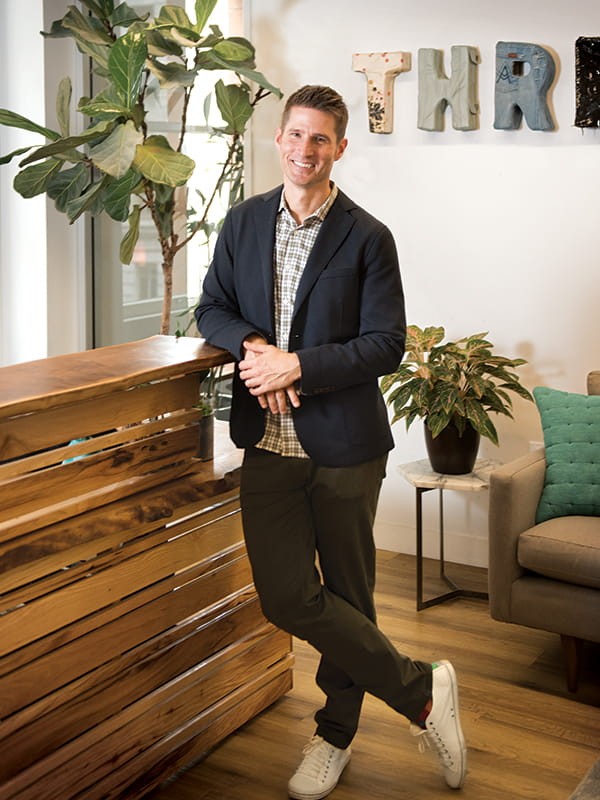 Reinhart will be the first to say that he didn't intend to get into the clothing business. After graduating from Boston College in 2001 with majors in history and philosophy, the New Jersey native moved west, where he taught history and English to eighth and 10th graders at the Pacific Collegiate School, a charter school in Santa Cruz, California, and cofounded the Beacon Education Network, a charter school management group.
After several years in the classroom, Reinhart returned to Boston in 2006 to enroll in a joint program at Harvard's Kennedy School of Government and Harvard Business School. While there, he wandered into the Second Time Around consignment store, a fixture in Harvard Square, with an armful of shirts, hoping to make some quick cash. When the store turned him away—it didn't take men's clothes—the broke graduate student realized he had the makings of a business plan.
He began developing an online marketplace for men's shirts, pulling in his Boston College classmate, Oliver Lubin, a former computer science major who was working in marketing at a Boston law firm, to oversee design and creative, and a business school classmate, Chris Homer, as the engineering team lead. (Lubin left the company last year to pursue new ventures; Homer is now the company's chief technology officer.)
The three cofounders, together with four employees, worked out of a crowded office space near the Cambridgeside Galleria Mall that was home to other startups. Leah Busque, the founder of TaskRabbit, an online platform for freelance labor, had an office in the same building. She recalls the bizarre sight of ThredUP's small shared workspace engulfed by piles of shirts. "I remember vividly thinking, 'What's going on in there?'"
The concept, meanwhile, was beginning to get press hits, including from the New York Times and the Today Show. But the cofounders weren't seeing the volume of shirts they believed they needed to keep the business afloat. They began to look for other markets, and opted for the idea of reselling children's clothes instead.
One data point buoyed their strategy: Parents were spending $1,000 a year per child on clothes that would quickly be outgrown. In 2009, the team created a peer-to-peer marketplace that allowed parents to post and sell boxes of used onesies and toddler and kid garb directly to other customers. Their new tagline—"Clothes don't grow. Kids do!"—immediately resonated.
It was then that ThredUP began to catch the eye of venture capitalists. "I have three children myself, and I saw the pain point around consistently having drawers filled with stuff that doesn't fit anymore," says Patricia Nakache, a partner with Trinity Ventures and one of ThredUP's first investors.
With $1.6 million in funding in hand, the company relocated to California in 2010. Busque, the team's neighbor at the Cambridge office, had decamped for California the year before to raise funding for TaskRabbit, and the Boston founders stayed in touch as they built their networks in Silicon Valley.
Busque recalled the company's shift to kids clothes as being "really smart and inspiring," to the extent that "it helped me focus what I was working on at TaskRabbit and we started to hone in on specific categories." (One of those categories was hiring freelance laborers to build IKEA furniture. This proved to be a win, as Busque sold her company to the Swedish home goods giant in 2017.)
Reinhart has "always been a very strategic thinker," Busque says. "He's really good at parallelizing different strategies and paths and running the playbook."
With a newfound emphasis on kids clothes, the company was growing, but it still wasn't taking off as fast as the team and investors had hoped. Reinhart recalls people telling him, "I love ThredUP but it's too hard. . . . Can't I just send you all my stuff and have you just take care of it?" So in 2012 Reinhart made a pivot that would shape the company's future.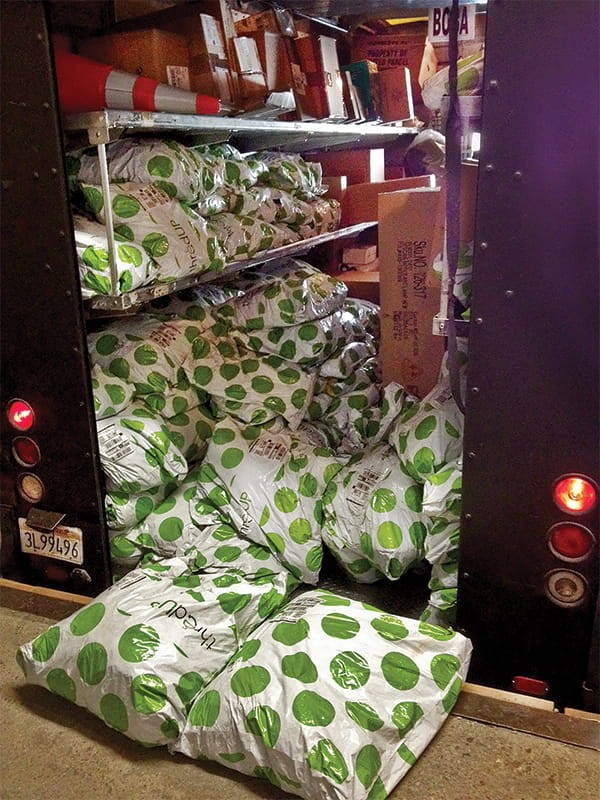 Instead of maintaining a relatively passive marketplace where buyers could swap boxes, Reinhart began sending "clean-out kits" to loyal customers, on a trial basis. Users could put their cast-offs into polypropylene bags and send them back to ThredUP free of charge. The company would be the arbiter of what would and wouldn't sell, doing the work of assessing the clothing, taking and posting photos, and handling the commercial exchange.
It was a huge risk, one that could potentially alienate a slowly growing consumer base. But within days of mailing out the kits, Reinhart remembers a delivery guy showing up at the office door, bags in hand. "Do these belong to you?" he asked. "I've got a bunch more down in the truck."
For Reinhart, it was the moment when he realized that he might have something big. So he asked the delivery guy to pose for a picture. He pulls it up on his phone in ThredUP's San Francisco headquarters, which currently houses more than 120 employees. More than 1,000 additional staffers work in the company's warehouses in Pennsylvania, Georgia, Illinois, and Arizona. And ThredUP has expanded beyond kids' clothes to sell womenswear, handbags, and shoes (they have yet to return to their menswear roots). With 2,000 of the signature mint-on-white polka dot bags coming into the warehouses daily, employees now process a thousand pieces of clothing an hour.
---
 It's a balmy autumn afternoon in walnut creek, a posh suburb of San Francisco. But inside the ThredUP retail store on the neighborhood's main drag it feels like Christmas morning.
Store manager Abby Haug, whose red hair is tied up in a Lucille Ball-style headband, peels the tape off a cardboard box, then lets out a squeal as she reveals a supple faux fur vest. She slips it over her shoulders and crosses the front of the store to appraise herself in the floor-length mirror.
In Reinhart's mind, buying from ThredUP results in a uniquely satisfying moment for the shopper: She's complimented on her outfit and has the added thrill of confiding that she got the perfect pair of trousers, or the designer handbag, or the garden party frock at a steep discount.
ThredUP's four retail stores, all located in the Bay Area, are an attempt to merge the company's online acumen with a brick and mortar setting. In the retail industry, this parallel line of thinking is called omnichannel shopping. It's led Walmart to install huge pickup towers for customers who want to buy online and grab their items in-store; and it lies behind same-day deliveries from big box stores such as Target. It's also the reason online marketplaces such as Amazon, Bonobos, and Warby Parker have all signed leases for storefronts.
Here in Walnut Creek, the shop is laid out like an upscale boutique, organized by color palate and fashion "stories" such as bohemian romance or professional workwear that help inspire consumers. "The main goal of our stores is to convince skeptics who don't like to shop secondhand to kind of come over to the other side," explains Heather Craig, the company's head of retail, as she weaves her way through the racks.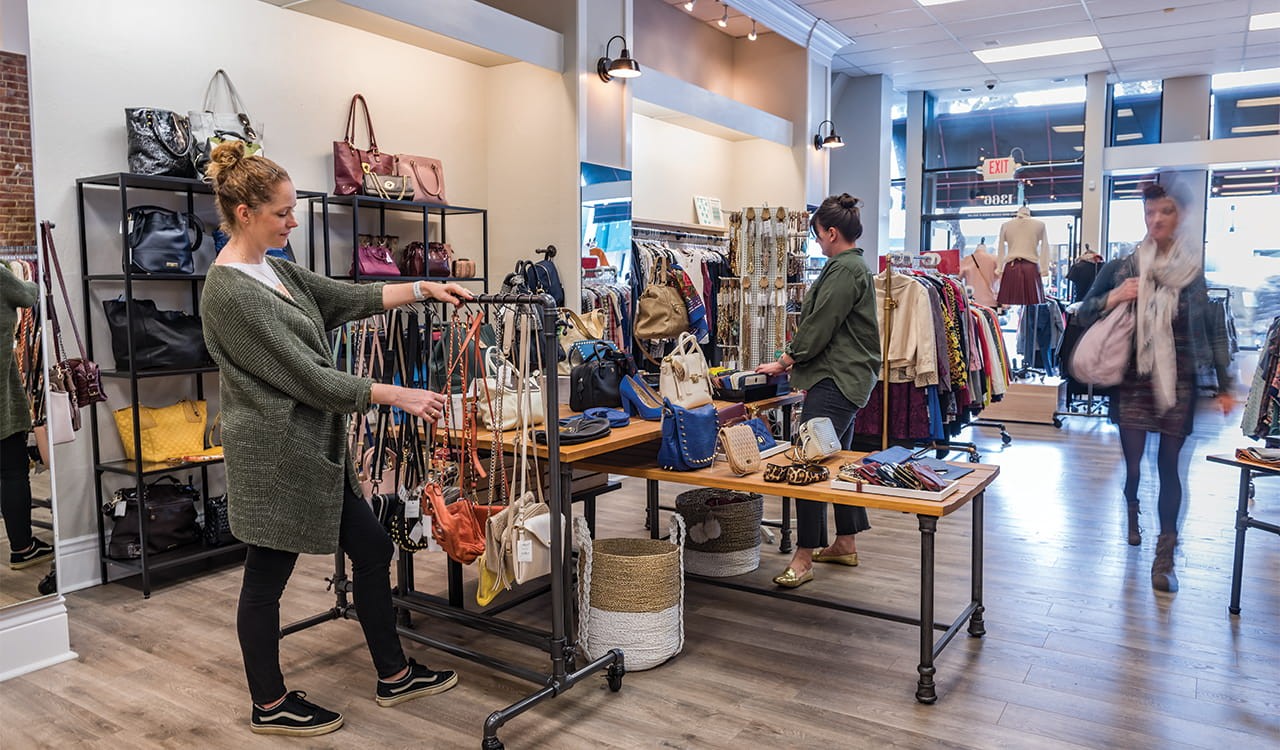 The store also relies heavily on data. Craig picks all of the merchandise by bulk "shopping" ThredUP's site, and those selections are influenced by what online shoppers in surrounding zip codes have been ordering. The fun offbeat items that get put on the "new arrivals" rack near the front door are pieces that got the most "likes" from shoppers when they were first posted online. And while most retail shops' employees unpack merchandise in back rooms, the public unboxing performed by Haug and her colleagues is part of the plan to entice customers in the door.
"Customers love it and come back every day to see what we have," Craig says.
Technological savvy is not often front-and-center in the traditional secondhand stores that dot the main commercial avenue in Walnut Creek—establishments such as the Labels consignment store across the street, which has been in business for nearly two decades. In ThredUP's store, huge interactive panels are placed in several spots on the floor, where shoppers can scan products—a pair of black chunky-heeled boots, for example—to see if there are others like them in their size on the website.
Craig explains that the store serves as both a billboard and another way for customers to interact with the brand. Shoppers can pick up and drop off their ThredUP clean-out kits, and employees sometimes go into homes to help organize and clean out closets. The store hosts shopping event fundraisers for local schools and on the week I was visiting they were planning a pet-costume event for Halloween.
New customer Lisa Tillotson was browsing the handbags that afternoon, and recalled her own time spent working behind the register of a consignment store two decades ago. The ThredUP store is "cleaner, and doesn't have that vibe that I'm going to be in here for hours hunting," she said. "And I love the whole recycling aspect. When you're done, your clothing doesn't need to go into the landfill."
But Camille Winet, who manages the Labels store, shrugged when asked about having a secondhand startup take residence across the street. Consignment shopping has always been based on relationships, she said, and ThredUP "is a little impersonal. It might be great for the on-the-go, disposable stuff that they want to be rid of. But our clients are the polar opposite," she said. "People that sell luxury want to reacquire more luxury."
---
To call ThredUP a startup doesn't really do the business justice. In reality, the company is weaving together multiple enterprises, each an attempt to carve out a niche for used clothing in an evolving retail marketplace where Sears and Macy's shutter stores and upstart online brands innovate ways to build a wardrobe. Today, you can order subscription boxes of new clothes from Stitch Fix and Trunk Club or you can lease your clothing from Rent the Runway. It's all part of the reinvention of retail, and this becomes clear when Reinhart introduces ThredUP's head of special projects, Rebecca Oman.
For the past year, Oman has focused on establishing a new program called Goody Boxes, a lower cost, secondhand alternative to the curated subscription-based services that provide new clothing. Oman is an MIT alumna who worked in investment banking and consulting before being drawn to ThredUP's mission and to Reinhart's vision for what the company can become.
This very week, she says, ThredUP was launching pop-ups in 22 department stores, where its secondhand merchandise would sell alongside new labels.
ThredUP also recently launched Upcycle, which partners directly with brands to promote the "circular economy." The eco-conscious Los Angeles-based clothing line Reformation was the first to sign on, encouraging its shoppers to use a special cobranded clean-out kit. The credits earned from sales of used Reformation clothing on ThredUP can be put toward new Reformation dresses and jumpsuits. ThredUP plans to expand the program to 10 more retailers in the next year.
But perhaps the most surprising experiment that Oman and Reinhart have launched is the company's first clothing line, called Remade. ThredUP has partnered with a garment company to design new pieces that will help fill the gaps in popular, but often hard to find items on its site—including plus-size dresses and shirts. They're classic pieces—think white silk blouses and chambray button-downs—that could be considered wardrobe essentials.
While the idea of producing new garments may seem antithetical to what the company stands for, Reinhart explains the twist: Everything Remade is meant to be resold into the circular economy.
"It's the first clothing line specifically with resale in mind," he says. So if a customer buys a shirt for $50, a year later she can send it back to ThredUP for a $20 payout. The company has sewn QR codes into the garments so they can be easily tracked and processed upon return.
The concept is novel, says Lauren Beitelspacher, a marketing professor at Babson College who studies the retail industry. According to her research, people are willing to pay a 20 percent premium for recycled products (such as Rothy's shoes made from water bottles), but don't yet have much affinity for items that have a stated plan for disposal. "I really think it's time that we as consumers start thinking about what we're going to do with products when we're done with them," she said. "But we don't want to think about [that] when we buy them."
Like much of what Reinhart and Oman are up to, Remade is an experiment. But in addition to encouraging more shoppers to think about how they'll recycle their garments, Reinhart hopes Remade will convince traditional retailers to look at how they can take part in the resale market. If every newly purchased Ann Taylor shirt or Theory dress had a ThredUP code in its label, that would not only revolutionize the clothing industry, it could also take ThredUP to a new level, says Al Ghorai, the company's chief financial officer.
"We need to become part of the lexicon of the world," in the same way that "Netflix is a verb, a way of life," Ghorai says, citing the entertainment enterprise as a model. If he and Reinhart have their way, we'll ThredUP our clothes when we're done wearing them and everyone will keep polka dot bags in their closet.
---
Of course, that's contingent on the ability to get a ThredUP bag in the first place. For all the company's many initiatives and experiments, a salient fact remains: Right now ThredUP is taking in far more clothing than it can sell, to the point where it has had to occasionally limit sending the clean-out kits to new customers only. Sellers have gotten frustrated as the payouts have gradually been lowered over time, and the company is now trying to allow people to price their own items.
Reinhart explains that once the company emerged as a one-stop solution for used clothing, it was inevitable that ThredUP would receive items that didn't meet its standards. "We can't get people to stop sending us stuff," he says. Currently, only 40 percent of items that arrive at the warehouses make it online. The rest are donated or sent to third-party textile recyclers.
Hitches like this concern Juliet Schor, a sociology professor at Boston College who studies consumer culture. While she appreciates the stated mission of ThredUP, she questions the authenticity of the claim that it's having a beneficial environmental impact, pointing out that the shipping and processing of the bags contribute their own greenhouse gases.
"I feel like the company is oriented much more to people who like clothes than to those who are eco-conscious," she says. ThredUP customers "don't like to wear out clothes, they like to change their wardrobe. I think the finances of that are a lot more salient than the environmental or social impacts."
Reinhart admits to currently having a "lumpy" supply chain, in the parlance of supply and demand experts, which means often having more product than he can effectively sell. And the fact that high rent and infrastructure shortcomings forced the company to close its California warehouse in December and relocate the contents to Phoenix exacerbated the garment glut. "We're building capacity," Reinhart says, and he notes the proprietary software that automates his warehouse system will help the expansion, as he anticipates another facility coming online next year at a site yet to be announced.
That software, he says, will allow ThredUP to beat the competition in the secondhand market. And it's also the differentiation between his company and the 800-pound gorilla of the retail world: Amazon.
Reinhart believes that ThredUP's supply chain—designed to take in random products from customers, process them, and turn them back around—is too complicated a system for Amazon's vast portfolio of businesses, suggesting that for now, at least, he's safe. And if the economy enters into another recession, more shoppers will be looking to buy secondhand.
Ultimately, Reinhart realizes that taking ThredUP public— or getting to the point where the company is a verb—will require convincing people by any means possible that shopping secondhand has to be the first option they think of when they need clothes.
"We have to change things so that secondhand no longer has that stigma," he says. "That shift of consumer mindset is my dream. I think you'll start to see people celebrate how smart they are" when they shop secondhand, he says. "Part of our job is to weave ourselves into the fabric of your life."
Janelle Nanos '02 is a business reporter at the Boston Globe. She is also a visiting lecturer in Boston College's journalism program, teaching "Magazine Journalism" this spring.