Bishop Mark O'Connell, J.C.D, a 1986 Boston College alumnus, was ordained by Cardinal Sean O'Malley, O.F.M., Cap. as an auxiliary bishop of the Archdiocese of Boston on August 24, the Feast of St. Bartholomew, at the Cathedral of the Holy Cross in Boston. He was ordained with Bishop Robert P. Reed, president of Catholic Television.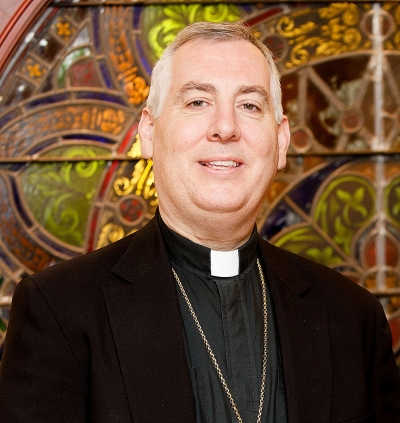 Bishop Mark O'Connell '86 (The Boston Pilot)
A native of Toronto who moved to Massachusetts at age 12, Bishop O'Connell is the youngest of four children, and the son of the late Thomas O'Connell '50, who as University Librarian from 1975-85 oversaw the most dramatic expansion of Boston College library facilities in the school's history.

All three of Bishop O'Connell's siblings also graduated from BC: Thomas '88, Margaret Mary '83, M.A. '85, and John '84. His late uncle was a Boston priest, Father David F. Delaney, and his aunt is a Dominican Sister, Sr. Jean Delaney, O.P.

Bishop O'Connell earned a bachelor's degree in English and philosophy at BC. Following his theology studies at Saint John Seminary, he was ordained into the priesthood in 1990. He served five years at Saint Barbara Parish in Woburn, Mass. and two years at Saint Mary of the Annunciation in Danvers, during which time he was one of the chaplains at Salem State University.

He continued his studies in Rome in canon law in 1997 and received both his license and doctorate in canon law from Universitá della Santa Croce in 1999 and 2002, respectively. From 2001 to 2007, he served as assistant to the moderator of the Curia for Canonical Affairs.

He has been Judicial Vicar since 2007, is on the faculty at both Saint John Seminary and Pope St. John XXIII Seminary, and is chaplain to the Catholic Lawyers' Guild.
 In 2015, he participated in a conference at the Boston College Center for Christian-Jewish Learning that examined divorce among Catholics, Protestants, and Jews.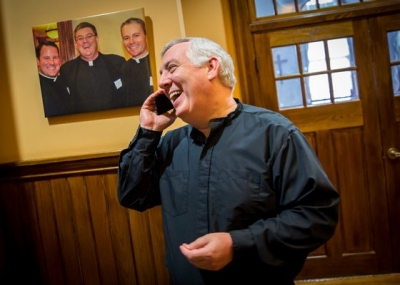 Bishop O'Connell learns of his appointment. (The Boston Pilot)
"I am very humbled, and overwhelmed by the Holy Father's confidence in calling me to serve in this new role within the life of the Church," said Bishop O'Connell in an archdiocesen announcement of the appointment. "I have been an extremely blessed and happy priest for 26 years.  I can only trust that God will continue to allow me to be happy serving as a bishop no matter what is His plan for me."

Bishop O'Connell will become Pastor of St. Therese Parish in North Reading, Mass. in September.

For more information about the Episcopal Ordination, visit the Archdiocese of Boston's Ordination2016 website.

—News & Public Affairs