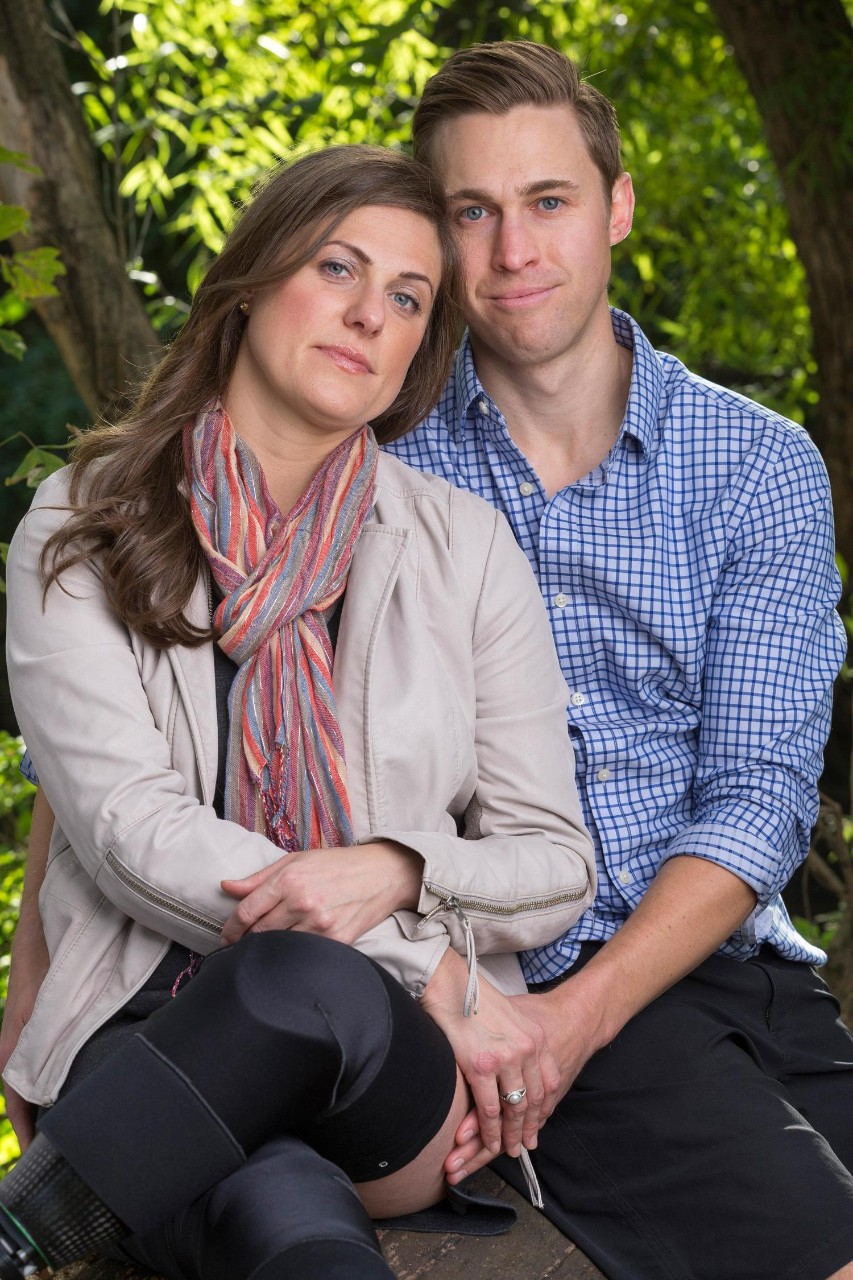 Boston Marathon bombing survivors Patrick Downes '05 and Jessica Kensky will award the first scholarship from a fund created by Downes' Boston College classmates to a BC student who has overcome a physical disability in a ceremony that will take place on the BC campus on October 23.
---
BC Strong Scholarship honors Marathon bombings survivors: Boston Globe | AP via New York Times | Metro Boston
---
The first recipient of the Boston College Strong Scholarship will be BC sophomore Jack Manning, from Norfolk, Mass, a student in the Carroll School of Management. Manning, who lost his leg to cancer 10 years ago, volunteers to support and mentor young cancer patients who face the prospect of losing limbs.
Married just 7 months, Downes and Kensky were gravely injured by the bombs that exploded near the Marathon finish line on Boylston Street in 2013. Both lost a leg as a result of the injuries. Kensky would lose her remaining leg to amputation a year-and-a-half later.
Downes' many friends from the BC Class of 2005 responded by raising money for a scholarship to honor them for their courageous example. Thus far, nearly 1,000 supporters have raised close to $400,000. Manning, chosen as the first recipient, will receive financial support from the scholarship fund that will help cover his four years of study at Boston College.
"Jess and I were thrilled when we heard about Jack and his story of perseverance in the face of adversity," said Downes. "He is exactly the type of student we want to acknowledge and celebrate."
Added Kensky, "Patrick and I have been given so much. We want to shine the light on someone else whose experience was just as excruciating, but who has not received the attention and national outpouring of love and support that we have.  As we learn more about Jack, we discover that he is already a person who gives back, as evidenced by his mentoring of young kids facing the challenge of cancer. He is a remarkable young man."
Manning was diagnosed with osteosarcoma when he was eight years old, and endured months of chemotherapy before being told that he would lose his left leg to the illness. Doctors performed a procedure called rotationplasty, whereby a surgeon removed his cancerous tumor along with a section of his leg around the knee before reattaching the lower part of his leg, backwards, to his thigh. Undaunted, he went on to play football and baseball at Roxbury Latin School, while actively serving as a role model for young cancer patients and their families. He has participated in the Pan Mass Challenge both as a volunteer and rider, twice completing the 192-mile race and raising more than $135,000 for cancer research.   At BC, he maintains a 3.75 GPA while working 12 hours per week in Hillside Dining Hall.
"I am incredibly grateful to Patrick and Jessica, Boston College and all those who donated to this scholarship fund," said Manning. "The time I have spent with them has been incredible. We really hit it off and talked openly about our experiences. It means a lot to be the first recipient of this scholarship."
The ceremony will take place at 11:30 a.m. on the plaza in front of O'Neill Library on BC's Chestnut Hill Campus. The site, which features a recently installed handicap accessible ramp, was chosen as a sign of BC's commitment to accessibility for all.  The University has agreed to host the scholarship ceremony near newly constructed accessibility features each year in support of Jessica and Patrick and the wider mission of the BC Strong scholarship.
—Jack Dunn | University Communications