Those who loved 2011 Lynch School of Education alumna Carly Hughes and mourned her death from gastric cancer four years ago last month still feel the loss, and always will. But they are heartened by the progress of a foundation established by her mother, Irene Vouvalides, to carry on Hughes' memory. Carly's Kids: A Foundation for Education is a testament to Hughes' desire to aid children and the less fortunate, affirmed by her selection for the Lynch School's commencement award for outstanding service to the care and education of children.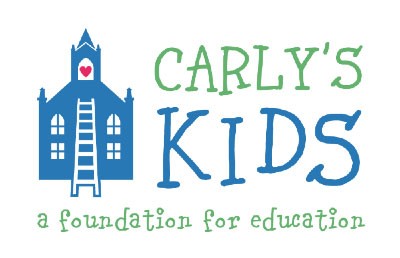 Since its founding in 2013, Carly's Kids has made good on its mission to support education for children in need, with a particular focus on the Holy Family School in Natchez, Miss. One of the country's oldest African-American Catholic schools, Holy Family was very special to Hughes, who participated in the annual Lynch School service trip there.
The 127-year-old school, located in one of America's most impoverished areas, has continually struggled to survive. Several years ago, it discontinued its elementary school program and became an early learning center for children aged two to five.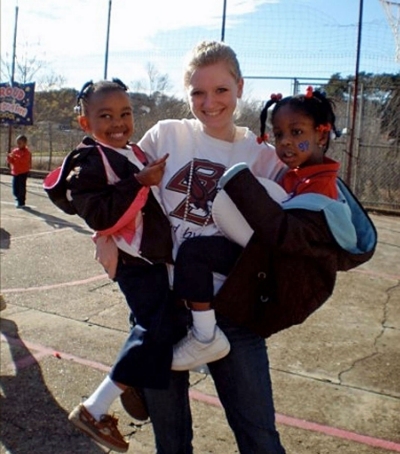 Carly Elizabeth Hughes at Holy Family School
Through Carly's Kids, grants have been awarded for building repairs, educational materials, computers, tuition assistance, construction of a new playground and other needs at Holy Family. 
But the foundation also has been able to undertake another mission: supporting the work of Columbia University researcher Dr. Julian Abrams in his efforts to find a cure for the esophageal cancer that killed Hughes. 
In addition to her involvement with the foundation, Vouvalides, now living in South Carolina, has taken on a new activity: She founded a local chapter of Helping Parents Heal, a support group for parents who have lost a child, and is organizing its first-ever national conference.
Meanwhile, Hughes' friends and former classmates have continued to preserve her memory, formally and informally – at their fifth-year reunion last June, members of the Class of 2011 posed for a photo in front of Gasson Hall, holding giant letters that spelled out "We Love You, Carly!" 
Katelyn Hoerner '11, an investment officer in the University Treasurer's Office, reminisced in a recent blog post about her friendship with Hughes – "We cooked (and burned a lot of things), we drank lots of Italian wine, we danced, we re-watched every season of 'Desperate Housewives,' we laughed, we cried, we talked until the wee hours of the morning" – and acknowledged the challenge in balancing happy memories with those of her friend's struggles with cancer. 
"Carly unknowingly taught me what real gratitude feels like," wrote Hoerner [katehoerner.com/carly]. "Even after four years without her, she still inspires me to be spontaneous and do anything I can to love my life right now. There's no time for waiting. I'm grateful to have met her and to have been with her for so much of her short time in this world."
–Sean Smith / University Communications