The Boston College Strong Scholarship – established by the Class of 2005 to honor Boston Marathon bombing survivors Patrick Downes '05 and his wife, Jessica Kensky – has already crossed the finish line.
University Advancement has announced that the scholarship has eclipsed its $250,000 goal, with contributions from more than 900 donors, all in just one year. The BC Strong Scholarship will be awarded to a deserving student with preference to those who excel with a physical disability or dedicate time to serve others.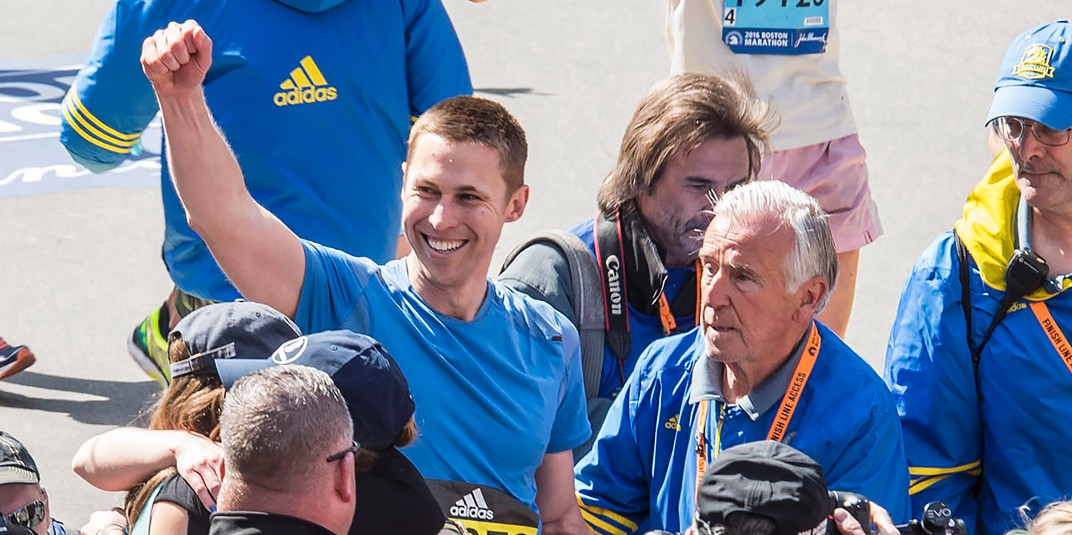 Patrick Downes '05 at the finish of the 2016 Boston Marathon. (Justin Knight)
Downes and Kensky suffered life-changing injuries in the 2013 bombings: Both lost a leg, and Kensky later had to have her remaining leg amputated. Their determination to overcome the ordeal has become an inspiration for many in the University community and beyond. 
At the 2016 Boston Marathon, Downes – who ran with a prosthetic blade – became the first Boston bombing amputee to complete the race on foot. Kensky greeted him at the finish line.
In a statement, Downes and classmates Michael Hundgen, Kevin Collins, Grace Simmons Zuncic and Liz Stowe Fennell – who worked with Downes to create the scholarship – expressed their appreciation to "the generosity of the BC family" for supporting the effort. 
"That means year after year, a deserving Boston College student, who has shown great determination in the face of adversity, will receive the critical financial aid they need. What an amazing way to show what it means to be 'men and women for others.'"
To learn more, visit the BC Strong Scholarship page.
—News & Public Affairs