Dr. Mae Jemison speaks with BC students and other audience members following her remarks at the Council for Women of Boston College Colloquium.
Photos by Frank Curran

Twenty-five years ago, Dr. Mae C. Jemison went into orbit aboard the Space Shuttle Endeavour, becoming the first African-American woman deployed in space. This month, the pioneering engineer, physician, and entrepreneur spoke at the third annual Council for Women of Boston College Colloquium, calling on the capacity crowd of students, faculty, staff, and alumni in Gasson Hall to recognize the importance of exploration and discovery, and of encouraging and supporting women and people of color in the sciences.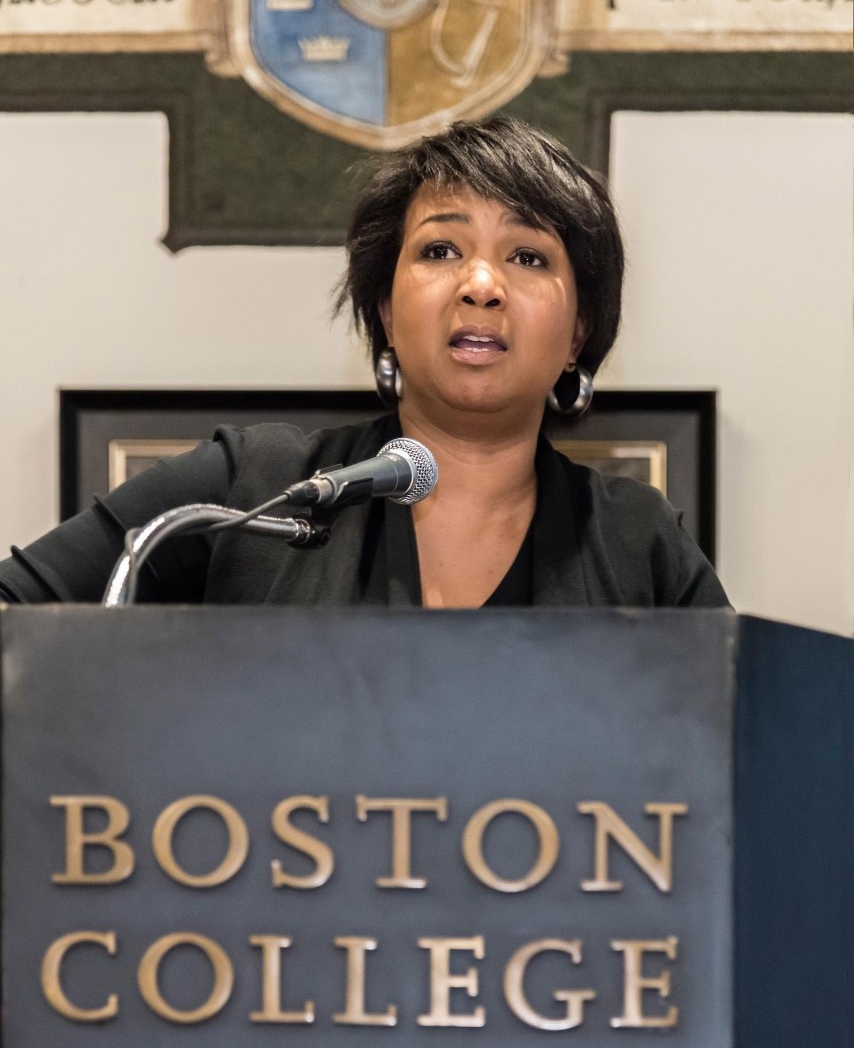 In her remarks, Dr. Jemison, who is a leader of 100 Year Starship, or 100YSS, which seeks "the next giant leap forward" of human travel beyond our solar system within the next 100 years, discussed the project, the role of women in STEM fields, and the value of individuality and curiosity.

The Colloquium, which was launched in 2015 with an address from former Secretary of State Madeleine Albright, is made possible by the Council for Women of Boston College and the Institute for the Liberal Arts.

"The CWBC Colloquium was designed to bring dynamic woman leaders to campus to share their stories of accomplishment and serve as examples of the limitless power of women," said CWBC Chair Kathleen McGillycuddy NC '71, who serves on BC's Board of Trustees, and is the first woman to have served as board chair.

"Dr. Mae Jemison is a true pioneer and visionary leader in space travel who has a great deal of wisdom and insight to offer not only students but the entire University community and beyond," McGillycuddy said.
"Given the current focus at Boston College on the integrated sciences, we felt that Dr. Jemison's advocacy for science literacy and her status as a role model for women and people of color in STEM careers would make a positive contribution to our thinking about the place of the sciences in liberal arts education," added Rattigan Professor of English Mary Crane, director of the ILA.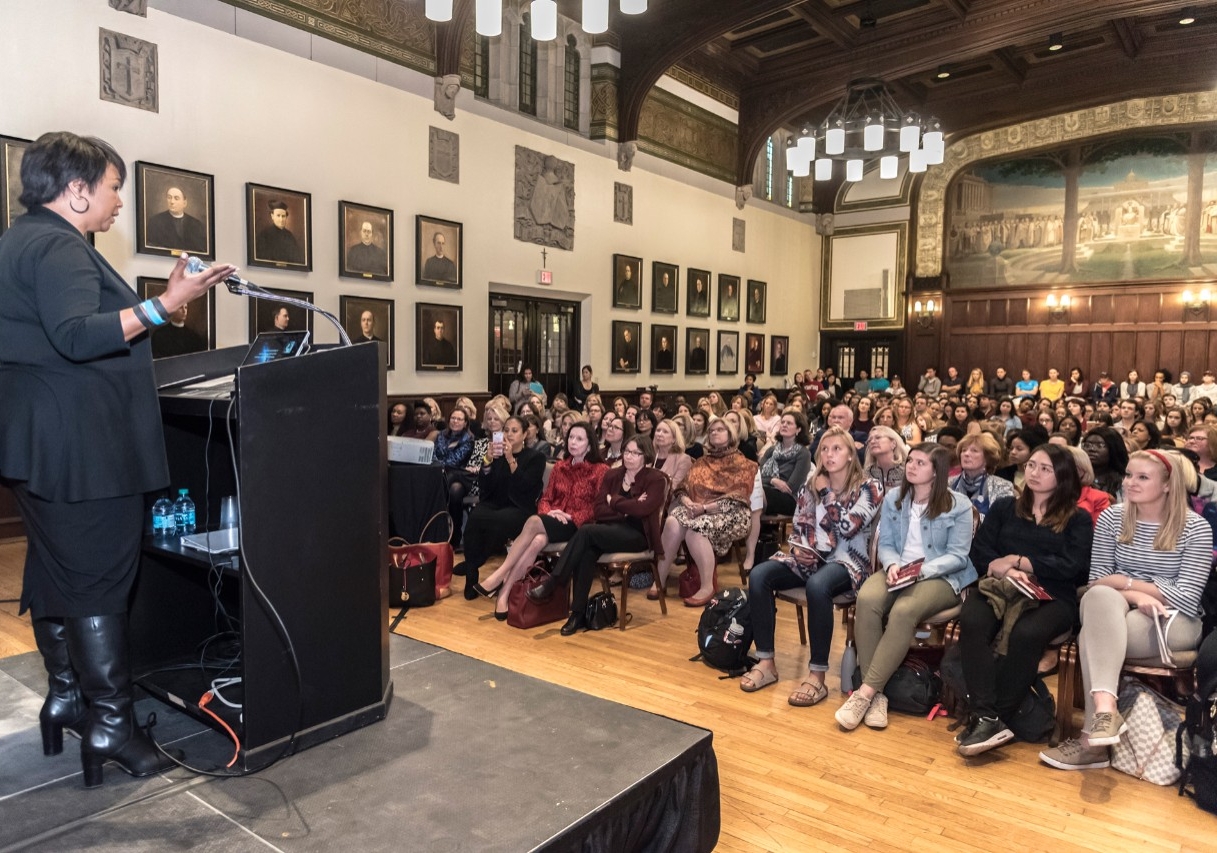 Dr. Jemison, a member of the National Academy of Medicine, the National Women's Hall of Fame and the International Space Hall of Fame, became the first woman of color to go into space when she flew aboard the Space Shuttle Endeavour in 1992. Prior to her tenure at NASA, she was the Area Peace Corps Medical Officer in Sierra Leone and Liberia for more than two years.
A strong, committed global voice for science literacy and inclusion in STEM fields, Dr. Jemison founded the Dorothy Jemison Foundation for Excellence and its signature program, The Earth We Share, an international science camp for students 12-16 years.
Dr. Jemison was a professor of environmental studies at Darmouth College and founded The Jemison Group, a technology consulting firm that integrates critical socio-cultural issues into the design of engineering and science projects, such as the use of satellite technology for health care delivery in West Africa and solar dish Stirling engines for electricity generation in developing countries.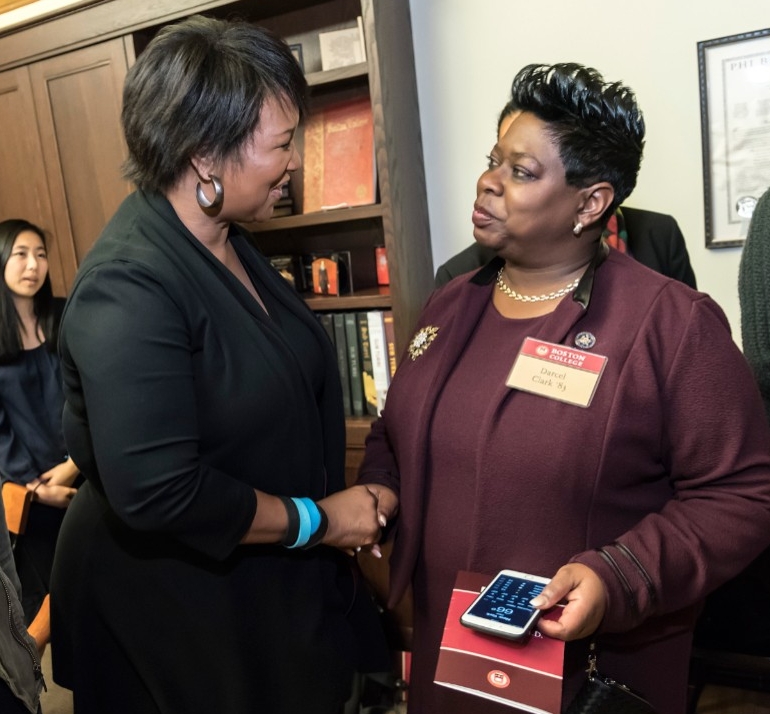 She now leads 100 Year Starship, a project that mirrors her comments at the Council for Women Colloquium on the importance of gender and racial diversity in the sciences in its goal of including "the broadest swath of people and human experience" to help realize its aspiration.
She and her 100YSS colleagues hope to advance the "radical leaps in knowledge and technology" toward this end, but also to pioneer the advancements needed to enhance the quality of life for everyone on this planet.
Multiply honored for her achievements, including numerous honorary degrees, Dr. Jemison obtained a bachelor's degree in chemical engineering while fulfilling the requirements for a BA in African and African American Studies from Stanford University, and earned a medical degree from Cornell University.

A fan of Star Trek, which she told her BC audience had influenced her interest in space, Dr. Jemison became the first actual astronaut to don the Starfleet uniform for a guest role on the show, appearing in an episode of The Next Generation in 1993.

Dr. Jemison also is the author of Find Where the Wind Goes, a memoir written for young readers. The day before her appearance at Boston College, Lego introduced its "Women of NASA" set of minifigures designed to celebrate the groundbreaking contributions of four pioneering scientists and astronauts, including Dr. Jemison, and to encourage girls to explore STEM fields.
Established in 2002, The Council for Women of Boston College is dedicated to furthering the roles of women as leaders and active participants in the University. Through its organization and sponsorship of professional, educational, cultural, athletics and service activities both on campus and across the country, the CWBC provides alumnae with professional and personal enrichment opportunities; connects them to the University; supports Alumni Association initiatives, and mentors women undergraduates, the alumnae of tomorrow.
—Kathleen Sullivan | University Communications